Tuesday Turn About Link Party 45
Welcome to Tuesday Turn About Link party 45. Are you starting to think in days, as in what day is today? Well, today is Tuesday. Or are you starting to think in terms of weeks, as in this is the 6th week of stay at home? Time is a funny thing and can mess with our heads. Thank goodness we have tasks or events on our calendars to keep up on track. I have TTA written on my calendar every Tuesday which helps me focus on what's coming up. We would love for you to write down Tuesday Turn About in your calendar, too. TTA ~ 5 PM CDT.
So let's indeed get the party rolling. Check out last week's TTA 44. Those links are still good for inspiration and Pinning. Hope you enjoy all our features and tips. Remember to check out Julie and Michelle's posts for their features ~ maybe you? Be sure to check out their TIPS.
Carol's Blogger Tip
Install the Grammarly extension on your computer. I only did this a couple of months ago. As a former English teacher, I have a darn good grasp of the English language so I didn't think I needed it; however, we all make typos (I'll admit I make a bunch.). Grammarly has really helped me correct those typos before I hit publish.
Carol's Household Tip
This has nothing to do with COIVD~19, but your state of mind. Make your bed first thing every morning. My dad taught me how important this one little thing is to get your day started right. Your room looks so much nicer with a made bed. It just makes you feel better and you are ready to start the day on the right foot. Read William McRaven's book Make Your Bed for more reasons why making your bed is a good thing. (That's not an affiliate link.)    
Here's what your Tuesday Turn About hostesses have been doing the past week.
Tuesday Turn About Link Party 45
Carol at Bluesky at Home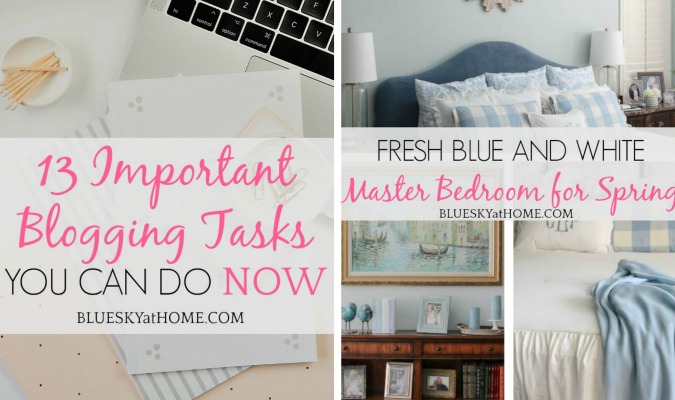 13 Important Blogging Tasks You Can Do Now | Blue and  White Spring Master Bedroom Refresh
Michelle at Thistle Key Lane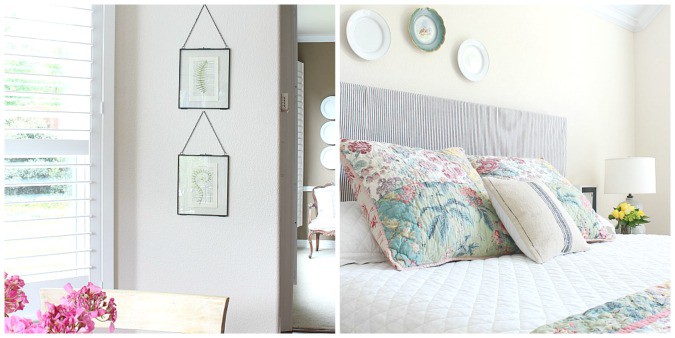 How To Make Book Page Botanical Art | Updating A Bedroom With Patterns
Julie at My Wee Abode
How to Install a Wireless Ceiling Light | The Best Cabinet Organizers
Tuesday Turn About Link Party 45 Weekly Features
When I think of May Day, I think of May Pole dances that we did in elementary school. Amber of Follow the Yellow Brick Home thinks of cute basket gifts to give family and friends. These are great for Mother's Day too. She shares several ideas of other bloggers too.
I love decorating terra pots for multiple uses. This project from Pamela at DIY Vides had me at hello. Really easy and takes those orange pots up a notch wit chalk paint and words.
I've made a bunch of pillow covers in my time, but I had never thought of using a shower curtain for outdoor pillows. Paula of Sweet Pea shows us how. Don't you love the pattern?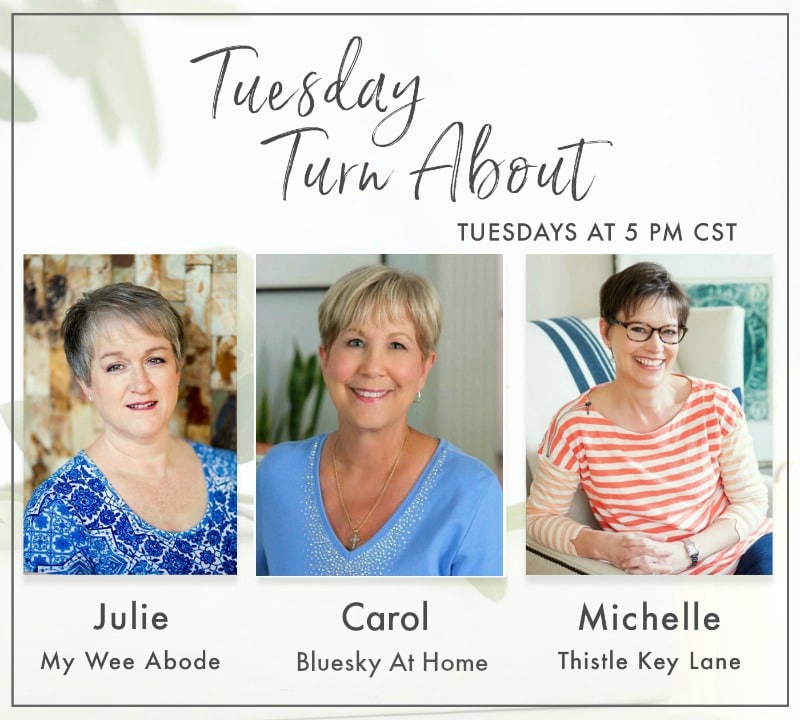 PLEASE VISIT YOUR HOSTESSES ON SOCIAL MEDIA AND SAY HI
My Wee Abode: Pinterest | Facebook | Instagram
Thistle Key Lane: Pinterest | Facebook | Instagram
Bluesky at Home: Pinterest | Facebook | Instagram
BEFORE YOU GET STARTED, TAKE A LOOK AT OUR GUIDELINES:
This party is for home decor and home-related posts only (recipes, organizing, DIY, crafts, etc.). Link up to 3 related posts. Please do not link up informational posts that do not relate to the topic.
If you would please not link up shops, advertising, round-ups, other link parties, or any posts promoting sales, we would appreciate it.
DO NOT PIN FROM IMAGES ON THIS PAGE (it just won't work right on Pinterest). However, please visit the original post/source and PIN from there. That works perfectly!
By linking to the party, you give us permission to share your projects on our blogs and social media. We will always give proper credit with a no-pin image.
LET'S GET STARTED LINKING UP!!
Let's make this week's party bigger and better than the last, and remember to come back next Tuesday to see the newest features.