Tuesday Turn About Link Party 43
Hello, dear friends, and welcome to Tuesday Turn About Link Party 43. We are now beginning our 4th week of stay~at~home and social distancing.
Have you noticed differences in your community? Our neighborhood grocery store is now letting only a certain number of people in the store at one time which means long lines spaced out 6 feet outside the store. More people are wearing gloves and masks. I made Sweet Shark a mask so he could go to the grocery store. I'm making myself one and for our kids which I will mail to them.
Last week, Julie shared a blogger tip and we all shared our household tips. Your response was so positive that we decided to continue this feature. Here are my tips for staying safe, busy and productive:
Carol's Blogger Tip
Spend 5 minutes a day updating your Pinterest Boards. Check that your bio is up to date. Are all your Board Titles consistent, clear and searchable? Make sure that your Board descriptions are clear, concise and contain searchable keywords. FYI: next week I'll be sharing a list of productive things bloggers can do during our imposed stay at home time so be sure to drop by.
Julie's blogging tip is so important (I wrote about it in this blog post about URLs and SEO.) that I wanted to share it too.
Having a secure site is a necessity in blogging these days. If your site is secure, Google will recognize you as a trusted site and it will contribute to your search rankings (oh to have that infamous first-page ranking!). This will also attract more readers… and subscribers!
Also, for SEO purposes, it is strongly suggested to ONLY LIST sites that are secure. For this reason, features for any link party should be with those blogs with secured sites (hint, hint).
Please check with your hosting site, as most will easily implement this for you for free! Read more information about securing your site.
Carol's Household Tip
Do you wear contacts? I do ~ well, I wear one. I used to wear one for reading and last summer my doctor switched me to one for distance. I don't understand it, but it works. My eye doctor sent out a message reminding us in this time of handwashing to be sure to wash your hands before you put in or take out your contacts. I sort of thought about that but haven't always done it. Now I am.
Hope those tips are helpful.
Here's last week's TTA 42.
Enjoy Holy Week.
Now let's get Tuesday Turn About started.
Tuesday Turn About Link Party 43
Let's see what Michelle, Julie and I have been creating this past week.
Michelle at Thistle Key Lane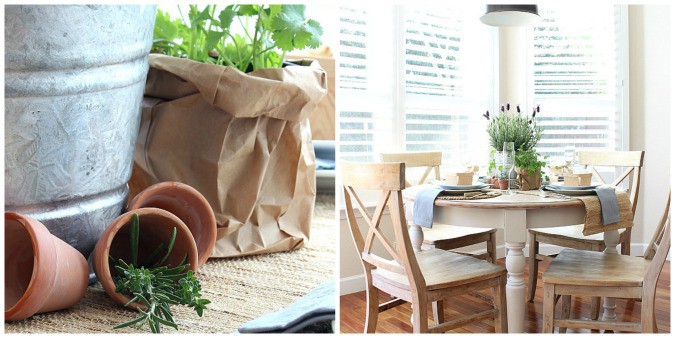 Carol at Bluesky at Home

Blooming Easter Bunny Table | DIY Easter Wreath | Easter Table in the Breakfast Room
Julie at My Wee Abode
Family-Friendly DIY Easter Placecard Holder | How to Make Velvet Easter Eggs the Easy Way
Tuesday Turn About Link Party 43 Weekly Features
I fell in love with this Ester decor that Lori of Dining Delight created on the hutch in her dining room. The bright oranges and lush greens add great color to her wreath sign and bunny.
These beautiful blue and white Easter eggs stopped me in my scrolling. Shirley of Intelligent Domestications explains how she made these stunning eggs.
As we get closer to warmer months, our thoughts turn to our outdoor spaces. Janet of JRL Interiors has some great ideas for styling patios and other outdoor areas.
Be sure to check out Michelle and Julie's posts for their features and their tips.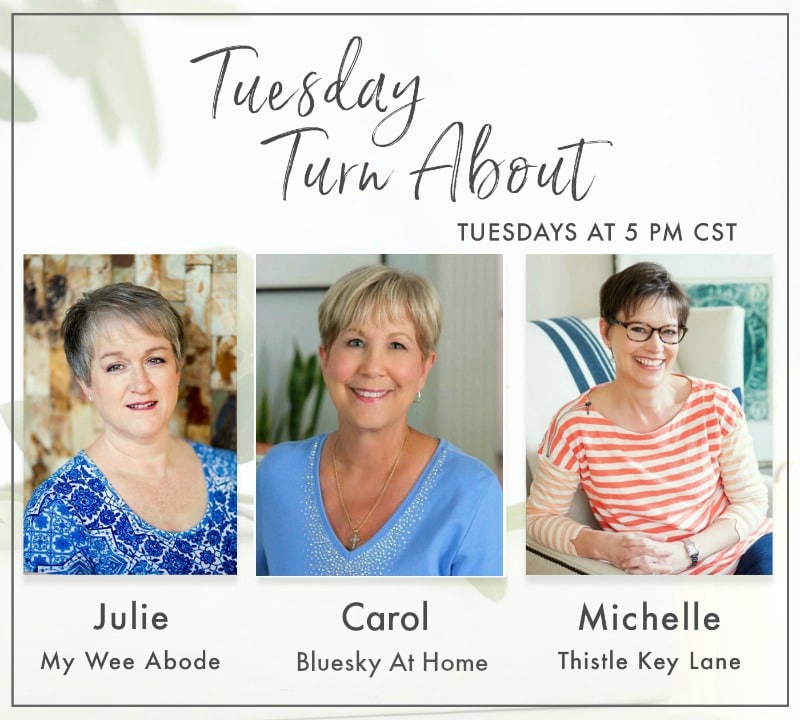 PLEASE VISIT YOUR HOSTESSES ON SOCIAL MEDIA AND SAY HI
My Wee Abode: Pinterest | Facebook | Instagram
Thistle Key Lane: Pinterest | Facebook | Instagram
Bluesky at Home: Pinterest | Facebook | Instagram
BEFORE YOU GET STARTED, TAKE A LOOK AT OUR GUIDELINES:
This party is for home decor and home-related posts only (recipes, organizing, DIY, crafts, etc.). Link up to 3 related posts. Please do not link up informational posts that do not relate to the topic.
If you would please not link up shops, advertising, round-ups, other link parties, or any posts promoting sales, we would appreciate it.
DO NOT PIN FROM IMAGES ON THIS PAGE (it just won't work right on Pinterest). However, please visit the original post/source and PIN from there. That works perfectly!
By linking to the party, you give us permission to share your projects on our blogs and social media. We will always give proper credit with a no-pin image.
LET'S GET STARTED LINKING UP!!
Let's make this week's party bigger and better than the last, and remember to come back next Tuesday to see the newest features.
You are invited to the Inlinkz link party!