Tuesday Turn About Link Party 42
Here we are starting week 3 of our nationwide self~imposed stay~at~home life. It's the last day of March, the last day of the 1st quarter. It's also Tuesday Turn About Link Party 42.
Without meetings to attend, tennis drills and matches to go to, with no church on Sunday (except via live streaming), and with Sweet Shark home every day, my days are all running together. Every day seems like Saturday. To be honest, blogging is the one thing that is constant, keeps me on track and mentally active and takes my mind off the current crisis.
How are you holding up? I wonder what all of America is doing at home. I know my daughters are helping their kids with online homework (which they say doesn't take up near enough time). They are going on walks and bike~rides ~ at a distance. Watching way too much TV and video games. My son goes back to his nursing job at U of Washington Hospital tomorrow on one of the ICU floors. So my prayers and thoughts are with him. I do look forward to hearing what he has to say about the current situation.
This week, our sweet Julie is sharing a blogger tip, and I'm sharing a household sanitary tip with you.
Julie's Blogging Tip
Here's a quick little tip for bloggers that I hope may help with this blogging adventure we are on.  Feel free to comment below if you need some additional help or if you'd like to expound on the tip!  If you comment, we can all learn together.
This week's blogging tip: If you are not an expert or professional dealing with the virus that is currently spreading throughout the world, it seems that Google will be 'dinging' blogs for using the actual names and acronyms of the virus.  So, if you are concerned with your SEO/rankings with Google… don't use the proper names or acronyms of the disease.  (And you may want to go omit or change them in your current posts.)
Carol's Household Tip
We are all trying to practice good hygiene at home these days. Here's my household tip, based on my years working in professional cooking schools, something most people don't know.
I learned dish towels and any cloth towel are NEVER used for drying hands or surfaces or drying dishes. They are germ catchers. The only thing a dish towel is used for is like a potholder; we called them side towels. Only throw~away paper towels are used for hand drying and counter cleaning. (You'll also never find a sponge in a professional kitchen.) Dishes and pots and pans are air~dried. We go through a ton of paper towels because I've been used to this sanitary practice for years. But I don't waste time drying dishes. We set them out to air dry and put them away the next morning.
So now let's get on to linking and enjoying each other's creativity. Here is TTA 41.
Tuesday Turn About Link Party 42
Here's what Julie, Michelle and I have been doing the past week.
Carol at Bluesky at Home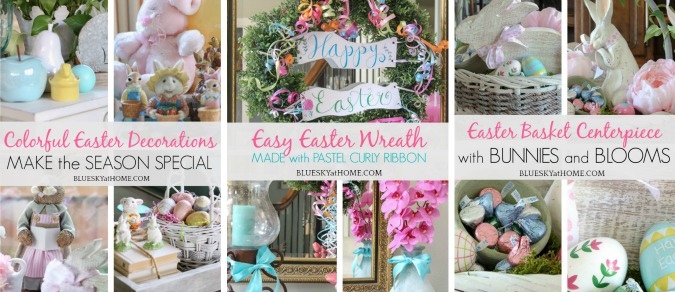 Colorful Easter Decorations | Easy Easter Wreath | Easter Basket Centerpiece
Julie at My Wee Abode
The Best Lemon Cheesecake Recipe | 21+ Spring Wreaths to Make While You Stay Home
Michelle at Thistle Key Lane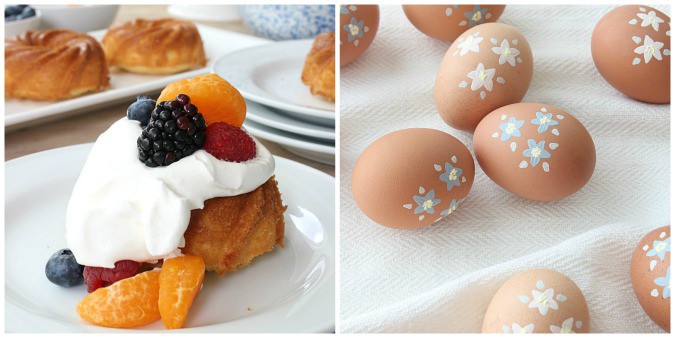 Mini Pound Cake Recipe | Ideas For Painting Brown Eggs
Tuesday Turn About Link Party 42 Weekly Features
DIY is the name of the game for this week's features.
We may be celebrating Easter with friends and family, but let's still celebrate. Beverly of Across the Boulevard shows us how to transform Easter eggs, a basket, and carrots for a really cute Easter vignette.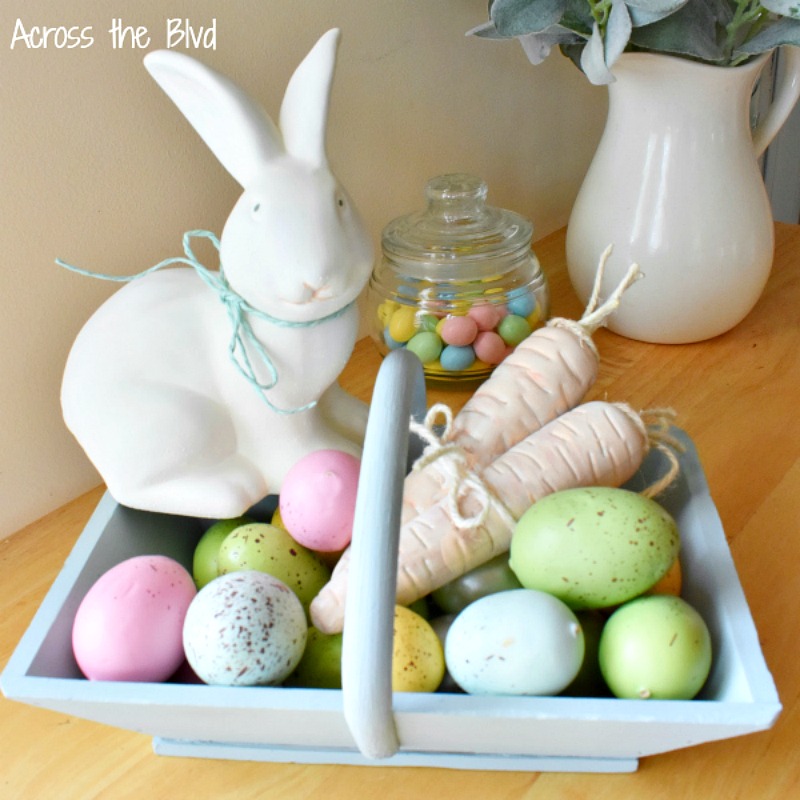 Speaking of carrots, Lora B. of Lora B. Create and Ponder made the prettiest wreath with carrots as the feature. You have to see how she created the carrots for a pretty look.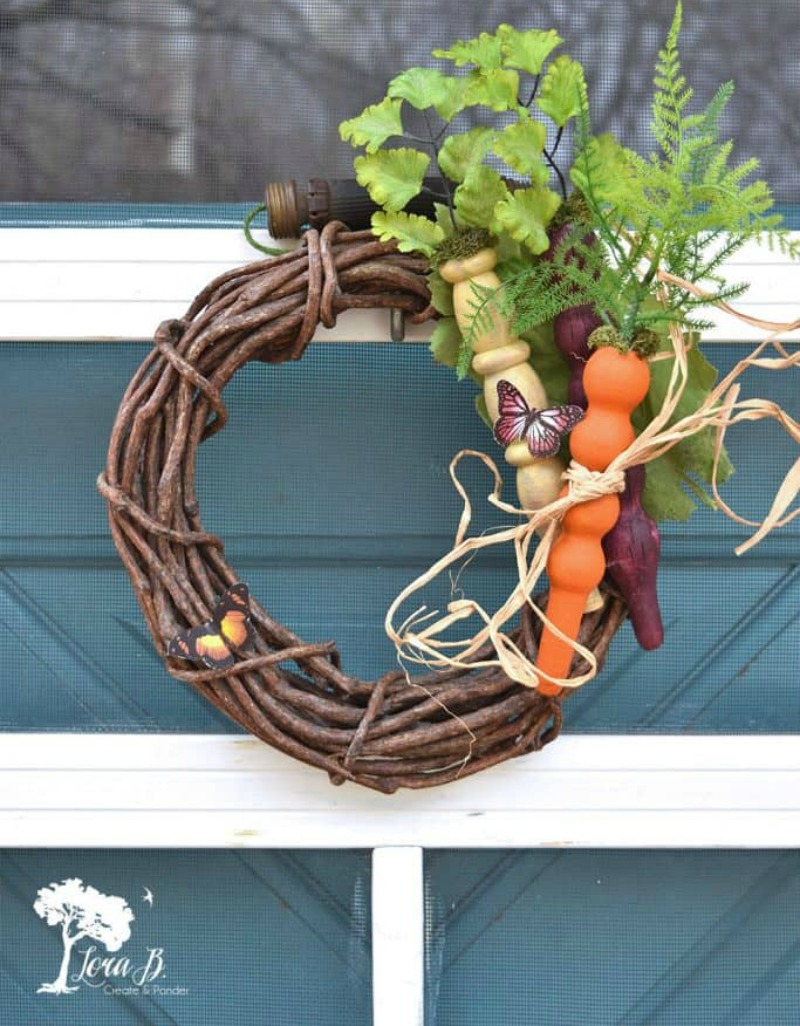 Deedee and Bobby of Clover House will teach you how to create a simple wall hanging for your home, all from supplies you probably have on hand.
Now head over to see what Julie and Michelle have chosen for their features.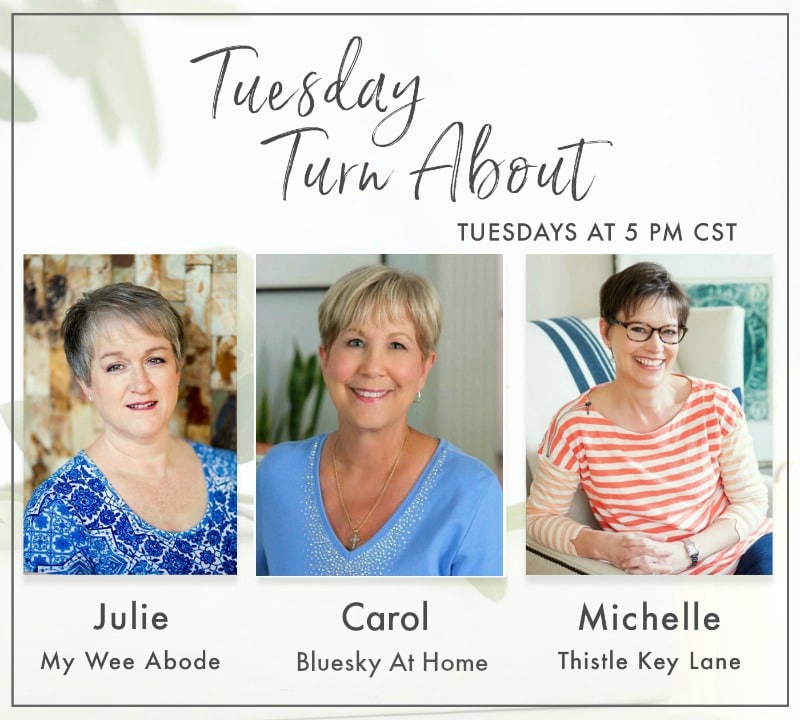 PLEASE VISIT YOUR HOSTESSES ON SOCIAL MEDIA AND SAY HI
My Wee Abode: Pinterest | Facebook | Instagram
Thistle Key Lane: Pinterest | Facebook | Instagram
Bluesky at Home: Pinterest | Facebook | Instagram
BEFORE YOU GET STARTED, TAKE A LOOK AT OUR GUIDELINES:
This party is for home decor and home-related posts only (recipes, organizing, DIY, crafts, etc.). Link up to 3 related posts. Please do not link up informational posts that do not relate to the topic.
If you would please not link up shops, advertising, round-ups, other link parties, or any posts promoting sales, we would appreciate it.
DO NOT PIN FROM IMAGES ON THIS PAGE (it just won't work right on Pinterest). However, please visit the original post/source and PIN from there. That works perfectly!
By linking to the party, you give us permission to share your projects on our blogs and social media. We will always give proper credit with a no-pin image.
LET'S GET STARTED LINKING UP!!
Let's make this week's party bigger and better than the last, and remember to come back next Tuesday to see the newest features.
You are invited to the Inlinkz link party!