Tuesday Turn About Link Party 41
As we bring you another week of Tuesday Turn About Link Party 41, I want to encourage everyone to stay calm, be kind to those with whom you live and remember to pray. As we all cope with our own version of social distancing, we can either make the best of a bad situation or the worst of a bad situation. The choice is ours. I shared some of these thoughts yesterday in my Monday Memo newsletter.
A week ago, I told Sweet Shark that we should be on the alert that we may get a little impatient with one another and a little short in our responses. If we start to feel like a sharp word is going to come out of our mouth, we need to either ask for a hug or go into the other room. I like the hug option best.
I need to keep my routine as normal as possible. I'm used to having the house all to myself, working on the blog and doing projects. With Sweet Shark home since last Thursday, every day seems like the weekend. I have to remember that Monday ~ Friday are workdays.
How are you coping?
I have to admit that one thing that takes my mind off the current crisis is looking at pretty homes and decor ideas on Pinterest. I'm spending a little more time than usual doing that. The upside is that my Pinterest boards are filling up with lots of goodies and I've created some new boards. So I hope that you will visit your hostesses' Pinterest accounts (listed below). Pin our features and the other bloggers who are linking. Follow our Instagram accounts and those of bloggers that you like. During this slow down in the outside world, let's help each other grow in the blog world.
Stay safe and keeping linking.
Here's a link to TTA 40.
Tuesday Turn About Link Party 41
Here's what your hostesses have been up to.
Carol at Bluesky at Home

Easter Decorating Ideas in the Living Room | Easter Centerpiece that You Can Make | Easter in the Kitchen and Breakfast Room
Julie at My Wee Abode
DIY Early Spring Succulent Wreath
 Michelle at Thistle Key Lane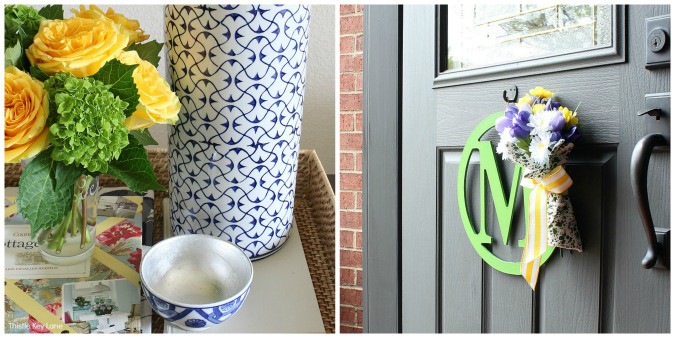 How To Style An End Table | DIY Wreath With Garden Gloves And Flowers
Tuesday Turn About Link Party 41 Weekly Features
Beverly of Across the Boulevard created some easy DIY springtime decor that is easy and so pretty. (I know because I've done this a few years ago.)
Entryways sometimes get forgotten when we share our home decor. I found that this pretty farmhouse style entryway from Julie at Restyle Relove has several ideas to admire.
I love a really original DIY paint project and this one from Coco at The Crowned Goat fits the bill. It's cute, but what I really love is that it reuses and reimagines something that I bet we all have around our homes.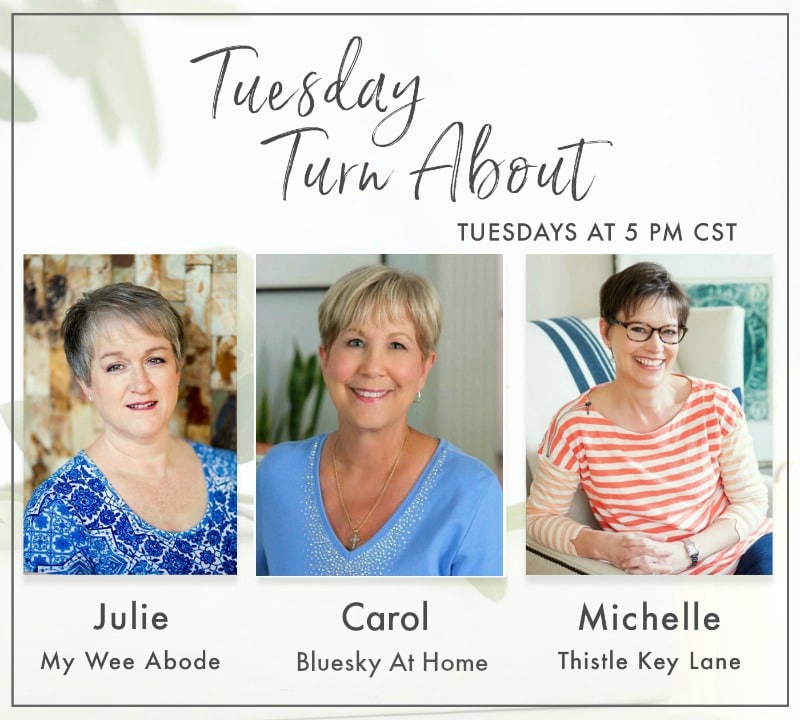 PLEASE VISIT YOUR HOSTESSES ON SOCIAL MEDIA AND SAY HI
My Wee Abode: Pinterest | Facebook | Instagram
Thistle Key Lane: Pinterest | Facebook | Instagram
Bluesky at Home: Pinterest | Facebook | Instagram
BEFORE YOU GET STARTED, TAKE A LOOK AT OUR GUIDELINES:
This party is for home decor and home-related posts only (recipes, organizing, DIY, crafts, etc.). Link up to 3 related posts. Please do not link up informational posts that do not relate to the topic.
If you would please not link up shops, advertising, round-ups, other link parties, or any posts promoting sales, we would appreciate it.
DO NOT PIN FROM IMAGES ON THIS PAGE (it just won't work right on Pinterest). However, please visit the original post/source and PIN from there. That works perfectly!
By linking to the party, you give us permission to share your projects on our blogs and social media. We will always give proper credit with a no-pin image.
LET'S GET STARTED LINKING UP!!
Let's make this week's party bigger and better than the last, and remember to come back next Tuesday to see the newest features!
You are invited to the Inlinkz link party!