Tuesday Turn About Link Party 129
We are so happy to be back with you for Tuesday Turn About Link Party 129.
This is the first party of December and the rest of the year will go by very quickly.
Every week I am so impressed with all the pretty and creative things you share at Tuesday Turn About You make it very hard to choose favorites.
Welcome to Tuesday Turn About Link Party 129
The party is now open.
Here is TTA 128 if you would like to visit again.
CAROL'S BLOGGER TIP OF THE WEEK: Make use of as many free resources as you can.
Whether your jam is Content Creation, Courses, Instagram, Pinterest, Facebook, Email Marketing, or something else, we all love learning from the experts.
It's the 2021 "Your Best Year Yet" Giveaway!, bringing you tools, templates, and training to help you kick off 2022 with more clients, balance & consistent income.
Now, and for the next 7 days, a group of experts in their fields is sharing some awesome free classes and resources.
You can sign up for just one of two or as many that interest you. I think I signed up for six. Yes, you have to give away your email, but that's well worth it to get all this information.
BOTTOM LINE: Check out the Best Year Yet Resources and pick the ones you like.
Would you be interested in getting a step~by~step process to update posts? Send me an email at [email protected] and I'll add you to my "want~it~list".
P.S. If you want to be notified of Tuesday Turn About every week, get other home decor and DIY ideas, then please subscribe to Bluesky at Home. I'd love to share more good things with you.
Let's see what your hostesses have been up to.
Carol of Bluesky at Home

How to Make Marshmallow Pops for Christmas Treats | How to Use Dollar Tree Candles for Christmas Decor | A Yummy Christmas Sangria | 10 Fabulous Finds #17
Michelle at Thistle Key Lane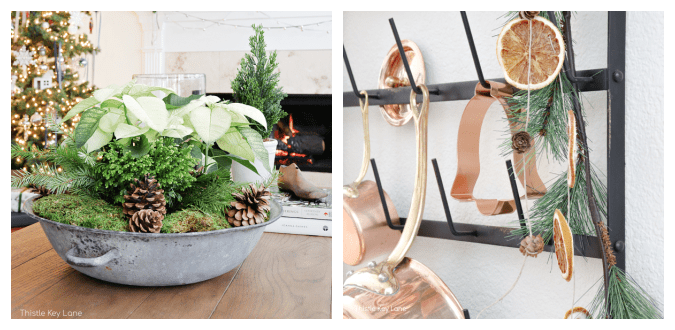 Christmas Home Tour In Green & White | Christmas In The Kitchen
Julie at My Wee Abode
How to Make a Vintage-Look Mercury Ornament Garland | Best Quiet Christmas Toys |
3+ DIY Coastal Christmas Ornaments
Let's look at this week's features ~ all about holiday and Christmas.
If you like a netural Christmas tree, then this DIY tree from Regina of Saved from Salvagemade these adorble trees from leftover packaging. How cute!
Isn't this an adorable nativity? I can see this as a project for kids when school lefts out for the holidays. It's not only a lovely decoration, but also a way to teach the Christmas story. Thank you to Joy of Artful Homemaking for sharing.
Are wreaths jut for hanging on our front doors? No. Karin of The Style Sisters shares several ways to use wreaths that you probably haven't thought about.
I hope you enjoyed these features. Be sure to see the ones that Julie and Michelle selected.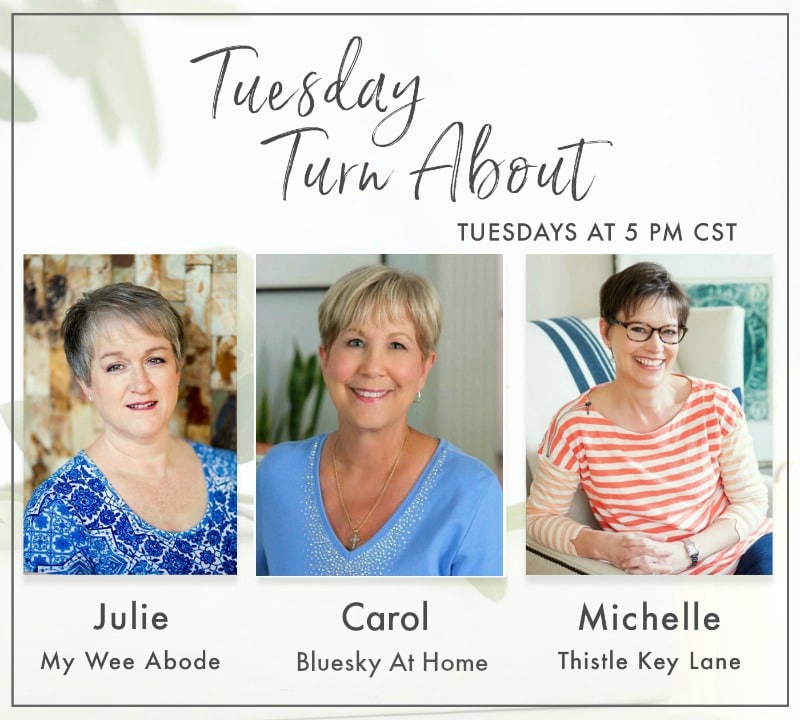 Please visit your hostesses on Social Media.
My Wee Abode: Pinterest | Facebook | Instagram
Thistle Key Lane: Pinterest | Facebook | Instagram
Bluesky at Home: Pinterest | Facebook | Instagram
This party is for home decor and home-related posts only (home decor, recipes, organizing, DIY, crafts, etc.). Link up to 3 related posts. Please do not link up informational posts that do not relate to the topic.
If you would please not link up shops, advertising, round-ups, other link parties, or any posts promoting sales, we would appreciate it.
DO NOT PIN FROM IMAGES ON THIS PAGE (it just won't work right on Pinterest). However, please visit the original post/source and PIN from there. That works perfectly!
Pretty Please make sure that your images are in a jpeg or png format, and not in a webp format. If we can't copy your image, we can't feature you. So sad!
By linking to the party, you give us permission to share your projects on our blogs and social media. We will always give proper credit with a no-pin image.
You are invited to the Inlinkz link party!