Tuesday Turn About Link Party 126
We are so happy to be back with you for Tuesday Turn About Link Party 126.
Less than two weeks until Thanksgiving. It's hard to believe how fast this year has gone by. Last week's links were amazing. It was really hard to choose features. There were so many great ones.
Thank you for sharing your time and talents with us each week. We greatly appreciate it.
Welcome to Tuesday Turn About Link Party 126
The party is now open.
Here is TTA 125 if you would like to visit again.
Carol's Blogger Tip: An Easy Way to Gain Followers on Instagram.
Recently Jillian of Milo Tree shared this streamlined method for gaining Instagram followers. It's called the "follow/unfollow" method for growing your Instagram.
 say, if you do it in an intentional way, with genuine interaction, it can be a great way to give your followers a boost.
It does take work, but it does work.
Here are the steps:
Step 1: On Instagram, find similar accounts to yours with large followings.
Step 2: Click on their followers and start following the people that match your own audience.
Step 3: Since you can perform 60 actions on Instagram per hour, follow as many people as you can without hitting that limit. If you wait an hour, you can do it all over again. But don't risk being flagged by Instagram as being too aggressive, so err on the side of being conservative.
Step 4: After you've followed these new accounts, like and comment on their posts. This is an easy way to have real engagement, and ups your chances of them following you back.
Step 5: Since you can only follow 7,500 accounts on Instagram, your next step is to unfollow the people who don't follow you back. (Plus, if you want to look like a true influencer, you don't want to have an account where you're following more people than are following you.)
Step 6: Sign up for an Instagram follower tracker like Followers Tracker for Instagram. This APP will show you who isn't following you back and makes it really easy to unfollow them. I tried it and it's super easy.
Step 7: Give your new followers a week to start following you. After a week, unfollow the ones that haven't followed you.
BOTTOM LINE: I've loaded the Followers Tracker for Instagram App to my phone. I'm going to try this method myself. If you try this method, let me know your results. Did it work or not? 
Would you be interested in getting a step~by~step process to update posts? Send me an email at blueskyathome@yahoo.com and I'll add you to my "want~it~list". 
P.S. If you want to be notified of Tuesday Turn About every week, get other home decor and DIY ideas, then please subscribe to Bluesky at Home. I'd love to share more good things with you.
Let's see what your hostesses have been up to.
Carol of Bluesky at Home
9 Easy Steps to Set a Thanksgiving Table | Pumpkin Ravioli with Sage Brown Butter Appetizer | 10 Fabulous Finds #14
Michelle at Thistle Key Lane
Thanksgiving Dough Bowl Tablescape | Cozy Christmas Mantel In Red And White
Julie at My Wee Abode
Visiting Lancaster County in the Fall, Pt 1 | Family Fave Holiday Nutmeg Cookies
Let's look at this week's features ~ a bit of this and that.
We have a bar cart in our dining room. I bought it at a flea market several years ago. It's a fun thing to style for holidays. This Thanksgiving~styled bar cart from Shelley of Calypso in the Country is full of seasonal ideas.
Who doesn't love a beautiful Christmas home tour. This one from Jen of Midwest Life and Style is full of gorgeous vignettes and inspiration. You will this home tour.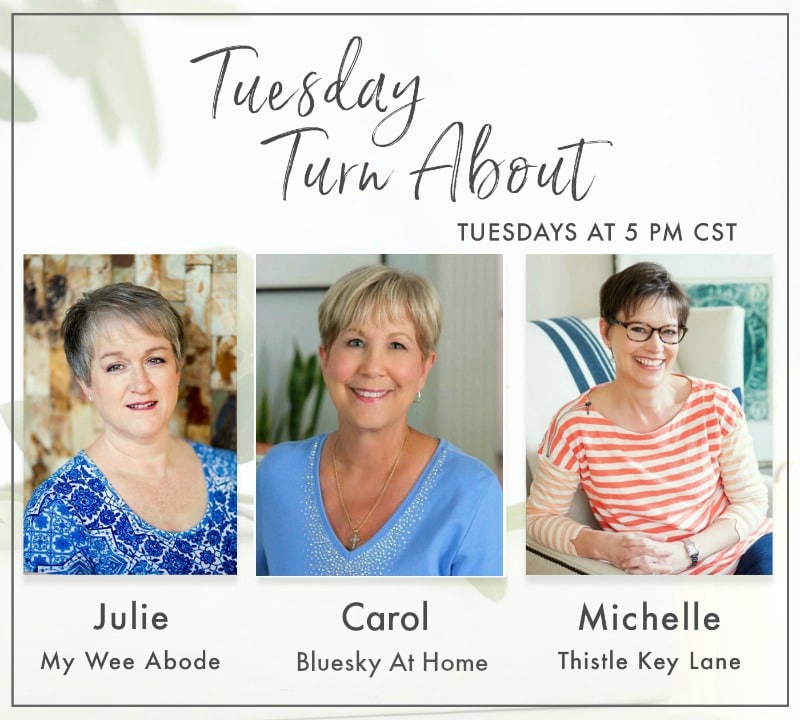 Please visit your hostesses on Social Media.
My Wee Abode: Pinterest | Facebook | Instagram
Thistle Key Lane: Pinterest | Facebook | Instagram
Bluesky at Home: Pinterest | Facebook | Instagram
This party is for home decor and home-related posts only (home decor, recipes, organizing, DIY, crafts, etc.). Link up to 3 related posts. Please do not link up informational posts that do not relate to the topic.
If you would please not link up shops, advertising, round-ups, other link parties, or any posts promoting sales, we would appreciate it.
DO NOT PIN FROM IMAGES ON THIS PAGE (it just won't work right on Pinterest). However, please visit the original post/source and PIN from there. That works perfectly!
Pretty Please make sure that your images are in a jpeg or png format, and not in a webp format. If we can't copy your image, we can't feature you. So sad!
By linking to the party, you give us permission to share your projects on our blogs and social media. We will always give proper credit with a no-pin image.
You are invited to the Inlinkz link party!