Tuesday Turn About Link Party 124
We are so happy to be back with you for Tuesday Turn About Link Party 124.
We are now into November and life will be going faster than runners at a Turkey Trot. Take a few minutes to share and see the great ideas shared here.
Thank you for sharing your great time and talents with us each week.
Welcome to Tuesday Turn About Link Party 124
The party is now open.
Here is TTA 123 if you would like to visit again.
Carol's Blogger Tip: 5 Tips for Republishing Posts
As bloggers, we've been advised to update older content. Whether it is a top post or an evergreen post, good content can always be made better and more helpful to readers. In fact, I love updating and republishing posts to be better than ever.
These tips from Food Blogger Pro are great to keep in mind when updating content for republishing:
Give each post a personalized treatment. Each post on your blog is unique, so any changes you make when republishing should be specific to that particular post.
Decide if you're going to republish a post or just make a few small updates. If you're just making a few small tweaks on a post, you might not want to adjust the date. But if you're giving it a major overhaul, you might want to push it to the front of your blog.
The higher the rank, the more conservative the changes. If a post ranks in the top 4 on Google, be careful not to change too much since it's already performing really well. If a post isn't ranking as high, you don't have as much to lose when making updates.
Look at some high-ranking content on Google to discover topic areas that might be important to include. You don't want to directly copy someone else's strategy, but it's a good place to get an understanding of the broad categories that might be important to cover when writing a comprehensive blog post.
Don't change the date on a post if you're not making updates to it. According to Google, changing the published dates on your posts without making changes to the content will not help improve your rankings. So if you're not making significant changes to a post, don't touch the date!

BOTTOM LINE: Definitely update those older posts, but do it right!
Would you be interested in getting a step~by~step process to update posts? Send me an email at blueskyathome@yahoo.com and I'll add you to my "want~it~list". 
P.S. If you want to be notified of Tuesday Turn About every week, get other home decor and DIY ideas, then please subscribe to Bluesky at Home. I'd love to share more good things with you.
Let's see what your hostesses have been up to.
Carol of Bluesky at Home
5 Ways to Style Fall Foliage | 9+ Awesome DIY Thanksgiving Projects | 10 Fabulous Finds #12.
Michelle at Thistle Key Lane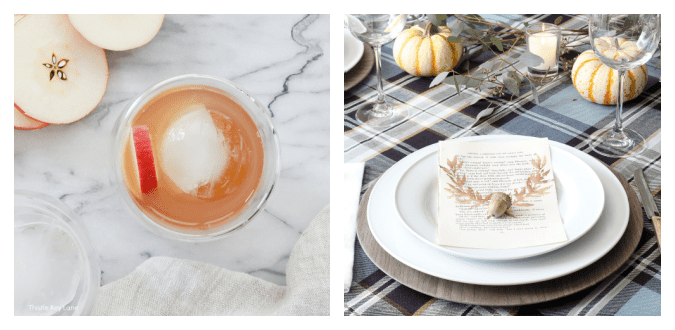 Bourbon Apple Cider Cocktail Recipe | Thanksgiving Table With Plaid And Copper Accents
Julie at My Wee Abode
Free Printable Name Place Cards for Thanksgiving
How to Dress-up a Charger with Wood Beads
Let's look at this week's features ~ some great ~ and easy ~ fall DIY projects.
Thanksgiving is the season of being thankful and grateful for our blessings. Coco of The Crowned Goat shows come lovely ideas for encouraging us to share the things we are grateful for.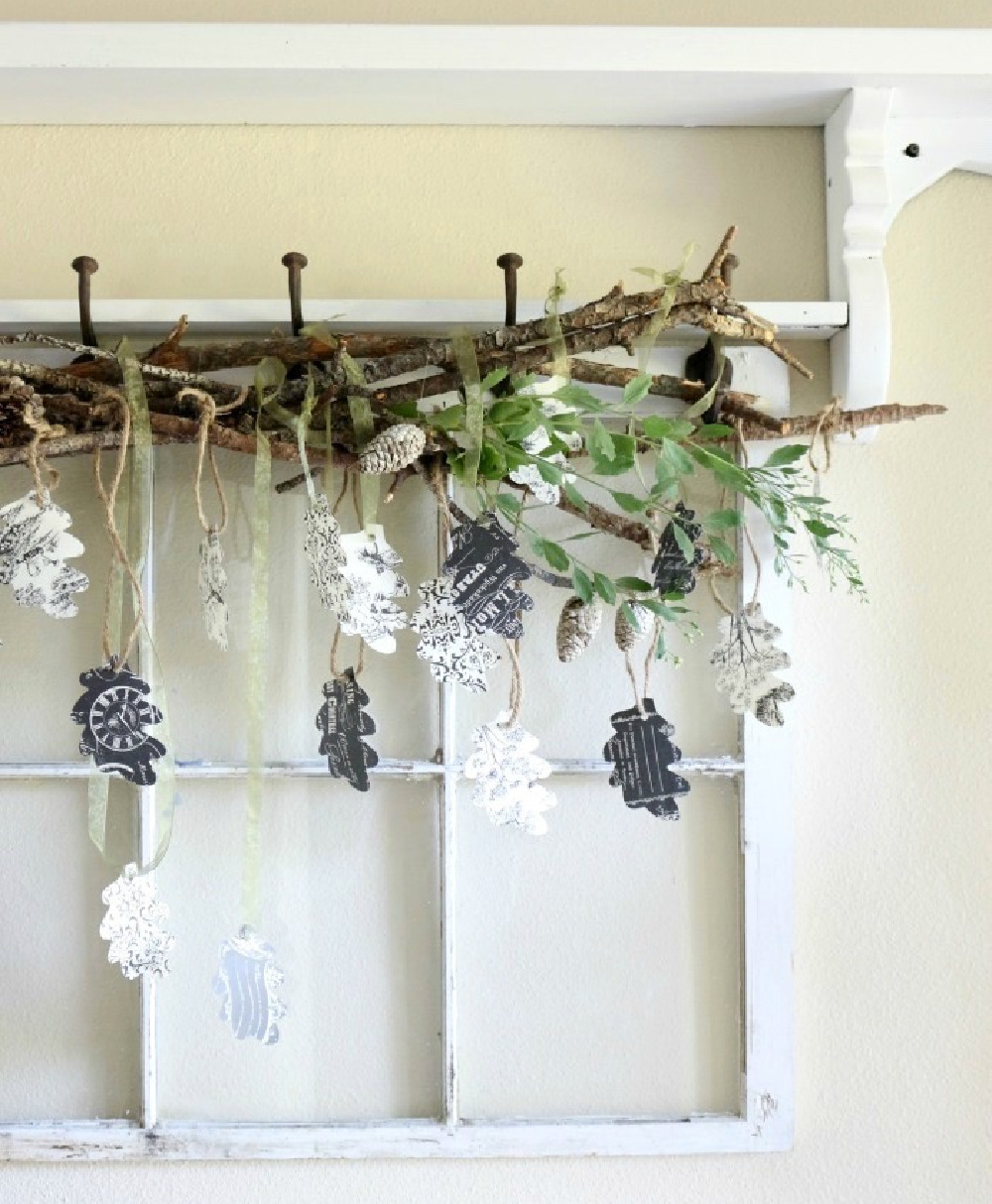 Ok, I may be jumping the gun (that means looking ahead to Christmas), but I loved all the ideas for white wreaths from Linda of Crafts a la Mode. 
Who doesn't love a cute red truck? I absolutely loved this decoration from Jenna of The Painted Apron. I ordered three and already received them. They move, too.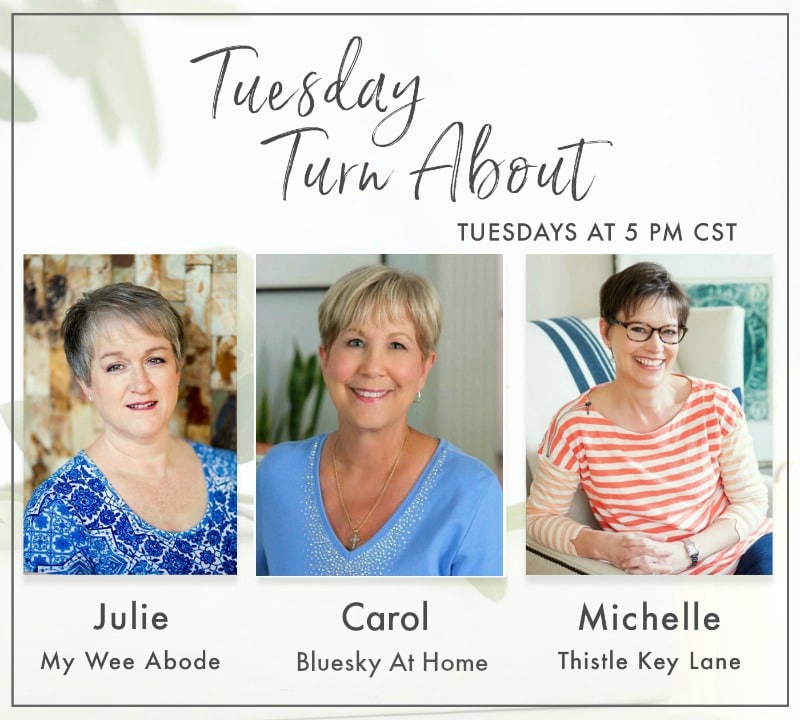 Please visit your hostesses on Social Media.
My Wee Abode: Pinterest | Facebook | Instagram
Thistle Key Lane: Pinterest | Facebook | Instagram
Bluesky at Home: Pinterest | Facebook | Instagram
This party is for home decor and home-related posts only (home decor, recipes, organizing, DIY, crafts, etc.). Link up to 3 related posts. Please do not link up informational posts that do not relate to the topic.
If you would please not link up shops, advertising, round-ups, other link parties, or any posts promoting sales, we would appreciate it.
DO NOT PIN FROM IMAGES ON THIS PAGE (it just won't work right on Pinterest). However, please visit the original post/source and PIN from there. That works perfectly!
Pretty Please make sure that your images are in a jpeg or png format, and not in a webp format. If we can't copy your image, we can't feature you. So sad!
By linking to the party, you give us permission to share your projects on our blogs and social media. We will always give proper credit with a no-pin image.
You are invited to the Inlinkz link party!