Tuesday Turn About Link Party 121
We are so happy to be back with you for Tuesday Turn About Link Party 121
How is your October going? Did you have a nice Columbus Day? It's been very warm, then cool and crisp. The leaves are falling. Fall and Halloween is on our minds.
Thank you for visiting us every week and sharing your great creations with us.
Welcome to Tuesday Turn About Link Party 121
The party is now open.
Here is TTA 120 if you would like to visit again.
CAROL'S BLOGGER TIP ~ Limit the number of tags on your blog posts.
Tags, or hashtags, on Instagram are gold. That's the way that people search for specific topics. #findatopic.
The same is not true on WordPress.
I just read an article from Yoast SEO about using tags on a blog post. I remember the days, not so long ago, when bloggers would use as many tags as possible, thinking it would make searching on your site easier for readers.
That practice has changed, or should change, dramatically as we now understand what tags on a post mean.
According to Yoast SEO:
What happens to your rankings if you add too many tags?
Every tag you add inevitably leads to an extra page Google needs to crawl through. That'll make crawling through your website more difficult. And, to make matters worse, every tag leads to a thin content page. A page Google really dislikes. If you have more tags than posts, you'll have more 'bad and thin content pages' than you have high-quality content. And Google hates thin content. Sites with a lot of thin content don't rank well. Thus: if you're using too many tags, your rankings will drop.
How should you use tags on your website?
Think of your tags as a closet and think of your posts as pieces of clothing. Of course, you understand you can put your clothes in a closet. That makes sense. It'll clean up your room. It does not make sense to add more closets to your room than the number of pieces of clothing you own. You'll end up with empty closets that take up a lot of room. You should never have empty closets. So, if you have around 90 posts, limit the number of tags to about 30. Try to keep your tag to post-ratio under 1:3.

BOTTOM LINE: Going forward, limit your tags to no more than 3 per post. I've been deleted extra tags when I update older posts.
P.S. If you want to be notified of the Tuesday Turn About every week and other home decor and DIY ideas, then please subscribe to Bluesky at Home. I'd love to have you be a part of my world.
Let's see what your hostesses have been up to.
Carol of Bluesky at Home

Decorate Your Entry for Halloween | Fall Wood DIY Sign | 10 Fabulous Finds at Bluesky at Home #9
Michelle at Thistle Key Lane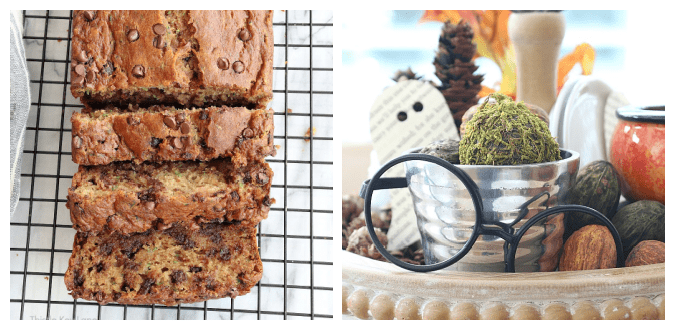 Zucchini Bread Recipe With Chocolate Chips | Create A Last Minute Halloween Tiered Tray
Julie at My Wee Abode
Free Watercolor Fall Printables | Adding Fall Decor to a Small Kitchen
Let's look at this week's features.
What a pretty vignette for fall. Lisa of Fresh Vintage created birch candles to go with this Thankful sign.
Who doesn't love cupcakes? Especially these cute ones from Elizabeth of Pinecones and Acorns.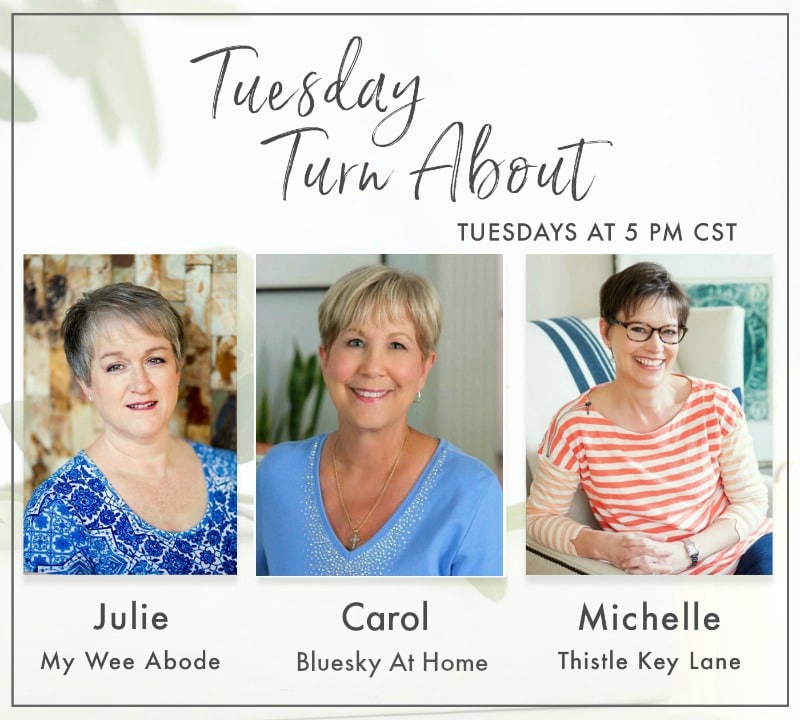 Please visit your hostesses on Social Media.
My Wee Abode: Pinterest | Facebook | Instagram
Thistle Key Lane: Pinterest | Facebook | Instagram
Bluesky at Home: Pinterest | Facebook | Instagram
This party is for home decor and home-related posts only (home decor, recipes, organizing, DIY, crafts, etc.). Link up to 3 related posts. Please do not link up informational posts that do not relate to the topic.
If you would please not link up shops, advertising, round-ups, other link parties, or any posts promoting sales, we would appreciate it.
DO NOT PIN FROM IMAGES ON THIS PAGE (it just won't work right on Pinterest). However, please visit the original post/source and PIN from there. That works perfectly!
Pretty Please make sure that your images are in a jpeg or png format, and not in a webp format. If we can't copy your image, we can't feature you. So sad!
By linking to the party, you give us permission to share your projects on our blogs and social media. We will always give proper credit with a no-pin image.
You are invited to the Inlinkz link party!