Tuesday Turn About Link Party 119
We are so happy to be back with you for Tuesday Turn About Link Party 119.
Fall feels like it is creeping in on little cat feet. The days seem just a tad bit cooler and a minute shorter.
We had a big party last week. Thank you for visiting us every week and sharing with this great group.
Welcome to Tuesday Turn About Link Party 119
The party is now open.
Here is TTA 118 if you would like to visit again.
CAROL'S BLOGGER TIP ~ What does Pinterest want you to Pin?
Without a doubt, Pinterest wants FRESH CONTENT*. Here are some recent Pinterest recommendations.
*Fresh Pins are defined by Pinterest as images or videos that haven't been seen before. You can create several images that link to the same blog post, page, or product listing, and each of those would be fresh when saved to Pinterest for the first time. 
Pinterest doesn't want you Pinning and re-pinning the same image over and over again circa Pinterest strategy of 2016.
Pinterest is demonstrating a preference for recent and relevant pins.
We should be slowly dripping our fresh content rather than pinning it all in a single session
Pinterest recognizes that as strategic content creators and business owners, we want to be able to share the same image more than once – BUT they do not want you Pinning in a manner that is ICKY for their users (this is your audience)
Pinterest has recommended that you have at least 2 days between the same Pin… Tailwind went a step further and is saying 7 days between Pins to be extra safe
NOTE: My PIns are spaced apart, depending on the number of boards I am PInning to. For example, if I am Pinning a post to 4 boards, I will space them 5 days apart. If 5 boards, then I space 6 days apart.
BOTTOM LINE: Continue to create multiple Pinnable images for brand new content and update older content with new, never seen before Pinnable images.
I'm also sharing Julie's tip this week because we have had some issues with this topic:
In the past, we have talked about making sure our sites are secure. But, did you know that many blogging gurus will tell you that adding an insecure external link to a blog post is a no-no, as well?
That's right… To make Google 'happy', be sure that any links you are adding to your blog posts are just as secure as your site. You don't want to be sending your readers to sites that don't have their security certificate. Your readers will thank you (whether they know it or not). 😉
If you have questions about the importance of HTTPS, here is one of many articles to read.
Now, let's see what your hostesses were up to last week.
Carol at Bluesky at Home
DIY Paint and Stencil Halloween Decorations | How to Decorate Pumpkins with Rope and Twine  
10 Fabulous Finds #7
Michelle at Thistle Key Lane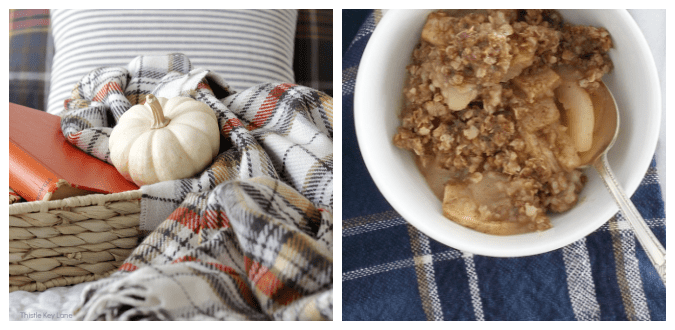 Simple Fall Bedroom Ideas | Apple Crisp Recipe
My Wee Abode
10-Minute Gorgeous Fall Wreath | Adding Fall Decor to a Tiny Patio
Here are my features of the week ~ it's all about DIY projects.
I've seen lots of tutorials for making velvet pumpkins. Joy of Artful Homemaking shares an easy to follow video for you.
I have a vintage ladder that I'm always trying to find new ways to decorate. My Home for All Seasons shares a cute way to use a ladder for fall decor.
Be sure to check what Julie and Michelle chose as their features. Now it's time for you to start linking.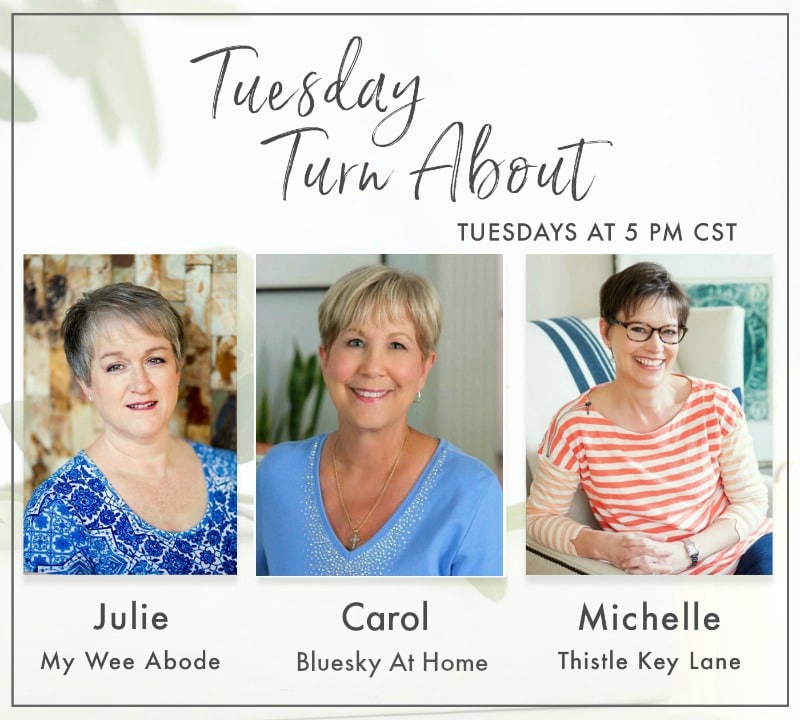 Please visit your hostesses on Social Media.
My Wee Abode: Pinterest | Facebook | Instagram
Thistle Key Lane: Pinterest | Facebook | Instagram
Bluesky at Home: Pinterest | Facebook | Instagram
This party is for home decor and home-related posts only (home decor, recipes, organizing, DIY, crafts, etc.). Link up to 3 related posts. Please do not link up informational posts that do not relate to the topic.
If you would please not link up shops, advertising, round-ups, other link parties, or any posts promoting sales, we would appreciate it.
DO NOT PIN FROM IMAGES ON THIS PAGE (it just won't work right on Pinterest). However, please visit the original post/source and PIN from there. That works perfectly!
Pretty Please

make sure that your images are in a jpeg or png format, and not in a webp format.

 If we can't copy your image, we can't feature you. So sad!
By linking to the party, you give us permission to share your projects on our blogs and social media. We will always give proper credit with a no-pin image.
You are invited to the Inlinkz link party!