Tuesday Turn About Link Party 118
We are so happy to be back with you for Tuesday Turn About Link Party 118.
I hope that you had a great weekend. We watched our Cowboys beat the Chargers in the last minute with a long field goal. Way to go, boys.
Thank you for sharing your creations with us again. We love all our blogger friends who visit us every week..
Welcome to Tuesday Turn About Link Party 118
The party is now open.
Here is TTA 117 if you would like to visit again.
CAROL'S BLOGGER TIP ~ WHERE TO PUT THOSE IMAGES
This tip is from Mike Pearson of Stupid Simple SEO. He's a genius.
"Pinterest images should be in the middle or lower on your blog post. 
I also don't recommend starting a blog post with an image if you can avoid it. 
People don't come to your blog post from Google to see an image. They want an answer to a question. If they want to see photos – they'll go to Instagram or Facebook. 
If they click from Google and they have to scroll to read any text – they're going to instantly click back. Unless the image answers the question. 
You can put more images in your post to help break up the wall of text – though you'll do better if those images convey more information to help the reader. Such as photos of the product in a review, steps in the recipe or an infographic. 
BOTTOM LINE: Use those images to answer your readers' questions.
Now, let's see what your hostesses were up to last week.
Carol at Bluesky at Home
How to Decorate a Pumpkin Using Yarn | How to Update Your Living Room with Just 2 Little Things  | 
10 Fabulous Finds #5.
Michelle at Thistle Key Lane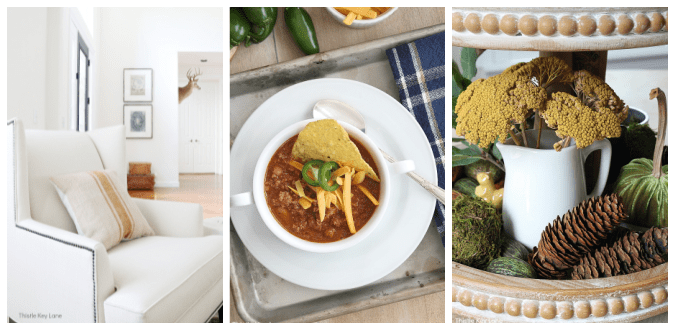 Subtle Ways To Decorate For Fall | Best Chili Recipe | Fall Tiered Tray With Greens & Browns
My Wee Abode
DIY Custom Wood Frame with Glass – NO POWER TOOLS! |
DIY Designer Velvet Pumpkins for $4.00
Free Fall Watercolor Printable Art Gallery | Neutral Decor with a Fall Cloche
Here are my features of the week ~ it's all about fall and DIY projects.
This post has nothing to do with fall, but this DIY bench from At Home with Ashley was so darn cute, I couldn't resist sharing it. 
This is such an unique pumpkin project from Paula at Sweet Pea, I had to show it off.
I love cupcakes. This "apple"lutely delicious~sounding cupcake from Jen of Cincy Shopper was too cute to pass up.
Be sure to check what Julie and Michelle chose as their features. Now it's time for you to start linking.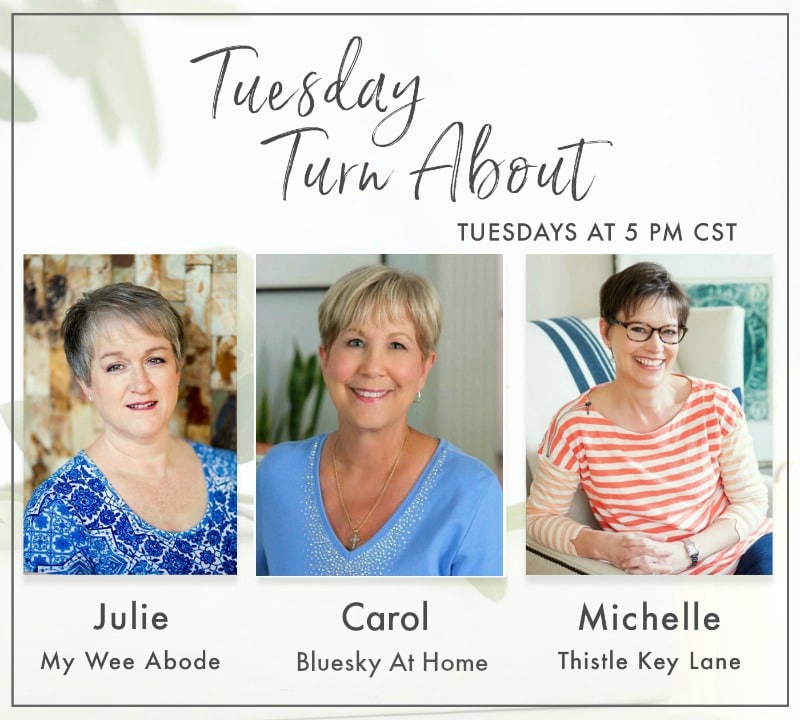 Please visit your hostesses on Social Media.
My Wee Abode: Pinterest | Facebook | Instagram
Thistle Key Lane: Pinterest | Facebook | Instagram
Bluesky at Home: Pinterest | Facebook | Instagram
This party is for home decor and home-related posts only (home decor, recipes, organizing, DIY, crafts, etc.). Link up to 3 related posts. Please do not link up informational posts that do not relate to the topic.
If you would please not link up shops, advertising, round-ups, other link parties, or any posts promoting sales, we would appreciate it.
DO NOT PIN FROM IMAGES ON THIS PAGE (it just won't work right on Pinterest). However, please visit the original post/source and PIN from there. That works perfectly!
Pretty Please

make sure that your images are in a jpeg or png format, and not in a webp format.

 If we can't copy your image, we can't feature you. So sad!
By linking to the party, you give us permission to share your projects on our blogs and social media. We will always give proper credit with a no-pin image.
You are invited to the Inlinkz link party!