Tuesday Turn About Link Party 116
We are so happy to be back with you for Tuesday Turn About Link Party 116.
I hope that you had an enjoyable Labor Day Weekend. Are you ready for fall, Halloween, and Thanksgiving?
We had an awesome turnout for last week's link party. Thank you for sharing with us and all our other visitors.
Welcome to Tuesday Turn About Link Party 116
Tuesday Turn About Link Party 116 is now open for partying.
Here is TTA 115 if you would like to visit again.
CAROL'S BLOGGER TIP
BLOGGER TIP #30 ~  What's the real scoop about Core Web Vitals?
Grayson Bell is the go-to guy for thousands of bloggers when it comes to blogging on WordPress. His company iMark Interactive keeps up with the latest information on Google, SEO, and WordPress. His Facebook Group, Blogging on WordPress is a wealth of information that I check daily.
A few days ago, Grayson posted this information about Core Web Vitals. If you missed the memo, "Core Web Vitals are a set of three main metrics that Google factors as important in your webpage's overall user experience. . .  a subset of factors that are part of Google's "page experience" score, a.k.a. Google's way of judging your page's overall user experience."
For a few months, everyone has been freaking about CWV and how to meet the criteria.
A few days ago, Grayson posted this evaluation that I thought was very worth sharing. It should make you let out a big sigh of relief. The segments in BOLD are mine for emphasis:
"Based on a site data and information we have, we are seeing little to no impact from core web vitals on site rankings/traffic. As we indicated, this would be a small factor and it seems to have played out that way.
The page experience update was completely separate from the two big updates in June and July. Those were core updates that didn't focus on speed or core web vitals based on what we have seen. They focused on relevancy and then the link spam update.
We had indicated before that people shouldn't obsess about core web vitals and that has proven to be pretty true. We have had many customers focusing the last few months on trying to pass them and even when they did, they lost a ton of traffic in the June/July updates. Some upwards of 60%.
So, while it's not a bad idea to check over your speed and core web vitals, do not obsess and feel bad if you don't pass. They seem to be of very little weight and when you compare to focusing on content and updates, it has a negative ROI.
When they tell you that content is king, it's true. It's always been true and always will be. Stop focusing on the things that affect 10% of your traffic when you are leaving the things that affect 90% without any attention
So again, content should be your focus. Make it better, research more, and give the reader what they are looking for. 
But sites that focused on content creation and updating old content to be better saw overall increases of 35% on average during these updates. Many of them still don't pass core web vitals either and are still seeing gains regularly as they focus on content.
BOTTOM LINE: Focus on creating awesome content and optimizing it for SEO. Then enjoy the ride.
Now, let's see what your hostesses were up to last week.
Carol at Bluesky at Home
3 Quick Fall Crafts | Fall Leaf Art on Canvas  | How to Make a Pumpkin and Floral Wreath | 10 Fabulous Finds #3
Michelle at Thistle Key Lane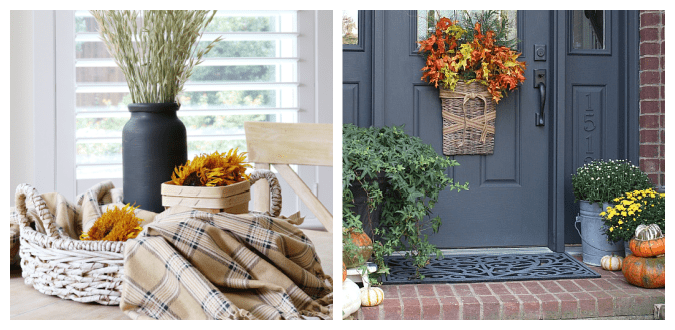 How To Make A Plaid Table Throw | Fall Decorating Ideas For A Small Porch
My Wee Abode
10-Minute Fall Decorating with Coordinating Pillows | Simple Fall Decor Using Place Cards
Here are my features of the week ~ it's all about fall and DIY projects.
Anytime I see a different crafty project for making pumpkins, my eyes widen and my ears perk up. This project using twine from Kippi of Kippi at Home creates a twig~like pumpkin for your fall home decor.
Need more fall home deocr ideas? I love all the pretty vignette that Tara of Shiplap and Stillettos shows us how to make.
This project isn't necessarily for fall, but could be. Megan of Makeable Crafts shows us how to use flea market finds to make a darling cake (or decorative) stand.
Be sure to check what Julie and Michelle chose as their features. Now it's time for you to start linking.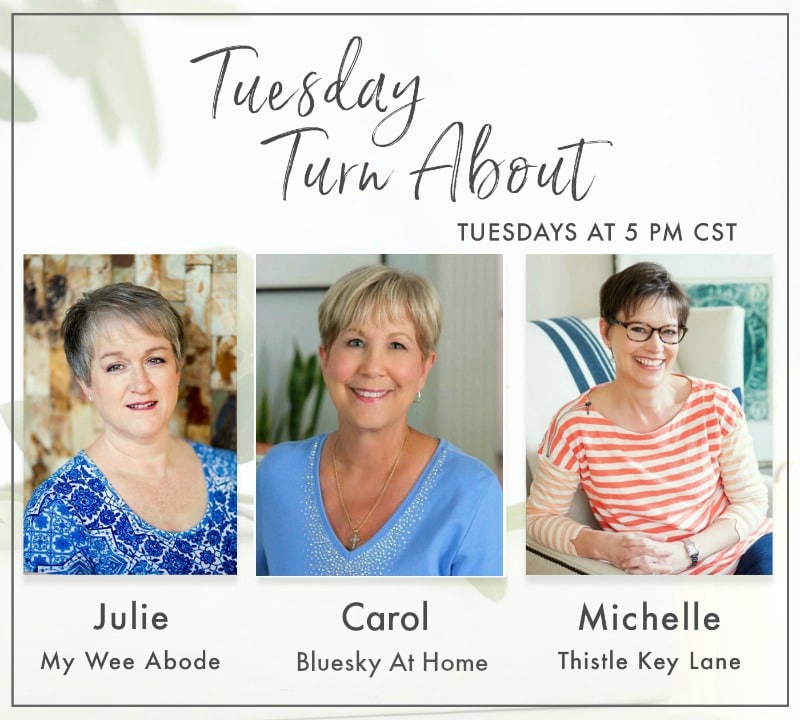 Please visit your hostesses on Social Media.
My Wee Abode: Pinterest | Facebook | Instagram
Thistle Key Lane: Pinterest | Facebook | Instagram
Bluesky at Home: Pinterest | Facebook | Instagram
This party is for home decor and home-related posts only (home decor, recipes, organizing, DIY, crafts, etc.). Link up to 3 related posts. Please do not link up informational posts that do not relate to the topic.
If you would please not link up shops, advertising, round-ups, other link parties, or any posts promoting sales, we would appreciate it.
DO NOT PIN FROM IMAGES ON THIS PAGE (it just won't work right on Pinterest). However, please visit the original post/source and PIN from there. That works perfectly!
Pretty Please

make sure that your images are in a jpeg or png format, and not in a webp format.

 If we can't copy your image, we can't feature you. So sad!
By linking to the party, you give us permission to share your projects on our blogs and social media. We will always give proper credit with a no-pin image.
You are invited to the Inlinkz link party!