Tuesday Turn About Link Party 115
We are so happy to be back with you for Tuesday Turn About Link Party 115.
Happy last day of August and the last link party of August. Tuesday Turn About Link Party 115 is looking forward to seeing what creative things you are doing as a new season begins.
We always have awesome parties. You are the best bunch of lifestyle bloggers and we so appreciate you spending a bit of your time with us. Cudos to everyone for creating great projects, recipes, tablescapes, and content.
Welcome to Tuesday Turn About Link Party 115
Tuesday Turn About Link Party 115 is now open for partying.
Here is TTA 114 if you would like to visit again.
CAROL'S BLOGGER TIP
BLOGGER TIP #29 ~  WordPress ~ Classic Editor Vs. Gutenberg ~ Does it Affect your SEO?
Monday morning in a Membership Q & A I am in, several questions about using Classic Editor Vs. Gutenberg came up. These were primarily about how to add no~follow and sponsored links. (BTW, you can't add a sponsored link in Classic without a plugin or inserting code; neither are good options.)
This morning I watched a webinar by Yoast SEO. During the Q & A, someone asked the question: "Does using Classic or Gutenberg affect your SEO?" I'd never thought about that. Can you guess the answer?
The answer was a resounding YES. According to the experts at Yoast SEO, Google knows which editor you are using. (Do they know what color shirt I'm where when I'm creating a post?) Since Gutenberg offers more tools for editing, creates a better flow and user experience, Google will rank a post using Gutenberg higher than a post using Classic Editor.
They also said that in this competitive blogging world, every little tool we can use helps to increase our ranking.
BOTTOM LINE: If you are using Gutenberg, congratulations. If you are still using Classic Editor, you need to switch to Gutenberg, not just for better editing tools, but for better SEO.
P.S. I waited until winter of 2019 to switch to Gutenberg. Yes, it's a learning expereince, but I've never looked back. It's a much better writing experience and you have so many more tools to use. Now, I love it.
P.S.S. According to WordPress, "the Classic Editor plugin will be officially supported until December 31, 2021." What does that mean?
"This means that all plugin authors, theme authors, third parties, and the WordPress Core team will no longer feel obligated to support two editors. So, from 2022 henceforth, not only will this plugin become incompatible, but everything else in WordPress too. The latter will happen sooner; so, it's best to start using the new editor before that happens."
Now, let's see what your hostesses were up to last week.
Carol at Bluesky at Home
I shared Autumn in August last week, so that's why I had six posts.

3 DIY Fall Projects | Simple Fall Mantel | Dollar Tree Fall Yard Art | Fabric and Burlap Fall Banner | Transitioning from Summer to Fall Decor | 10 Fabulous Finds from Bluesky Browsing #3
Michelle at Thistle Key Lane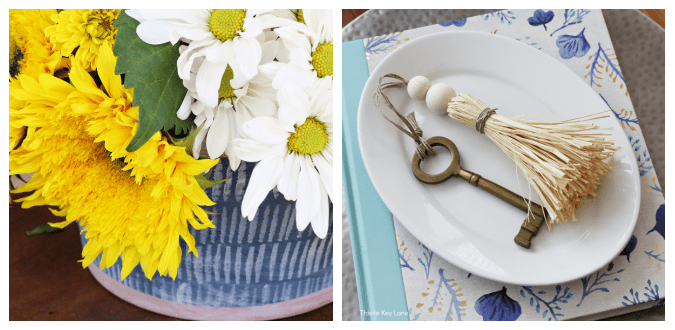 Early Fall Tablescape With Sunflowers | How To Make Raffia Tassels
Easy Fall Decor Ideas for a Small Home | DIY Fall Hydrangea Wreath for Less
Here are my features of the week ~ it's all about fall.
Cloches have been wonderful to display home collectibles and accessories for decades. Julie of Restyle Relove shared how to make a base for a cloche using terra cotta pots.
This yarn pumpkin project from Corine of Junk to Gems is one of my favorites. I checked my yarn stash and I plan to make my own version.
I absolutely love using leaf ~ gold or copper ~ in home decor projects. CIndy of Reinvented Delaware shared her new copper~leaf pumpkin project.
Be sure to check what Julie and Michelle chose as their features. Now it's time for you to start linking.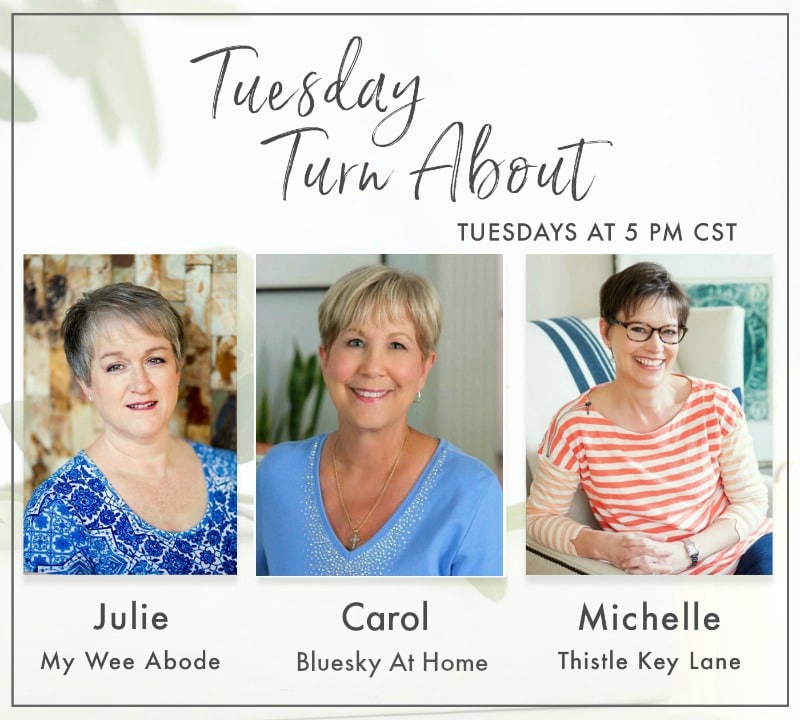 Please visit your hostesses on Social Media.
My Wee Abode: Pinterest | Facebook | Instagram
Thistle Key Lane: Pinterest | Facebook | Instagram
Bluesky at Home: Pinterest | Facebook | Instagram
This party is for home decor and home-related posts only (home decor, recipes, organizing, DIY, crafts, etc.). Link up to 3 related posts. Please do not link up informational posts that do not relate to the topic.
If you would please not link up shops, advertising, round-ups, other link parties, or any posts promoting sales, we would appreciate it.
DO NOT PIN FROM IMAGES ON THIS PAGE (it just won't work right on Pinterest). However, please visit the original post/source and PIN from there. That works perfectly!
Pretty Please

make sure that your images are in a jpeg or png format, and not in a webp format.

 If we can't copy your image, we can't feature you. So sad!
By linking to the party, you give us permission to share your projects on our blogs and social media. We will always give proper credit with a no-pin image.
You are invited to the Inlinkz link party!