Tuesday Turn About Link Party 113
We are so happy to be back with you for Tuesday Turn About Link Party 113. We had a huge turn out for this turn about link party.
Fall decor is everywhere. Tuesday Turn About Link Party 113 is looking forward to seeing what creative things you are doing as a new season begins.
Welcome to Tuesday Turn About Link Party 113
Tuesday Turn About Link Party 113 is now open for partying.
Here is TTA 112 if you would like to visit again.
Tuesday Turn About Link Party 113
CAROL'S BLOGGER TIP
BLOGGER TIP #27 ~  Why Pinterest is Still Your Best Bet
I recently read some awesome blogging advice from Jennifer Priest with Smart Creative Social. Jennifer is a Pinterest expert and I've heard her on other sites' webinars. Here's what Jennifer says about why you should use Pinterest to grow your blog traffic. 
"Facebook and Instagram may be fun social media channels. They may be great for meeting others in your community. But Facebook and Instagram can make massive changes that will affect your blog traffic overnight. 

Facebook content lives on for a few days, or weeks, if you're lucky. If you stop posting, all activity stopped.

That's not true with Pinterest.

What makes Pinterest different?

Pinterest content is EVERGREEN.

Every pin you've ever put on Pinterest from the beginning of time continues to live on Pinterest.

Pinterest continues to collect data on the pin, shows the pin to people interested in that topic, and gathers more data based on their interaction to repeat the cycle. This is happening continuously.

This means that your pin from today can:

bring you TRAFFIC for years from now
gain you followers for YEARS from now
can bring you SALES for years from now
Ever wonder why it seems like only your "old pins" are getting any activity? This is why!"
We all know that Pinterest has made some changes that have us scratching our heads. But I'm sticking with Pinterest and Google and SEO and search engines.
Yesterday, I started a 5~day challenge with Jennifer. I'll let you know how it goes.
BOTTOM LINE: Don't give up on Pinterest. Focus on great content, an effective strategy, awesome Pinnable images, and updating older content.
Now, let's see what your hostesses were up to last week.
Carol at Bluesky at Home
Fabulous Fall Living Room Ideas| 10 Fabulous Finds from Bluesky Browsing
Michelle at Thistle Key Lane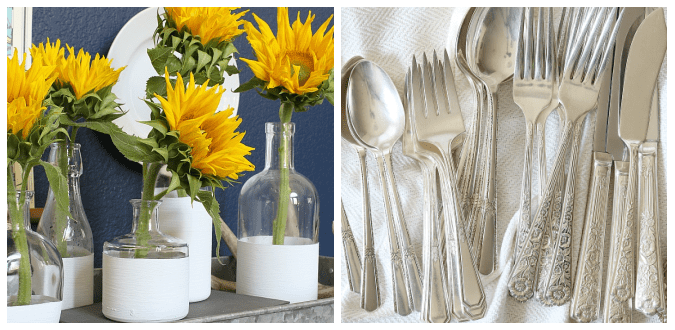 Summer To Fall Entry Table With Sunflowers | How To Polish Sterling Silver
Julie at My Wee Abode
7 Fall DIY and Decor Ideas | Simple Fall Decor to Add to Your Tiny Home
Now let's take a look at this week's features.
THIS WEEK'S TTA 113 FEATURES
You can't think about fall without thinking about pumpkins. These days, we decorate pumpkins in so many ways. I loved this treatment from Cindy of Reinvented Delaware. What a soft pretty look for those who arement into orange pumpkins.
You can't beat big checks in any size, but I love the black and white and the taupe and white painted jars that Carrie of Curly Craft Mom made. 
I love decorating with books, don't you? Rachelle of My Hubbard Home shows several ways to use them in your home decor settings.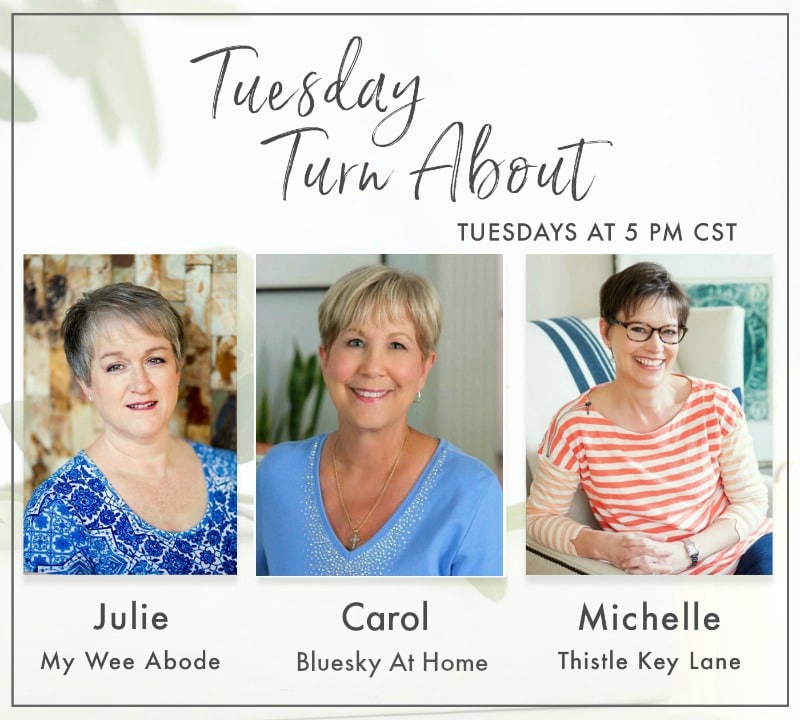 Please visit your hostesses on Social Media.
My Wee Abode: Pinterest | Facebook | Instagram
Thistle Key Lane: Pinterest | Facebook | Instagram
Bluesky at Home: Pinterest | Facebook | Instagram
This party is for home decor and home-related posts only (home decor, recipes, organizing, DIY, crafts, etc.). Link up to 3 related posts. Please do not link up informational posts that do not relate to the topic.
If you would please not link up shops, advertising, round-ups, other link parties, or any posts promoting sales, we would appreciate it.
DO NOT PIN FROM IMAGES ON THIS PAGE (it just won't work right on Pinterest). However, please visit the original post/source and PIN from there. That works perfectly!
Pretty Please

make sure that your images are in a jpeg or png format, and not in a webp format.

 If we can't copy your image, we can't feature you. So sad!
By linking to the party, you give us permission to share your projects on our blogs and social media. We will always give proper credit with a no-pin image.
You are invited to the Inlinkz link party!