Tuesday Turn About Link Party 110
Welcome to Tuesday Turn About Link Party 110
We are back with back with you for Tuesday Turn About Link Party 110 this week.
What a crazy week. I returned home last Sunday evening. Wrote a post for Monday to kick off Christmas in July week. Finished our TTA 109 post. (Did you like the features?) Then thirty~six hours later, my older daughter and two grandgirls flew in from Atlanta. It's been a whirlwind week.
Christmas in July was such fun. I know that many of you are also sharing Christmas ideas. In addition to TTA, I posted 5 (!) Christmas in July posts. I've never posted that many posts in one week! I hope I didn't wear anyone out.
So now, let's get on to this week's link party.
Tuesday Turn About Link Party 110 is now open for partying.
Here is TTA 109 if you would like to visit again.
Tuesday Turn About Link Party 110
Carol's Blogger Tip
BLOGGER TIP #24 ~ Name Those Images!
I was reading through some of my Haven notes from 2016. This tip still holds true. All images that you use on your blog, social media, Pinterest need to have a specific name.

I have to save a lot of images for this link party and post roundups. It still amazes me how many bloggers still do not follow standard protocols about naming images.
When you upload an image from your phone or DSLR camera, each image has a number name; it usually looks like this: IMG_2738.JPG.
Why is this not helpful? Google can't read this. There is no SEO boost for your image. Pinterest can't identify the image. Plus, if you are searching for an image, are you going to remember that "name"?
When you edit that IMG, rename it using descriptive words to reflect what the image is about; from IMG_2738.JPG to "red-valentine-wreath-on-door". Notice also that there are "-" between every word. That is also an indicator to Google and Pinterest. It also helps your SEO and Google juice to have each image have a different name.

BOTTOM LINE: Remember after editing an image, when you save it, give it a name!
Now, let's see what your hostesses were up to last week.
Carol at Bluesky at Home

Easy Christmas Sign | 3 DIY Christmas GIflts | DIY Christmas Vintage Cutting Boards
| Hot Chocolate Bar | 9 Ways to Add the Christmas Spirit
Michelle at Thistle Key Lane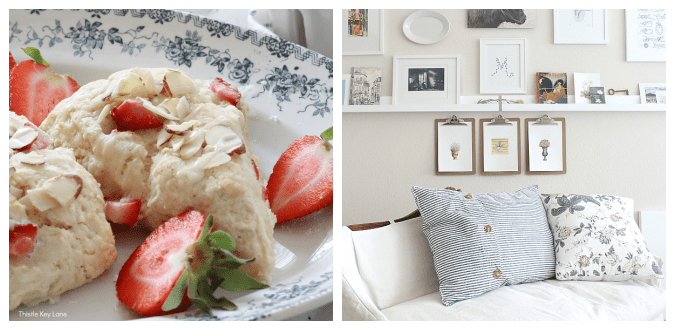 Strawberry Scone Recipe | Heron Watercolors & A Look At My Studio
Julie at My Wee Abode
DIY 10-Minute Mini Faux Succulent Garden | Easy No Fail Strawberry Shortcake Recipe
Now let's take a look at this week's features.
This past weekend, my son and older daughter helped me completely clean out a guest closet and convert it into my personal home decor storage closet. (More about that later.) So I'm in a decluttering mood. Julie of Filling the Jars shared one of the best articles on decluttering I've ever read.
After making and sharing my Strawberry Vanilla Cake in the Pinterest Challenge, I was attracted to this beautiful s'mores charcuterie board from Kelli of 3 Boys and a Dog.
Sweet Shark and I recently watched a series about Ernest Hemingway that was very interesting. So when I saw this Hemingway Daiquiri Cocktail from Jennifer of Satsuma Designs, I knew I have to save it for a happy hour drink. Isn't it pretty?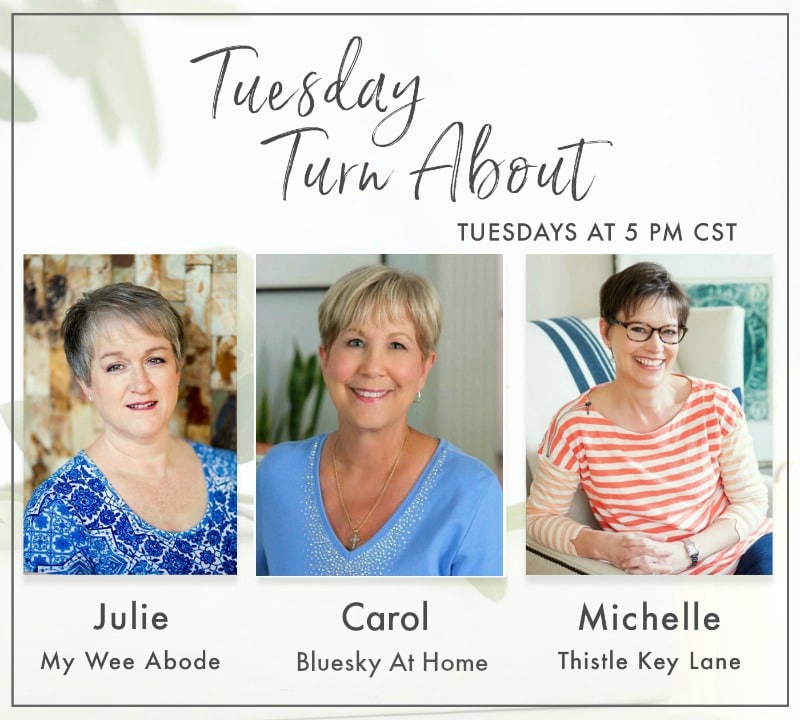 Please visit your hostesses on Social Media.
My Wee Abode: Pinterest | Facebook | Instagram
Thistle Key Lane: Pinterest | Facebook | Instagram
Bluesky at Home: Pinterest | Facebook | Instagram
This party is for home decor and home-related posts only (home decor, recipes, organizing, DIY, crafts, etc.). Link up to 3 related posts. Please do not link up informational posts that do not relate to the topic.
If you would please not link up shops, advertising, round-ups, other link parties, or any posts promoting sales, we would appreciate it.
DO NOT PIN FROM IMAGES ON THIS PAGE (it just won't work right on Pinterest). However, please visit the original post/source and PIN from there. That works perfectly!
Please make sure that your images are in a jpeg or png format, and not in a webp format. If we can't copy your image, we can't feature you. So sad!
By linking to the party, you give us permission to share your projects on our blogs and social media. We will always give proper credit with a no-pin image.
You are invited to the Inlinkz link party!