Tuesday Turn About Link Party 109
Welcome to Tuesday Turn About Link Party 109
I'm so happy to be back with you for Tuesday Turn About Link Party 109 this week.
I had a fabulous time visiting family. Then, I attended Haven Conference for three jammed~packed days. My brain is still on overload. The exchange of ideas was so beneficial. I'll be rehashing it all in the coming weeks ~ and trying to implement many ideas into my blogging practices.
The best part, as always, is meeting so many wonderful bloggers. It was great to meet so many of YOU there.
As a side note, while at Haven, in my mentor group and in my Thistlewood Mastermind group, the topic of link parties came up. Many bloggers, mostly new ones, but not always, had never heard of them. They really wanted to get on board and know how to link up.
It made me realized that in order to link up to the party, you have to receive the link party blog post. DUH! So I thought I'd share mine with you. If you are already linking up through Julie or Michelle, stick to my sweet hostesses. If you are new to link parties, you can sign up to receive mine. Every Tuesday at 5:00 CT, you will receive an email with the latest TTA post and you can start linking your posts.
I can't wait to see some new bloggers join our party.
So now, let's get on to this week's link party.
Tuesday Turn About Link Party 109 is now open for partying.
Here is TTA 108 if you would like to visit again.
Tuesday Turn About Link Party 109
Carol's Blogger Tip
BLOGGER TIP #23 ~ WHAT TO FOCUS ON
Yes, I have pages and pages of notes from Haven Conference, but this week's tip comes from another source.
While at Haven, I read a post from Grayson Bell of the Facebook Group Blogging on WordPress. Grayson is considered an expert on WordPress and his Facebook Group is a wealth of information. 
The article was based on an experiment that Grayson's team did: they updated an older website for Site Speed and Web Core Vitals ~ topics that drive bloggers crazy. They expected to see some improvement. Spoiler alert ~ they didn't see any improvement.  
I'm sharing Grayson's conclusions:
"Too many (bloggers) have stopped focusing on creating awesome content, or editing old content to make it better. We have seen time and time again that this tends to have a much better impact on rankings and traffic than speed/CWV ever will. Am I saying don't focus on it? No, but stop obsessing over it. Reminder, a slow site with great content will outrank a fast site with mediocre content all day long, every day. Don't obsess over one thing when you are blogging. You have to think of the bigger picture and we are seeing too many (bloggers) stop doing that and getting stuck in the trenches of small details that will have little or no impact on their site and traffic."

BOTTOM LINE: I'm following Grayson's advice and will focus on creating the best new content and updating older content. Then comes making my site as user~friendly as possible.
My promise to my readers is that I will always focus on creating the best content that I can to serve you. 
Now, let's see what your hostesses have been up to this week.
Carol at Bluesky at Home
Beachy MAMMA MIA! Inspired Tablescape | Mediterranean Lunch with Girlfriends and Recipes | A Bold and Bright Tablescape
Michelle at Thistle Key Lane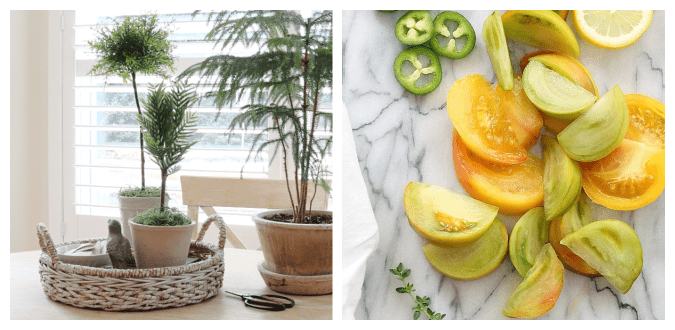 How To Create A Faux Topiary | Small batch Spicy Sweet Refrigerator Pickled Veggie Recipe
Julie at My Wee Abode
Create a Late Summer Vignette for Your Kitchen | How to Make a Minimalist Cork Mat
Now let's take a look at this week's features.
I love to find new and interesting recipes with a bit of a twist. Cauliflower is one of my favorite vegetables and this Roasted Cauliflower Salad from Tracey of The Kitchen is My Playground.
Another recipe caught my eye. A shrimp dijon appetizer from Jennifer of Wanderlust and Wellness sounds delicious.
Admission: purple is not one of my favorite colors. But this tablescape focusing on lavender is stunning. Lori of Dining Delight created this beautiful table setting.
Be sure to see what Michelle and Julie chose as their features.
We would love for you to follow your hostesses on Social Media.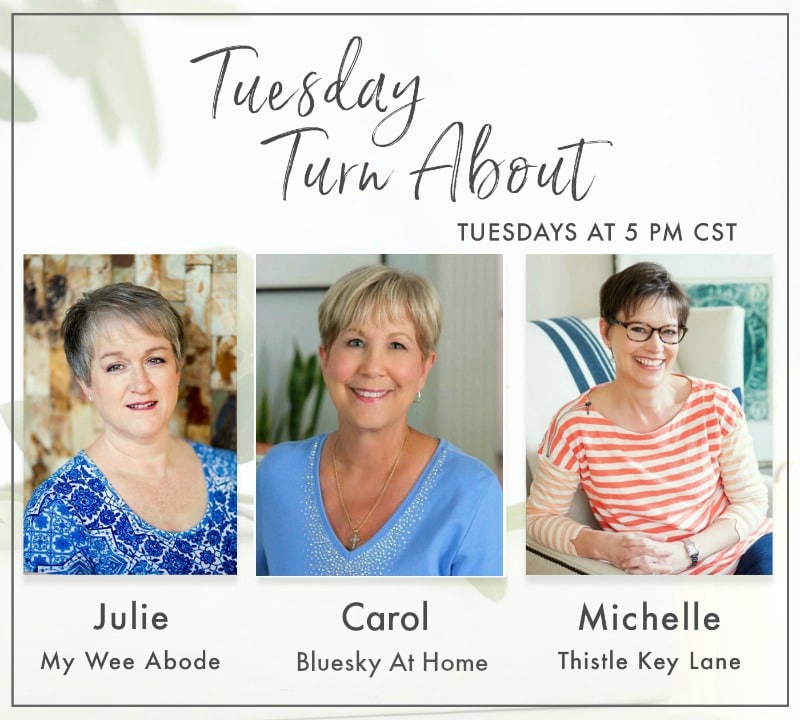 Please visit your hostesses on Social Media.
My Wee Abode: Pinterest | Facebook | Instagram
Thistle Key Lane: Pinterest | Facebook | Instagram
Bluesky at Home: Pinterest | Facebook | Instagram
This party is for home decor and home-related posts only (home decor, recipes, organizing, DIY, crafts, etc.). Link up to 3 related posts. Please do not link up informational posts that do not relate to the topic.
If you would please not link up shops, advertising, round-ups, other link parties, or any posts promoting sales, we would appreciate it.
DO NOT PIN FROM IMAGES ON THIS PAGE (it just won't work right on Pinterest). However, please visit the original post/source and PIN from there. That works perfectly!
Please make sure that your images are in a jpeg or png format, and not in a webp format. If we can't copy your image, we can't feature you. So sad!
By linking to the party, you give us permission to share your projects on our blogs and social media. We will always give proper credit with a no-pin image.
You are invited to the Inlinkz link party!