Tuesday Turn About Link Party 107
Welcome to Tuesday Turn About Link Party 107.
I hope that everyone had a nice 4th of July. We had a great meal: brisket, corn on the cob, baked barbecue beans, and slaw. For dessert, it was ice cream with sliced peaches. We could hear fireworks in the distance. Are you ready for this week's Tuesday Turn About 107?
Michelle is taking a well~deserved week off. Julie and I are holding down the fort. We are each sharing 4 features this week.
Next week I will be in Atlanta. Sweet Shark and I are visiting family for a few days before Haven Conference starts for me on the 15th. I am so excited since last year's conference was a virtual one.
If you are going to Haven, please leave a comment. I'd love to say hi ~ that's my favorite thing about Haven.

So now, let's get on to this week's link party.
Tuesday Turn About Link Party 107 is now open for partying.
Here is TTA 106 if you would like to visit again.
Tuesday Turn About Link Party 107
Carol's Blogger Tip
BLOGGER TIP OF THE WEEK ~ Choosing an Advertising Partner
Who remembers last June when Mediavine suddenly announced that they were doubling their requirements to apply to their network? I was one of those who just missed the deadline. It was disappointing. It was like being on the 1~yard line and the goal line was moved.
A couple of months later, my friend KariAnne of Thistlewood Farm told me about Ezoic, another ad network. At the time, Ezoic's minimum to apply was 10,000 sessions, almost a third of what I had. I decided to apply. I was accepted and I couldn't be happier.
Ezoic configured my site to accept the ads they placed and I immediately starting making ad revenue. Their support technology, weekly Q & A's, LEAP system, and webinars have continued to help my blog grow, as well as my revenue. (All this in spite of the fact that Pinterest cut my monthly impressions by more than 60%. Thankfully it is now moving back up.)
Why am I telling you all this?
Because Ezoic just announced that they are removing minimum requirements to apply. That's right. No minimum. Here's what they announced:
"We created Ezoic to help all publishers eliminate middlemen and streamline growth.
Removing the previous threshold of 10,000 monthly pageviews for using Ezoic Monetization features allows Ezoic — and our customers — to exercise greater freedom and transparency while avoiding long-held disingenuous industry practices."
I wanted to share this news for those of you who haven't reached Mediavine's threshold and would like to jump into earning ad revenue.
BOTTOM LINE: Here is an article with the complete information. I encourage you to read the article. Good Luck. And in all honesty, here is an Ezoic affiliate link to apply for you. If you have any questions, please let me know in the comments.
Now, let's see what your hostesses have been up to this week.
Carol at Bluesky at Home

Red, White and Blue Tablescape | How to Make a Fabric~Covered Headboard | 7 Amazing Patio Makeover Ideas
Julie at My Wee Abode
How to Make Canvas Wall Art with Free Printables | Create a Summer Mantel When You Don't Have One
Let's see my features for this week are a little bit of this and that.

Penny of Penny's Treasures shared an awesome patriotic centerpiece feturing vintage baseballs. What a clever idea.
Shelley of Calypso in the Country also created a pretty flag centerpiece using vintage baseballs. Guess what item I'm going to look for at the next flea market.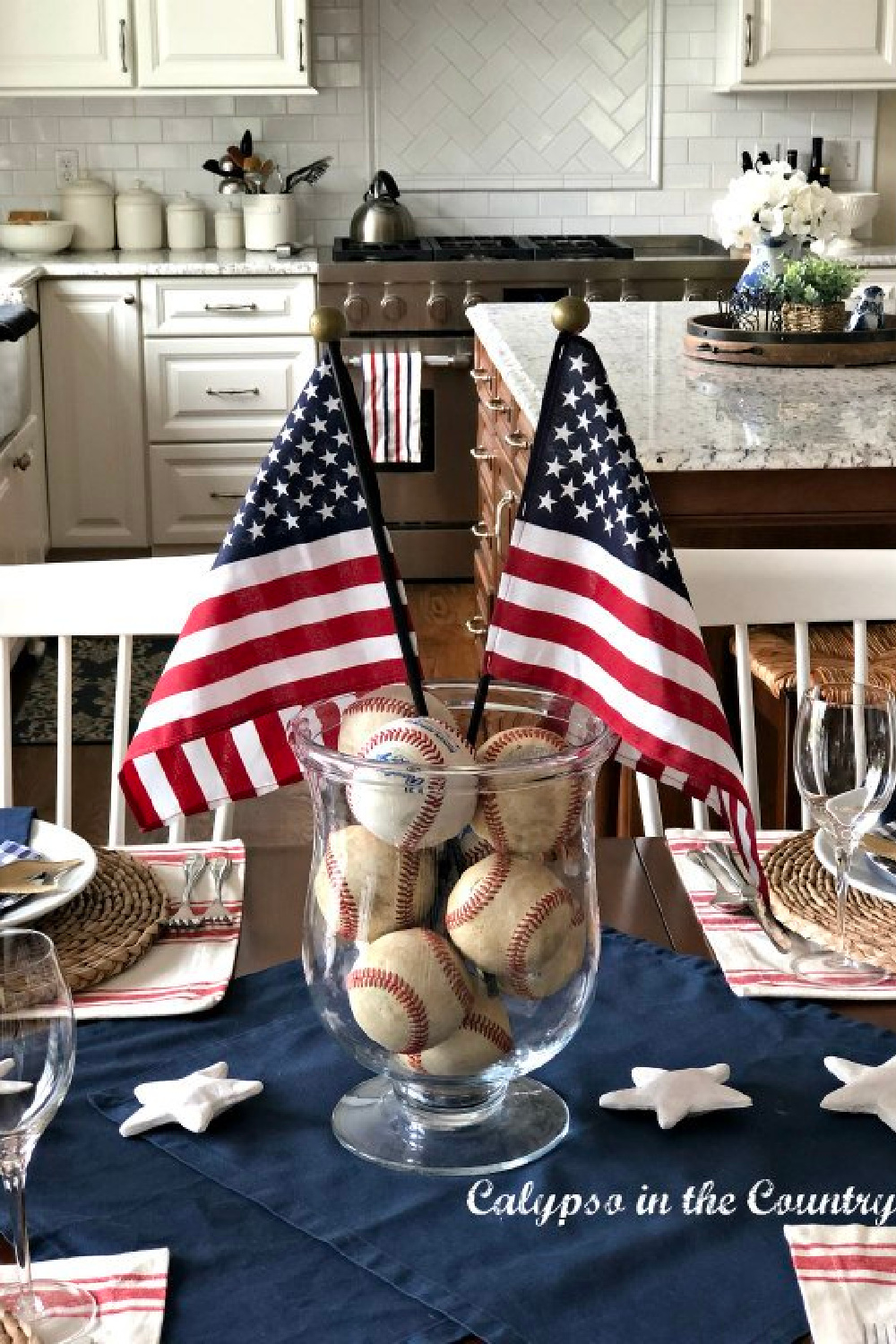 My Texas freind, CIndy of County Road 407 created this lovely summer centerpiece by decoupaging a can and filling it will hydrangeas and lemons.
Barbara of Mantel and Table created this gorgeous purple and gold summer tablescape at the home of Renae of Peacock Ridge Farm. I would love to have a lovely dinner with friends in this gorgeous setting.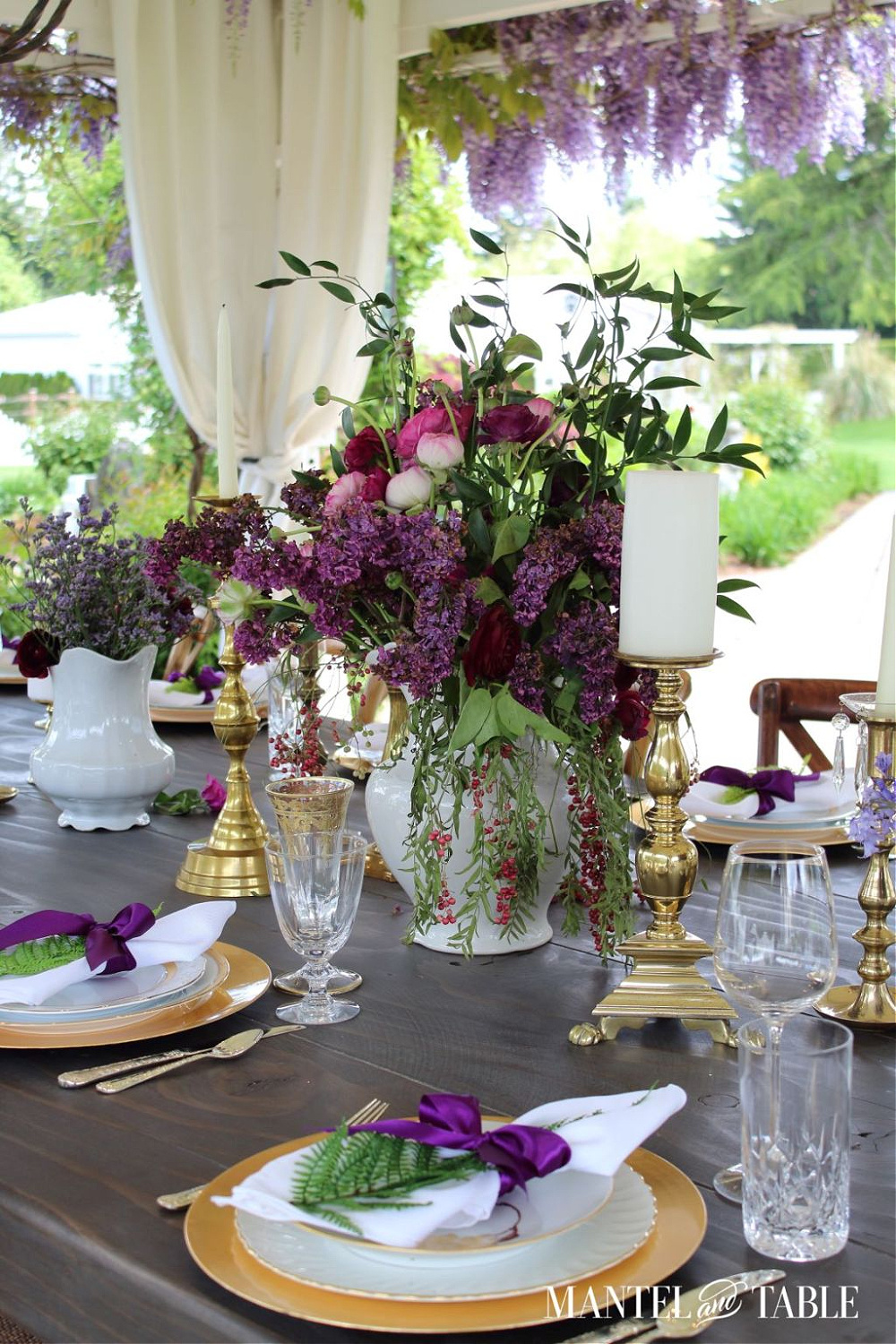 We would love for you to follow your hostesses on Social Media.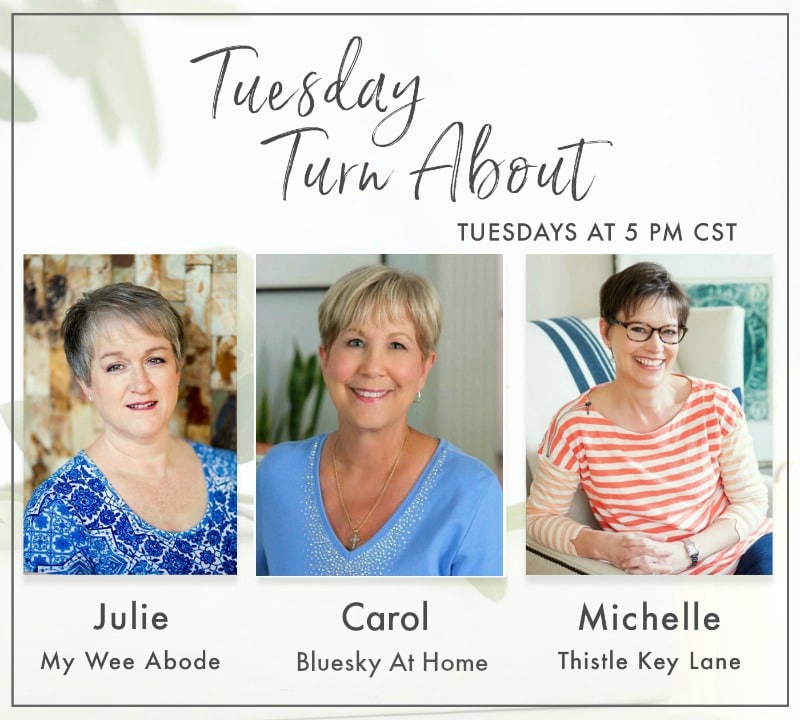 Please visit your hostesses on Social Media.
My Wee Abode: Pinterest | Facebook | Instagram
Thistle Key Lane: Pinterest | Facebook | Instagram
Bluesky at Home: Pinterest | Facebook | Instagram
This party is for home decor and home-related posts only (home decor, recipes, organizing, DIY, crafts, etc.). Link up to 3 related posts. Please do not link up informational posts that do not relate to the topic.
If you would please not link up shops, advertising, round-ups, other link parties, or any posts promoting sales, we would appreciate it.
DO NOT PIN FROM IMAGES ON THIS PAGE (it just won't work right on Pinterest). However, please visit the original post/source and PIN from there. That works perfectly!
Please make sure that your images are in a jpeg or png format, and not in a webp format. If we can't copy your image, we can't feature you. So sad!
By linking to the party, you give us permission to share your projects on our blogs and social media. We will always give proper credit with a no-pin image.
You are invited to the Inlinkz link party!