Tuesday Turn About Link Party 104
Welcome to Tuesday Turn About Link Party 104.
Well, the heat came to Texas last week. It was more enjoyable to be inside, look through your shared posts from last week, and pick features for Tuesday Turn About Link Party 104.
I did stick my feet in the pool. We put out our new patio additions from Wayfair. Be sure to check out the new patio look on Thursday.
So now, let's get on to this week's link party.
Tuesday Turn About Link Party 104 is now open for partying.
Here is TTA 103 if you would like to visit again.
Tuesday Turn About Link Party 104
Carol's Blogger Tip
BLOGGER TIP OF THE WEEK ~ Short Sentences, Short Paragraphs
Yes, I know I've probably mentioned this before. Last week I listened to another PODCAST from Brandon Gaille of The Blog Millionaire. He again talked about the importance of short sentences and short paragraphs.
Here's the scoop:
We all have shorter attention spans these days. We are skimmers, rather than readers.
How do we keep the essence of the sentence/paragraph?
Cut out the "and's" and "but's".
No semi~colons and no dashes.
Sentences should have no more than 20 words.
Paragraphs should have no more than three sentences.
A paragraph can be just one sentence.
How to double check on your post?
Read your blog posts out loud.
Read your blog posts on your mobile device. Make sure your post is optimized for mobile!!!
Why? Because that's where most people are reading your posts.
Are you reading this post on mobile? I hope I've made it easy.
BOTTOM LINE: Pay attention to the length of your sentences and paragraphs. Shorter is better. I know that I need to work on this.
Now, let's see what your hostesses have been up to this week.
Carol at Bluesky at Home
Summer Southern Creamed Corn | Shopping for the Patio | 15 Beautiful Ways to Use Blue in Your Home Decor
Michelle at Thistlekey Lane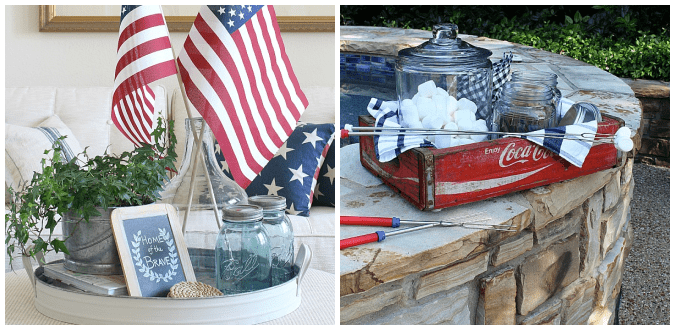 Create A Simple Patriotic Tray Vignette | Summer Ready Patio and Garden Tour
Julie at My Wee Abode
Surprising Tips for Adding Summer Decor | How to Add Summer Touches to Your Tiny Patio
Let's see my features for this week ~ My picks are all DIY projects.
Having converted a console table to a kitchen island, I really appreciated this darling recycled island project. Cindy of Reinvented Delaware is a pro at furniture restorations.
I'm not sure who is cuter. This little boy or the sign he is carrying. For her wedding, Tiffany of Tee Diddedly Dee made some darling signs for the ring bearer.
We would love for you to follow your hostesses on Social Media.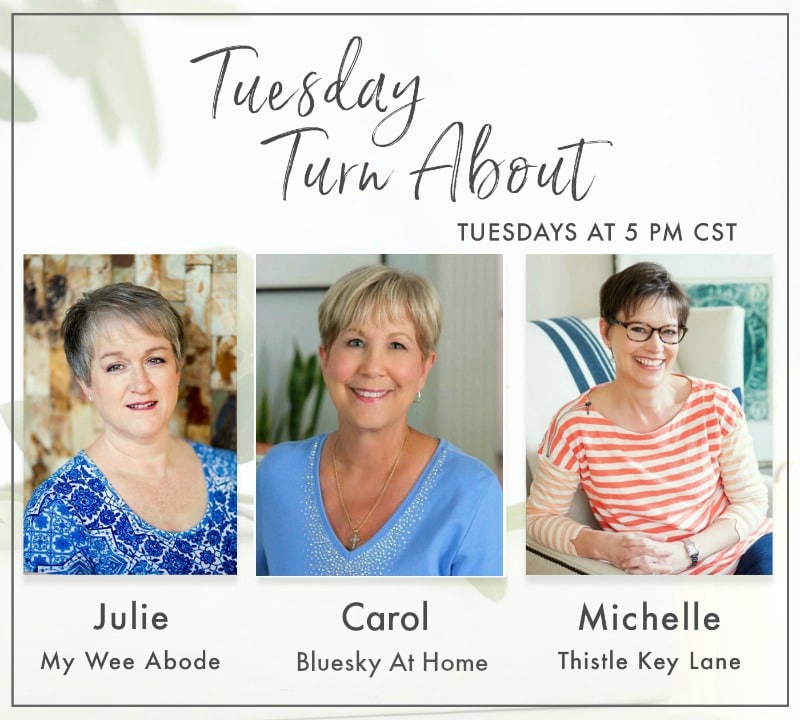 Please visit your hostesses on Social Media.
My Wee Abode: Pinterest | Facebook | Instagram
Thistle Key Lane: Pinterest | Facebook | Instagram
Bluesky at Home: Pinterest | Facebook | Instagram
This party is for home decor and home-related posts only (home decor, recipes, organizing, DIY, crafts, etc.). Link up to 3 related posts. Please do not link up informational posts that do not relate to the topic.
If you would please not link up shops, advertising, round-ups, other link parties, or any posts promoting sales, we would appreciate it.
DO NOT PIN FROM IMAGES ON THIS PAGE (it just won't work right on Pinterest). However, please visit the original post/source and PIN from there. That works perfectly!
Please make sure that your images are in a jpeg or png format, and not in a webp format. If we can't copy your image, we can't feature you. So sad!
By linking to the party, you give us permission to share your projects on our blogs and social media. We will always give proper credit with a no-pin image.
You are invited to the Inlinkz link party!