Last month I wrote a post about SEO ~ 10 Quick and Easy Tips to Improve Your SEO  that was prompted by a class I attended at Haven Conference. Now I'm back to share 10 easy ways to make your URL structure SEO~friendly. Why? Because I've been a little obsessed with learning about and "mastering" (Well, O.K., that may be a bit strong ~ how about just trying to grasp, get my head around, be on friendly terms) SEO. It's not easy my friends, as I'm sure you know. But fortunately, there is a ton of information out there. Maybe too much. It can be overwhelming and do you have hours a week to decipher all the thousands of works written about SEO? Nope, I didn't think so.
I started by purchasing, reading and studying Sabrina Snyder's Sprinting the Blogging Marathon.  Over the past 6 weeks, I have read so much on SEO that my head is spinning. I decided that the best course was to focus on small things that I could fix or improve on my own, that wasn't rocket science ~ and didn't require a rocket scientist. I kept seeing articles about URLs and how improving them could improve your Google rankings and be more SEO compliant. After reading several loooong posts on the subject (I like to print articles, highlight and underline them.), I narrowed the suggestions down to just 10 easy ways to make your URL structure SEO~friendly.
I think I've made explained these 10 easy ways to make your URL structure SEO~friendly clear enough that you'll be able to change your URLs in pretty short order. The "rules" are fairly straightforward once you know what they are.
10 Easy Ways to Make Your URL Structure SEO-Friendly
Disclaimer: I am not by any stretch an SEO or Google or blog master. I'm just a girl trying to figure out ways to be better at what I love to do. What I really love to do is share awesome DIY projects, home decor, crafts, tablescapes and recipes. Unfortunately, as bloggers, we have to pay attention to so much other behind~the~scenes stuff.
This post is geared toward WordPress.org users.
Step 1 ~ Customize Your URL/Permalink
First what is a URL? I won't go into what it stands for. Just know that it's your complete address on the web. Think of it as your home address with street number, city, state and zip code. For example, the URL for my blog is:
https://blueskyathome.com
Then, what is a permalink? It's the link to an individual blog post. The permalink for this post is:
https://blueskyathome.com/make-your-url-structure-seo-friendly
EXCEPT. WordPress has a default setting for your posts' permalinks. And it looks like this:
https://blueskyathome.com/2017/09/08/make-your-url-structure-seo-friendly
According to the experts, when Google is searching for your post, those numbers (the date of your post) really throw Google for a loop. The numbers make it harder for Google to find your post. You know why? The #1 thing Google cares about (why do we treat Google as if it were a person?) is content; good, wonderful user-friendly content. It's number 1 objective is to find the content that users are looking for. And those numbers don't tell Google anything about your content.
Think of the postman who wants to deliver your mail, but you covered up your mailbox and the address is blurry. So uncover the mailbox, get rid of the date in your URL and create what is called a custom URL.  Google likes it better and so do your readers.
Here's How to Create a Post or Custom URL for Your Blog Posts
WordPress has 5 permalink options. If you don't choose, then it defaults to one with numbers and symbols, a SEO no-no. It's easy to choose an option that is both easier for users and Google to read. Ideally, you want to choose either Post or Custom for your Permalinks.
On the left hand side of your WordPress Dashboard, go to Settings
Click on Permalinks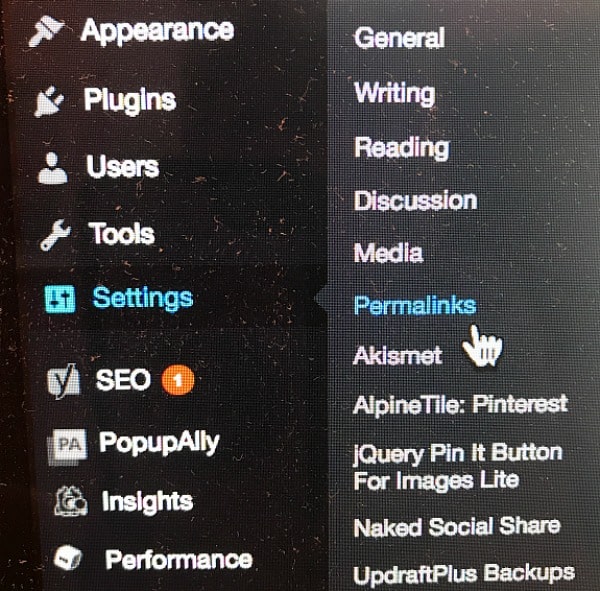 Click on either Post or Custom ~ if you have both a Home Page and a Blog Page, then you will want to choose Custom. Google reads each page as a Folder, which should be separated from your blog name by a /. If you don't have a separate Blog Page, then you select Post.
For example:
Custom URL: https://blueskyathome.com/blog/seo-tips
Post URL: http//blueskyathome.com/seo-tips
I currently do not have a separate Home Page, so I chose the Post option.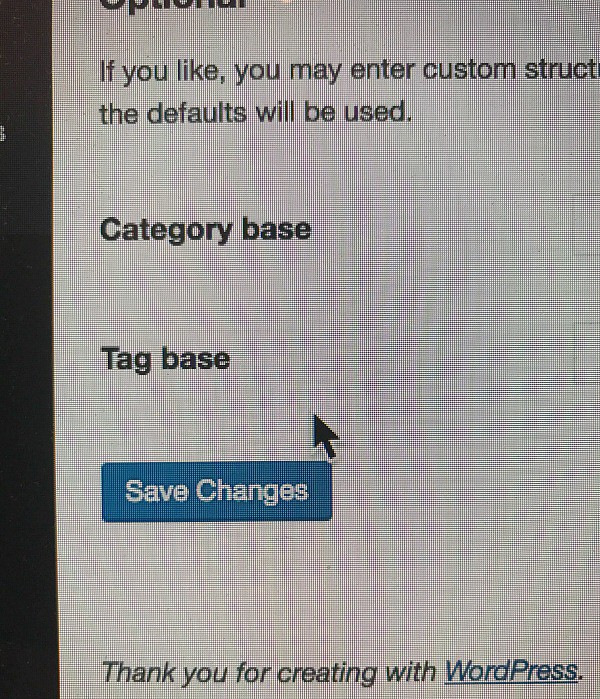 Step 2 ~ Keep it Organized and Consistent.
If you have a homepage, your URL would be like this:
Homepage
https://www.blueskyathome.com
Then, ideally, you'll have your categories and subcategories organized neatly from there.
Here's an example of the way this should work:
Category (DIY project)
https://blueskyathome.com/diyproject
Subcategory (paint)
https://blueskyathome.com/diyproject/paint
Product (chalk paint)
https://blueskyathome.com/diyproject/paint/chalkpaint
This structure gives Google a path to follow, what each page is about, and it's visually pleasing. It's easy for users to know what the post is about.
Step 3 ~ Keep your URLs simple and consistent.
Except for changing the name of your blog post, the rest of your URL should have the same structure.
https://blueskyathome.com/10-tips-savannah
https://blueskyathome.com/fall-tablescape
Step 3 ~ Use the right keywords
Remember keywords, the words that you use so Google and users can find your post? The words that go in the Focus Keyword and the Meta Description boxes when you are writing your post? Those are the same keywords that should appear in your post URL.
For example:
https://blueskyathome.com/seo-tips   seo-tips is my Keyword
Just 1 or 2 keywords in your URL makes Google happy. If you put too many keywords in your URL, or repeat a keyword in a URL, Google sees it as keyword stuffing and that can count against you. Ideally, you want your keywords in your URL as close to the ones in the title of the post, but it's not a negative if the keyword is toward the end.
For Example, this URL would be fine:
https://blueskyathome.com/best-seo-tips
But this one would not rank as high:
https://blueskyathome.com/best-blog-seo-tips
Step 4 ~ Keep It Short
Google likes easy to read URLs. The length of your Keyword is another important factor. Using short URLs will rank your post higher in SEO. They also make it easier for users to know what your post is about. Ideally, your entire URL should be between 50 ~ 60 characters. So aim for 3 ~ 5 words in your Keyword description.
Here's a URL that is too long:
https://anonymous.com/diy-industrial-farmhouse-pendant-light/
This would be shorter, but still convey the subject matter
https://anonymous.com/diy-farmhouse-pendant
NOTE: We'll talk about the difference between http:// and https?// in a moment.
Step 5 ~ No Capital Letters
Uppercase letters can lead to redirects or 404 errors on some servers. It's just better to stick with lowercase letters for a more consistent look for readers.
Not this:
https://blueskyathome.com/SEO-tips
https://blueskyathome.com/URL-tips
But this:
https://blueskyathome.com/seo-tips
https://blueskyathome.com/url-tips
Step 6 ~ Use Hyphens
Hyphens are the Google standard for separating words. Underscore or slashes (except for separating folders) give Google a headache. So no ?, >, &. . Use / for separating folders, categories and subcategories. And hyphens for separating words. That's it.
Step 7 ~ Choose a top level domain
What's a top level domain (TLD)? It's .com rather than .biz, .pro, or even .net. Does not having a .com negatively affect your SEO? Not exactly, but studies show that people have a much higher trust level in .com than other domains. You might have noticed that my domain is a .net. Why? Because when I started blueskykitchen 2 years ago, .com was taken (That's another problem I'll discuss at another time.), so I had to take .net. If I had to do it over, I would have chosen a different blog name.
SPOILER ALERT: in the next few weeks, Bluesky Kitchen is getting a new name, a new logo, a new domain (.com), and a new theme.
When I made my list of possible new blog names, I searched  on Google, Pinterest and Bluehost to see if my new blog names were available as .com. If they weren't, I crossed them off the list. I always check to see if any other companies/blogs had similar names; if they did, I crossed them off the list, too. Fortunately one of my favorite possibilities was available as a .com and the name wasn't used by anyone else.
Step 8 ~ Let's Talk about HTTPS
Everyone is familiar with http:// at the beginning of any website URL. What is https:// ? It's the more secure version of hypertext transfer protocol. I am not going to pretend that I understand exactly what that means. But I know that it's important. The "s" in HTTPS stands for secure, and it means just that and that is really important. All communication between your browser and that specific website is encrypted and secure. Google wants to be sure that your site is secure for your users and it doesn't want to send users to your site if it thinks it's not safe.
These charts make all the differences clear. They're from Neil Patel, one of the biggest SEO experts in the blogosphere.
Does not having https mean that your blog is in danger of being hacked? May or maybe not. It's better to be safe than sorry. And you definitely want Google to trust sending users to your site.
You may notice that blueskyathome.com is still http. As soon as my domain name changes and everything is moved over to the new site, my graphic/web designer will add an SSL certificate to my WordPress.org site and make the switch to https. You have to pay for a SSL certificate. Check with your blog host about the cost and the process.
In case you need an explanation of a SSL certificate, here's one:
"SSL Certificates provide secure, encrypted communications between a website and an internet browser. SSL stands for Secure Sockets Layer, the protocol which provides the encryption. SSL Certificates are typically installed on pages that require end-users to submit sensitive information over the internet like credit card details or passwords. Example pages include payment pages, online forms and login pages." (source: https://www.instantssl.com/ssl-certificate.html)
Here is an awesome article on SSL and how to get a free certificate written by Cristina of Elan Creative Co., my graphic/web designer.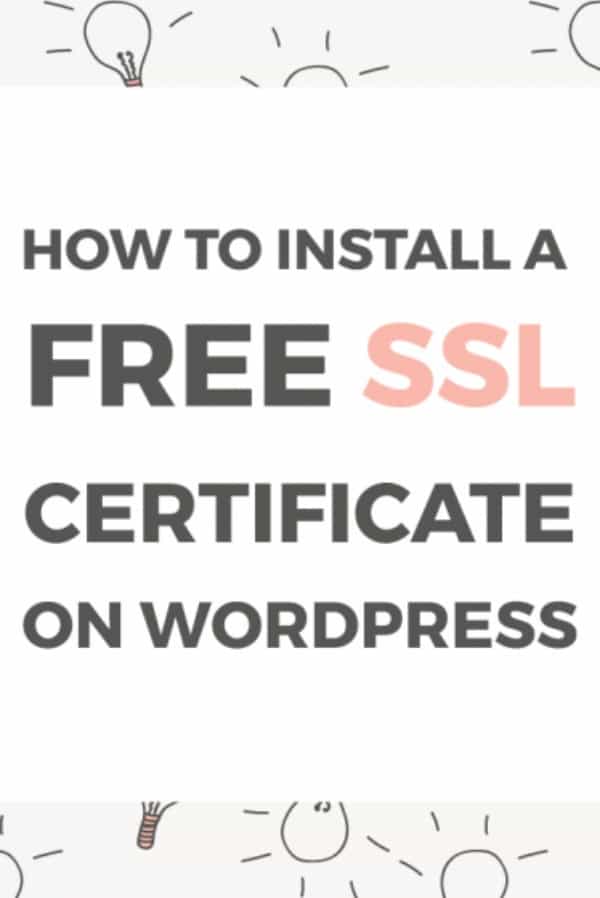 Step 9 ~ Stop Words
If you have Yoast for SEO plugin on your WordPress site, you may notice when it tells you that you have stop words in your slug. Stop words are those little words, such as a, an, the, to, is, at, which, and on. While we read those words as part of the meaning of the sentence, Google reads them as filler.
For example:
https://blueskyathome.com/write-the-best-urls
"The" is a stop word and Yoast would tell you so. If you can remove it and your URL is still clear, then do so.
https://blueskyathome.com/write-best-urls
According to the research I did, some experts will tell you to remove them at all costs. Others will tell you that having stop words in your URL isn't that critical, that stop words are ignored by search engines because they are sophisticated enough to know what they are.  The recommendation of some experts is to remove them if the URL still makes sense without them. For one thing, removing them will make your URL shorter and that's a good thing. If you think the stop word is need for the URL to make sense, then leave it in.
Step 10 ~  Check for Duplicate URLs
Every single post on your blog should a different and distinct URL, even if the content is similar. Yoast will catch this for you as you write your headline, slug and meta descriptions.
For example, if I'm writing a post on fall tablescapes (which I recently did), my URL might look like this:
https://blueskyathome.com/fall-tablescapes
Then a year later, or even a few months later, I might write another post about fall tablescapes. If I use the same URL as above, even though it's a different post, Google and other search engines, will see it as duplicate content, which is a big no~no. Let's say for to keep them separate, I write them this way.
https://blueskyathome.com/fall-tablescape-august
https://blueskyathome.com/fall-tablescape-october
https://blueskyathome.com/turquoise-fall-tablescape
Even though all 3 posts have "fall-tablescape" in them, the third words "august, october, turquoise" deferential them as separate posts and URLs. Google won't be confused now.
So many of us link our posts to link parties. All link parties have the same name, but what keeps them separate and not duplicate content is that each one has a separate number:
https://blueskyathome.com/happiness-is-homemade-link-party-186
https://blueskyathome.com/happiness-is-homemade-link-party-187
Resources for URL Structure
Here are just a few of the resources I've read that you might want to check out and read in more depth:
And if you want a complete guide to SEO, I highly recommend Sabrina Snyder's Sprinting the Blogging Marathon. (I am an affiliate because I think it's an awesome, clearly written book.) You can purchase her book right here.
I sincerely hope that this information will help you make your URL structure more SEO~friendly. Just knowing about URL best practices is half the battle. Using these recommendations does mean paying attention to every single post title, keyword and URL composition. But the more you do it, the easier it gets and if you use your Yoast for SEO plugin, half the work is done for you. Good Luck.
P.S. As you're reading this post, Sweet Shark and I, our older daughter, son~in~law, and granddaughters are evacuating Sea Island, Georgia. A mandatory evacuation was issued by Saturday at 8:00 a.m. We were supposed to fly out of Savannah on Sunday afternoon. Now we're driving back to Atlanta and catching a flight back to Dallas on Saturday. Keep Florida and Georgia in your thoughts and prayers.
Parties where I linked up this week (Sept. 1 ~ Sept. 7):
Friday
Saturday
Sunday
Monday
Tuesday
Wednesday