Fresh Blue and White Spring Master Bedroom
It is not quite spring here in North Texas, but I'm ready to switch our master bedroom from a winter blue and white theme to a fresh blue and white spring master bedroom.
A blue and white spring master bedroom will give you a fresh outlook on your day.
Do you switch out your bedding for the seasons? From heavy comforters and flannel sheets to fresh cotton and light coverlets? From sleeping all warm and cozy to sleeping all cool and lightweight?
Bringing in accessories we already had in blue shades, I added to the crisp and light feel for this year's fresh blue and white spring master bedroom. I hope seeing what I did gives you some ideas for your own bedroom.
Fresh Blue and White Spring Master Bedroom
This post contains affiliate links to products used in the creation of this project. If you should order any item from this site, I may receive compensation, but you do not pay a penny more. Your purchase is greatly appreciated as it helps support the continued publication of this site.
In the first home that Sweet Shark and I built and decorated together, we had the same bedding for 12 years, until we moved to our present home. It was beautiful and custom~made. It was shades of brown (yes, I know, totally not me), beige, rust, and taupe.)
The colors didn't work with our new home. I was so glad to bring in shades of soft blues and greens with a touch of yellow.
Periodically I like to change out our bedding. I love to give our master bedroom a fresh look for the seasons, especially for spring and summer.
The warmer months call for a fresh crisp feel. I started with blue and white in our bedroom a year ago and I've continued that color scheme in some fashion since then.
New Ruffle Skirt Bedspread
The first incentive to change our master bedroom for spring was a combination coverlet and bed skirt that I found in a picture in a magazine.
Then I searched online for a similar style. When I found it, I ordered it in a king white from Target. It was only $59.99! The package says that the MSRP is $186.00. I found the extra same ruffle skirt bedspread on Amazon.
This type of ruffle skirt bedspread has an easy, romantic look to it. If you remember shabby chic, you'll know what I mean.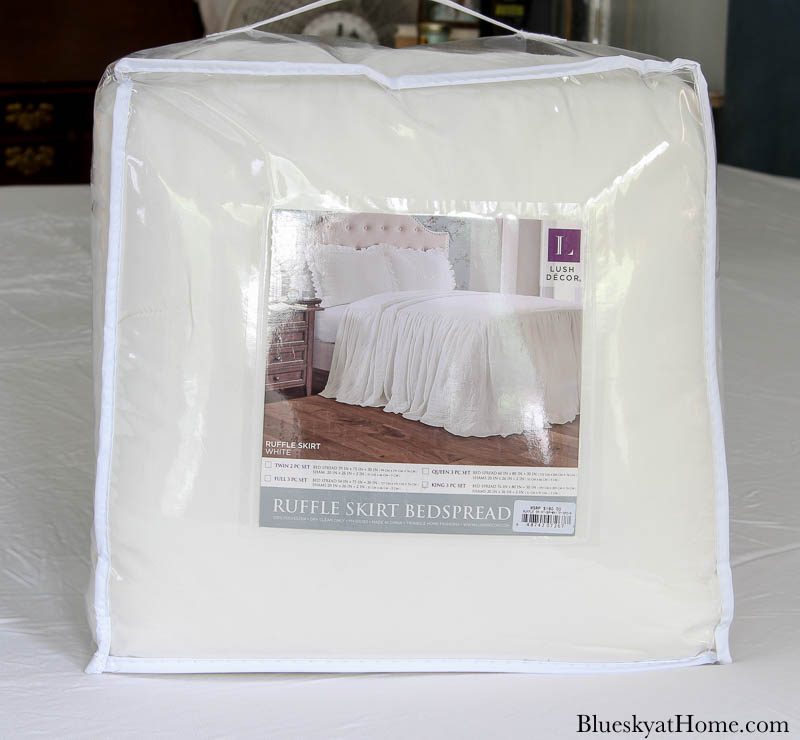 When I opened the package and spread it on our bed, I loved it immediately. Although a little wrinkled, that feature just added to the romantic look.
The bedspread is lightweight and feels very soft. The way the ruffle skirt is attached to the bedspread makes it practically reversible.
I love how it just drapes down the sides of the bed ~ you don't even have to tuck your top sheet in if you don't want to. It's also easy to adjust how much "puddling" you want. I like puddles. Making the bed in the morning is so easy.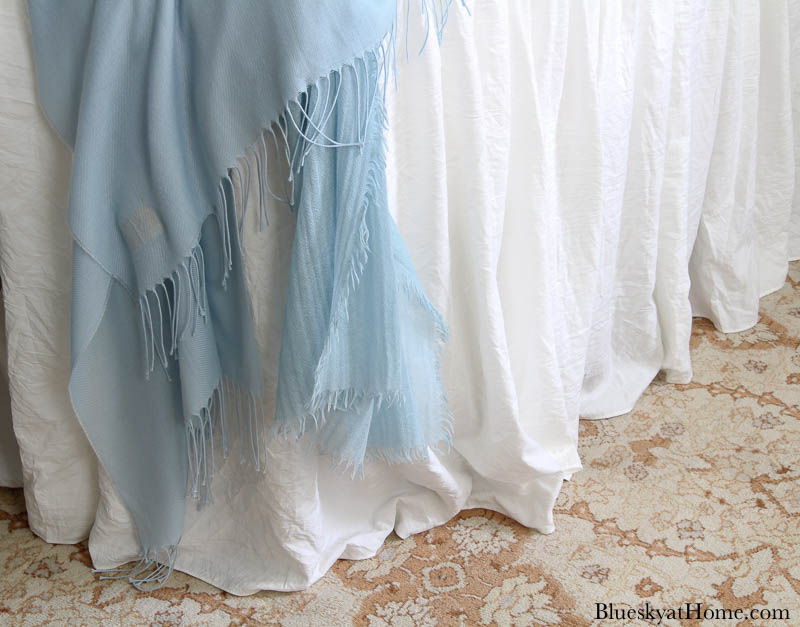 For the headboard, I left the blue flannel cover that I added in after Valentine's Day (that one was red from Christmas). Last year that blue flannel was folded at the foot of our bed.
I have a new headboard project in my head that I hope to get done in the next few weeks. (You can see how to make a fabric headboard.)
I used this new bed cover mixed with the pillow shams that I made last year to create a fresh blue and white summer master bedroom. You can see the evolution of our bedroom from 2 years ago.
I made 3 Euro shams and 2 standard pillow covers with fabric that I found at Joann. The new ruffle skirt bedspread also comes with 2 pillow shams with ruffles.
The white ruffled shams break up the paisley pattern of the Euros and the buffalo check of the standard pillows. (This soft blue was my inspiration fabric last year.)
The boudoir monogram pillow I made a few years ago finishes off the collection of pillows.



Finishing Touches
Rather than use another coverlet at the foot of the bed, I used a couple of shawls. I love to have a throw of something light to cover my feet for napping (a rare occurrence), and color. A throw or shawl dropped at the foot of the bed just has a nice look. I love the color and pattern on this throw.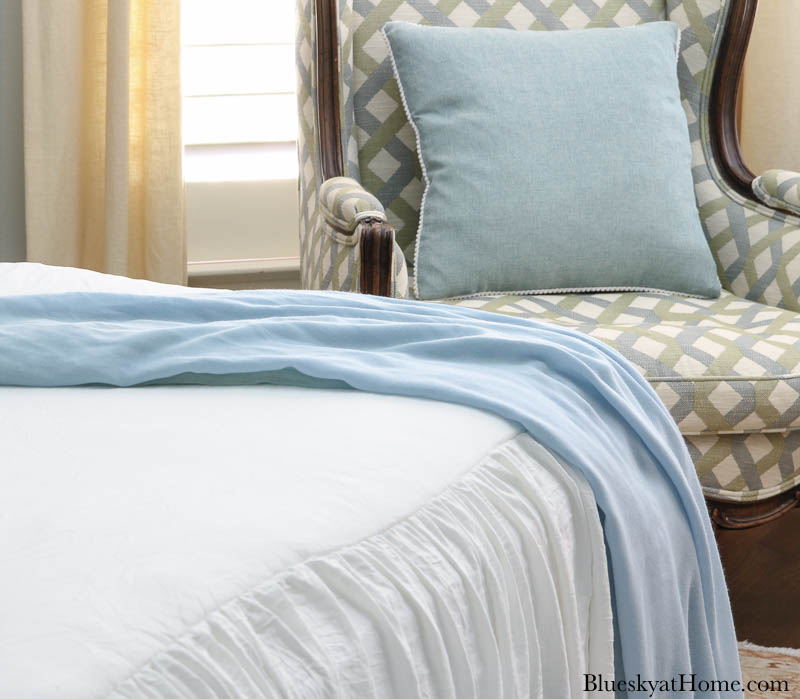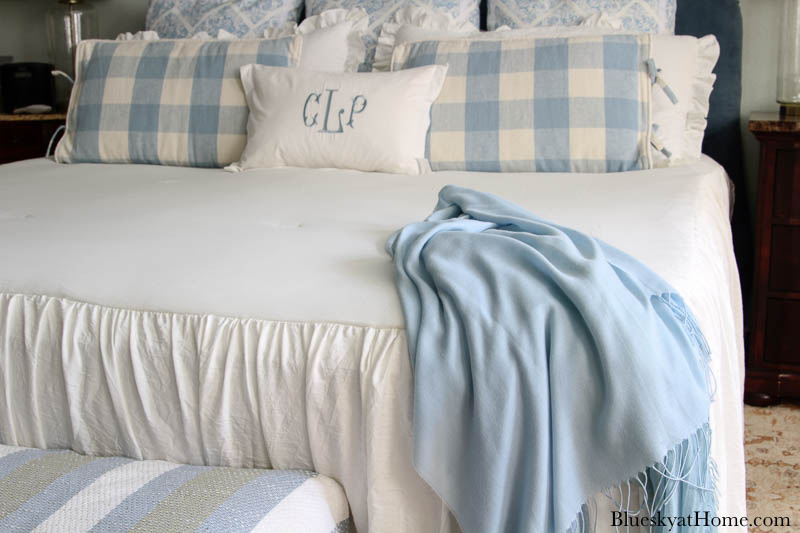 A year ago, I started covering the cushion on the bench at the foot of the bed with fabric remnants or throws.
For my fresh blue and white spring master bedroom, I used a striped throw that I bought at Joann. It's been in the living room draped on a chair for a few months. I thought the soft blue, grayish-green and white colors would be perfect with the other shades of blue and the patterns on the bed and our chairs.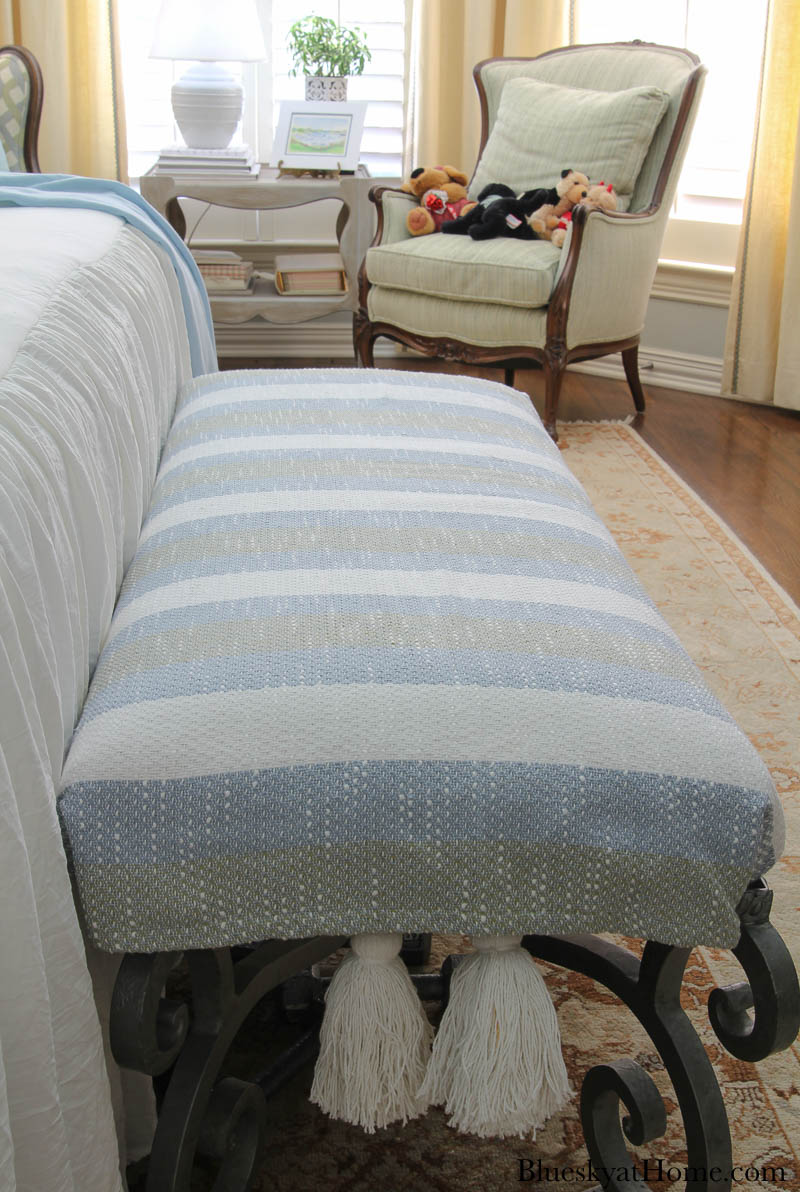 I just wrapped the throw around the cushion and let the large tassels on the throw hang down.
Blue and White Bedroom Accessories
Every blue accessory that I used was already on hand. I brought out several possibilities from my upstairs closet and tried different combinations until I found ones that I liked.
The large Venetia-inspired painting above the console table on the wall opposite our bed dictates the colors used there. From soft sky blue to aqua, most blues seem to work together.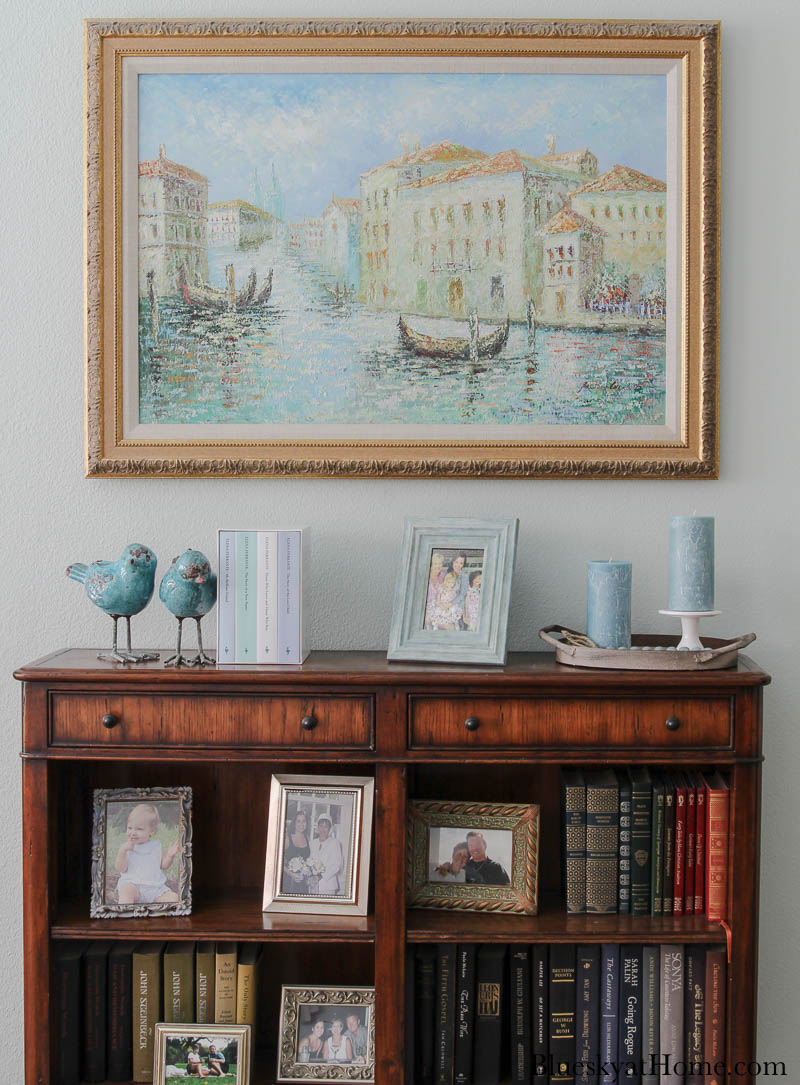 I recently used my aqua birds on my sofa table but moved them into the bedroom for color and because I love them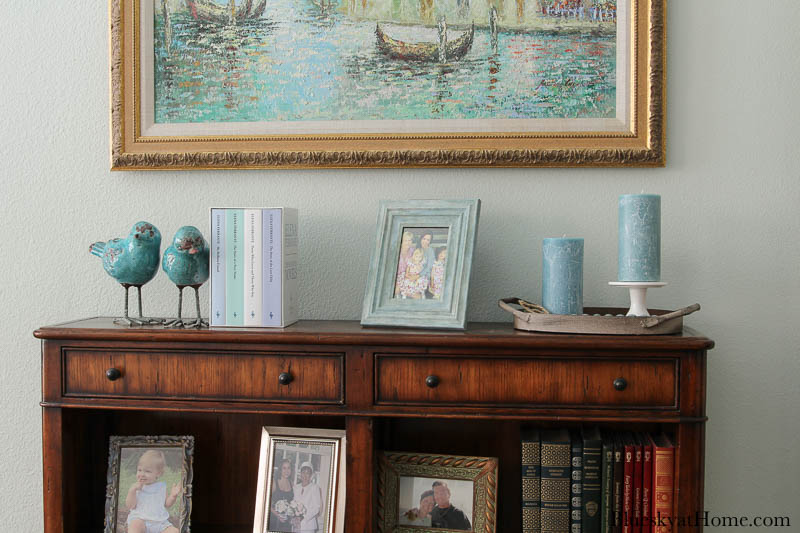 The collection of books by Elena Ferrante is brand new. I ordered them on Amazon; when they arrived, I realized that the colors were perfect for our master bedroom.
Family pictures are important and personal accessories. This special one of my older daughter, 2 granddaughters and I was taken at Easter about 4 years ago – 3 generations. The blue frame was the obvious choice to add to the console table.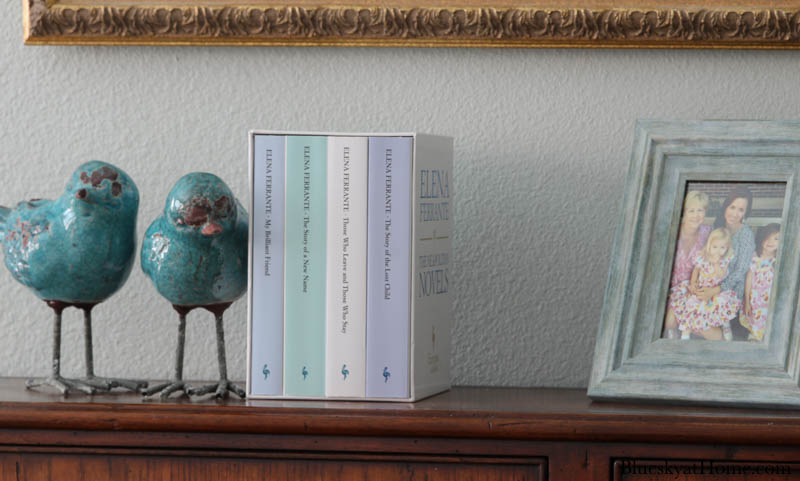 Candles are must-have accessories. These two blue ones are on an oval tray that I bought at the beginning of the year at Decor Steals.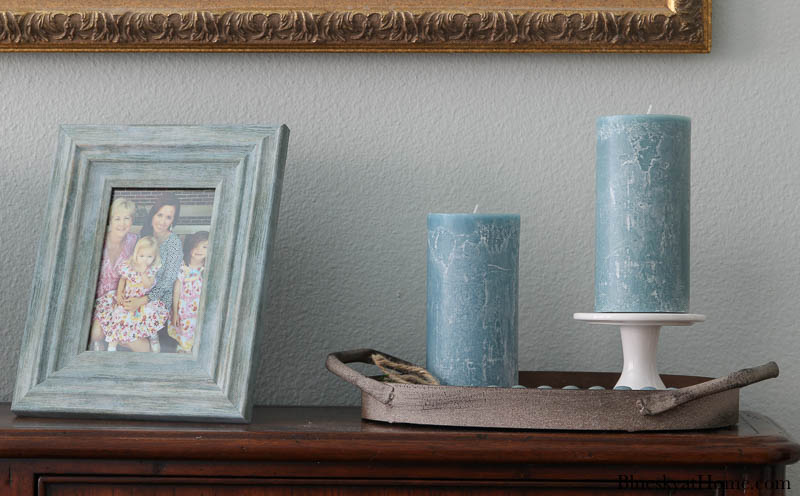 On the Nightstand
Special pictures and books are always on my nightstand.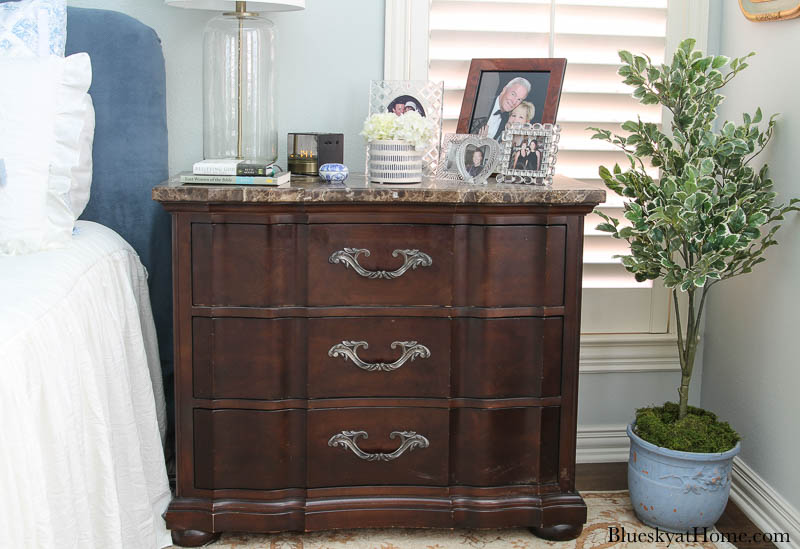 I added a blue ceramic container with two faux hydrangeas for color, pattern, and texture. I literally found the little blue container last week in a drawer. Although I have no idea where it came from, it's perfect for earrings or rings that I forget to take off in the bathroom.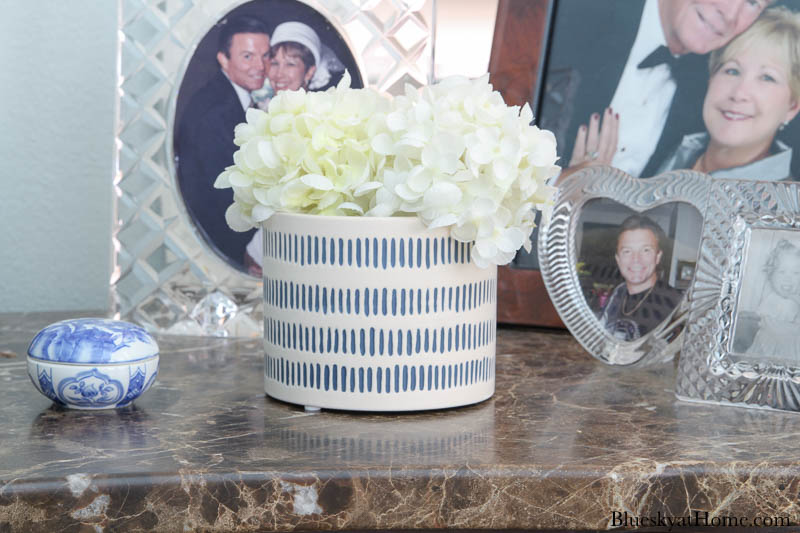 Greenery in the Bedroom
The faux tree from Hobby Lobby that I bought on sale (50% off for $30.00) just for this spot adds needed greenery and height.
A tall statement of greenery fills the spot next to my nightstand. I painted the terra cotta pot blue a few years ago.
TIP: Use moss to fill in the tops of your plants – both faux and fresh – to give a finished, professional look. The moss will go a long way and can be reused.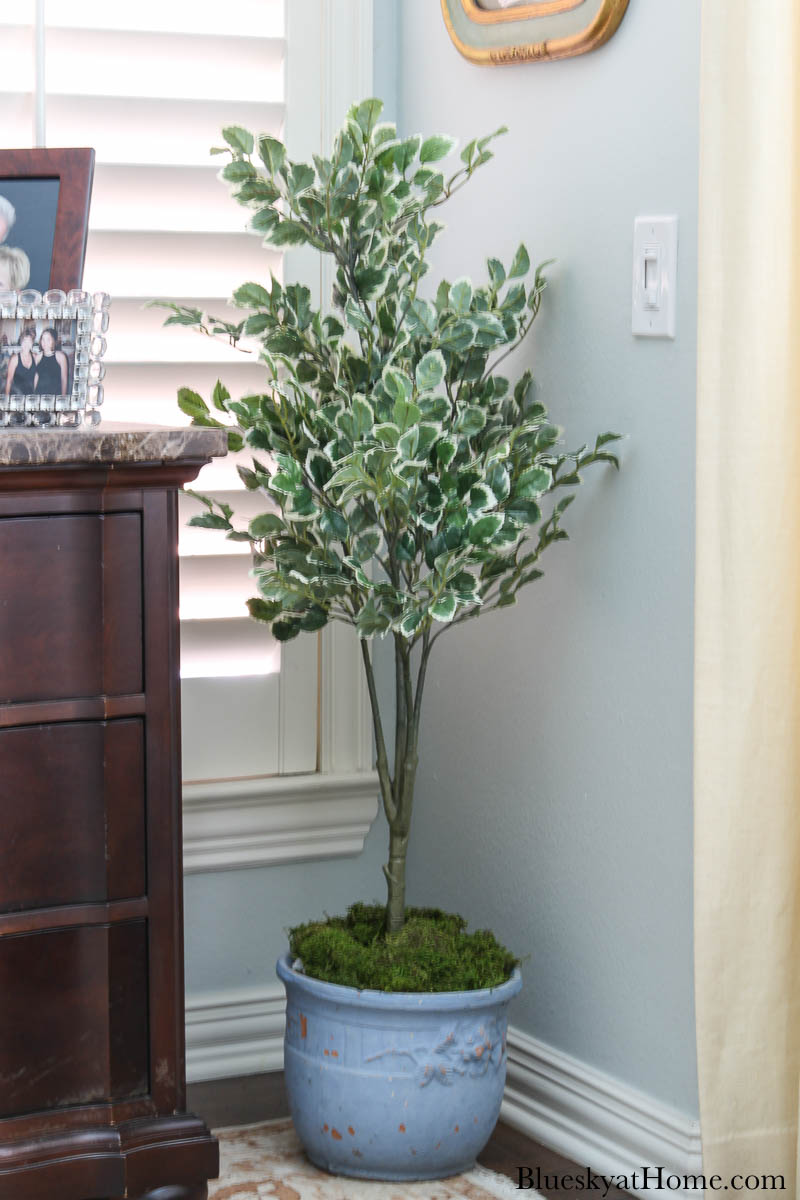 I have to share this amazing vintage frame. The photo is of my mom as a baby. Obviously, it's a cherished treasure.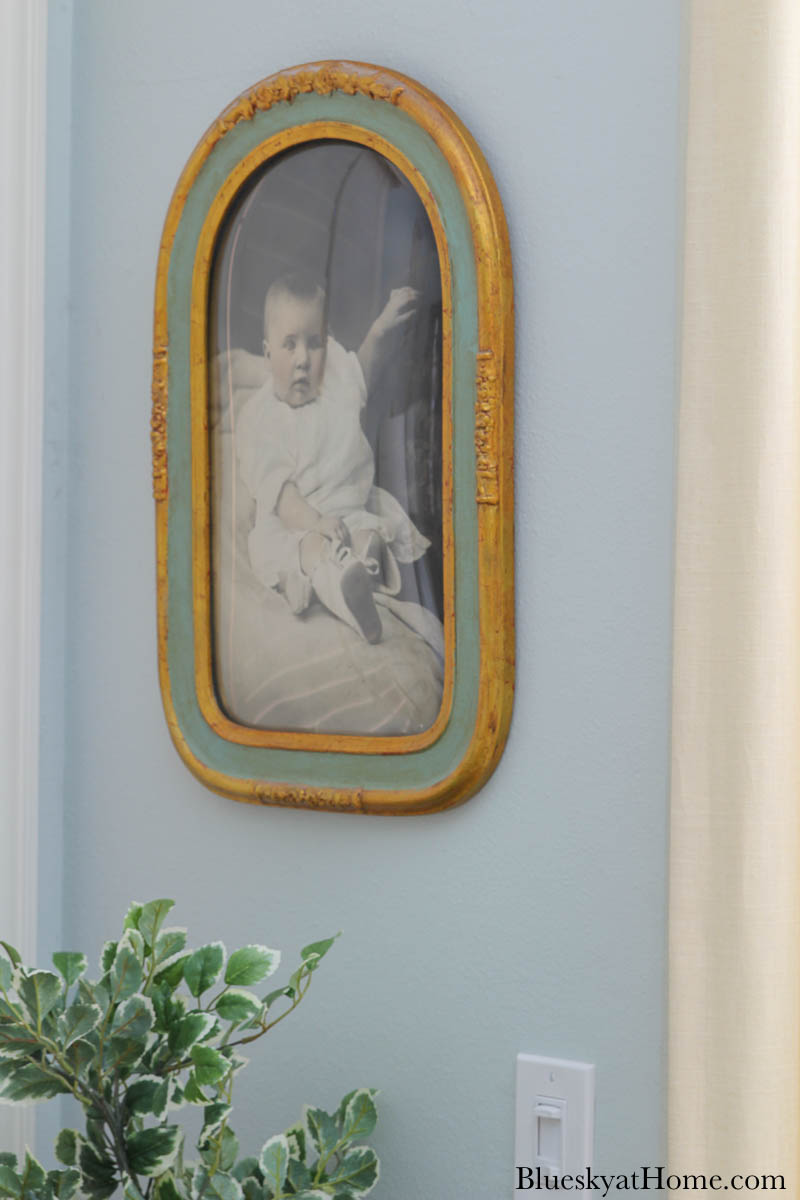 Every Bedroom Needs a Reading Nook
I genuinely believe that every bedroom needs a chair, a table, and a lamp – a place to read and ponder. This chair belonged to my parents and was in their living room. It's been re-uphostered a few times.
The table belonged to Sweet Shark's grandmother and I painted it with chalk paint when we moved into our house.
The plant is real. We bought the small print in Chatham MA. I thought the blues and greens would work well in our spring master bedroom.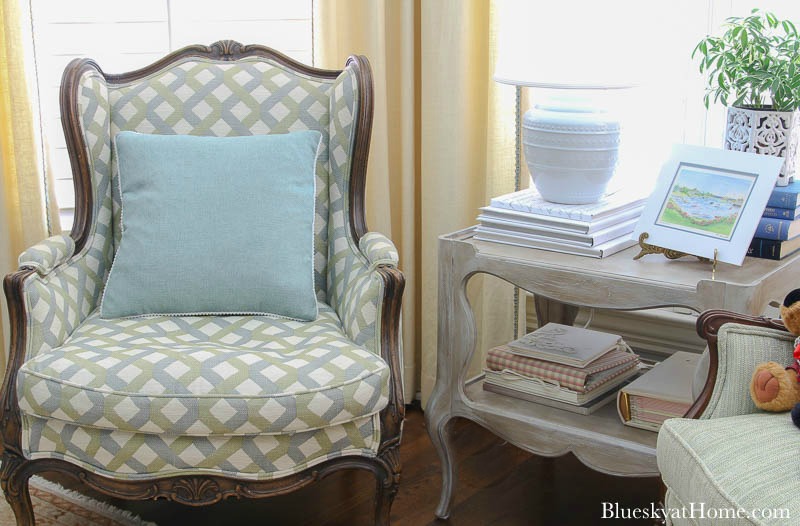 The throw pillow has been upstairs in one of our guestrooms. The color went well with the fabric and served as extra support for Sweet Shark when he reads here.
Items to Include in Your Master Bedroom
Here are some ideas to use in your spring master bedroom:
have a color scheme that is light and airy
find lightweight and comfortable bedding
use accessories, such as candles, books, pillows, photos, and decorative items
include greenery, fresh or faux
include personal items, such as photos or mementos
have a comfortable chair with a table and a reading lamp
use paintings or mirrors as large focal points
I love our sunburst mirror above the bed. It's a great focal point since we have 10~foot ceilings.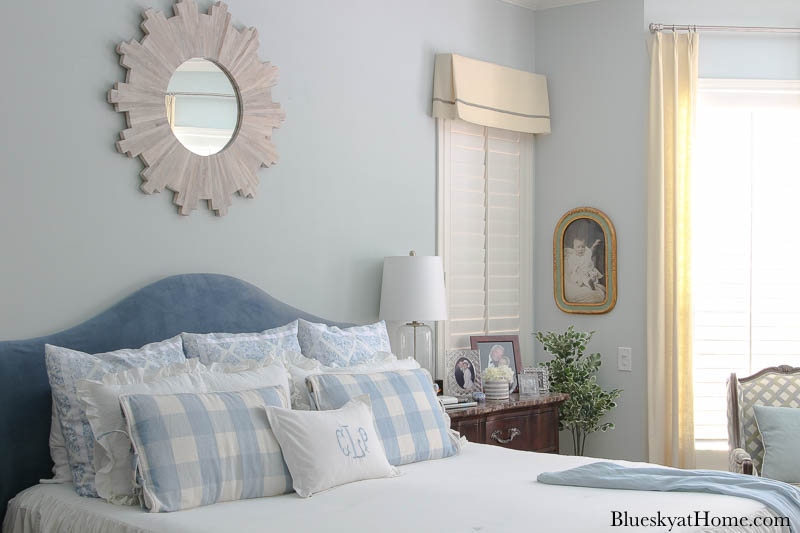 We've been enjoying our blue and white spring master bedroom for about a week. I love the serenity of the colors, the comfort of our new ruffle skirt and bedspread. I love having more greenery in the room. It will be our look for awhile.
If you liked our spring master bedroom, please PIN it to share with others.
Night night. Sleep tight.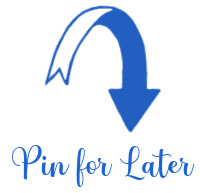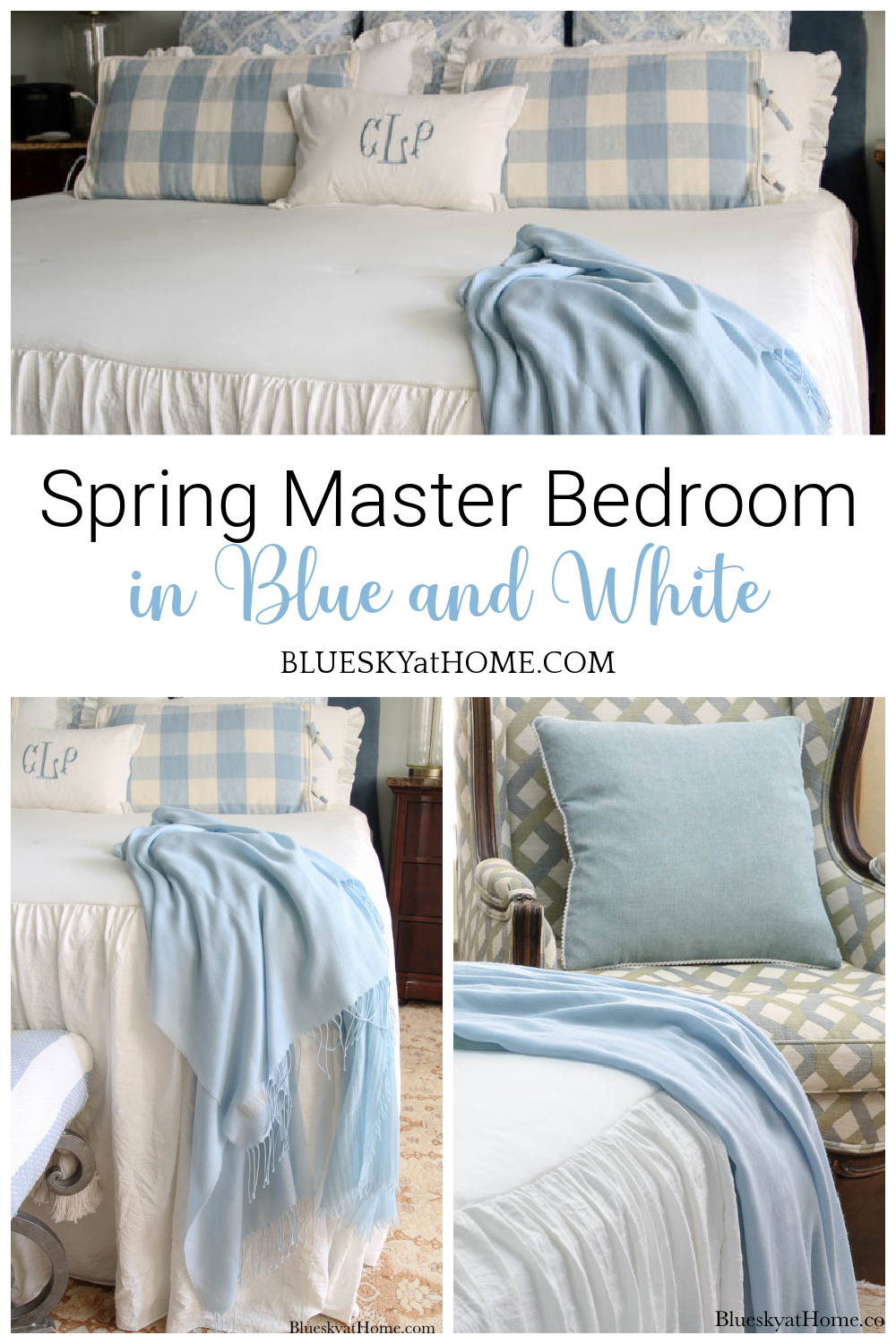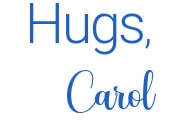 2021 Link Parties February 22 ~ February 28
All About Home Anything Goes Pink Saturday  Beautifully Made  Busy Monday  Celebrate Your Story.  Creative Crafts  Creative Muster  Creatively Crafty  Farmhouse Friday  Friday with Friends  Grace at Home  Handmade Monday Happiness is Homemade  The Happy Now Hearth and Soul Link Party  Home Matters  Inspire Me Monday  Inspire Me Tuesday Keep in Touch  Little Cottage Link Party   Love Your Creativity   Meraki Link Party Party in Your PJ's   Saturday Sparks  Share Your Style  Silver Pennies Sundays. Simple Homestead Blog Hop  Sunday's on Silverado   Thursday Favorite Things   Vintage Charm Party   Waste Not Wednesday   Wednesday Link Party  Wednesday Centerpiece Link Party  Wonderful Wednesday  Wow Me Wednesday