Hi there and welcome to the first official post from Bluesky at Home. I couldn't be more thrilled that the new blog name kicks off this fabulous fall home tour. You've hit the jackpot ~ a fabulous fall home tour from 35 bloggers to swoon over, to gather great inspiration and ideas for your fall decorating, and to enjoy. It's like a huge decorating magazine at your fingertips.
Thanks to Deb at Seeking Lavender Lane for bringing all these bloggers together. Everyday a group of bloggers will show you their take on fall decor. It might be a dining room, a living room or a kitchen. I know I can't wait to see all the different approaches to fall home decorating. And our thanks to Kirkland's for giving everyone on the home tour a little gift certificate for shopping and providing a giveaway for you.
I'm happy to share our living room and breakfast room with you on the fall home tour. The living room is the heart of our home, where Sweet Shark and I hang out, watch TV, and read and relax. It's where we entertain friends and family. If you'd like to see how I accessorized our living room through last spring and summer, here's a view.
Fabulous Fall Home Tour ~ 35 Homes Share Inspiration
The usual color scheme in our living room is dominated by shades of aqua and soft greens with pops of yellow thrown in. I can't change the color or patterns of our aqua sofa and chairs, but I can tone them down. Rather than emphasizing aqua, for my fall decor I decided to go with a richer hue ~ primarily turquoise ~ mixed with neutrals and metallics. (This color scheme was inspired by a fall tablescape from a few weeks ago.)
Neutral  Pillows for Fall
My first step in transitioning to fall decor was to remove the big aqua and yellow pillows on the sofa and replace them with neutral pillows that I made last year. Then I added a couple of crewel pillows that I bought last year, but never used in the living room. The bit of blue in the pumpkins blends well with the aqua on the sofa.
The Mantle
For the mantle, I packed away the pale blue planters and pale green sea glass bottles.  I kept the turquoise sea glass bottles, added some cotton stems for softness and some white painted pumpkins with gold stems ~ a DIY paint project from last year.
I found these perfect ceramic turquoise pumpkins at Kirkland's and tucked them in between the pumpkins and my fall words. The website says it's a set of 9, but I bought 5 individually.
I wanted some typography on the mantle ~ don't we all love words. A trip to Jo~ann's yielded some fabulous gold~themed cardstock. Then I stood in the letter aisle, trying out wooden and cardboard letters until I had a fall saying that wasn't too long, but kind of cute. To get the right letters, I had to mix sizes, but I liked the combination of the big and small letters. I'll share how I made the letters and used the cardstock in a future post. With that, my mantle was done; not too fuzzy, but with my turquoise, neutral and metallic theme front and center.
The Coffee Table
Who doesn't love decorating a coffee table? It's such a great focal point in most living and family rooms. I first removed my 3 large aqua glass vases from the coffee table. On my shopping trip to Kirkland's, the first thing I put in my shopping card was this large clear glass vase with the beaded handles. I knew it would be perfect on the coffee table. I already had the candle. To fill in around the candle I dropped in 30 small plastic pumpkins from Jo~ann's. I bought them not knowing what I would do with them. (O.K. confession, I am not an orange person. I knew those little orange pumpkins would not stay orange.) A little gold, copper and brass spray paint (another project I'll share later) and they were just right to bring in the metallic part of my color scheme.
Also on the table I placed 2 beaded cords. I remembered I had bought 2 packages in Atlanta back in July and I literally made the beaded cords using twine on hand while I watched a webinar last week. It was so easy and the cords pick up the beaded handles of the clear glass vase.
I decided to leave my grey painted tray (a freebie from Haven a year ago) with my wire baskets, white ceramic pear, and white books tied with heavy twine. I love this look and it was the neutral I wanted on the table.
Side Table
On the side table between our 2 Bergere chairs, I added another DIY painted pumpkin and a couple of cotton orbs from Kirkland's. I picked them to carry on the cotton stems on the mantle. I placed some Spanish moss in the 2 glass and wire containers and set the cotton balls on top.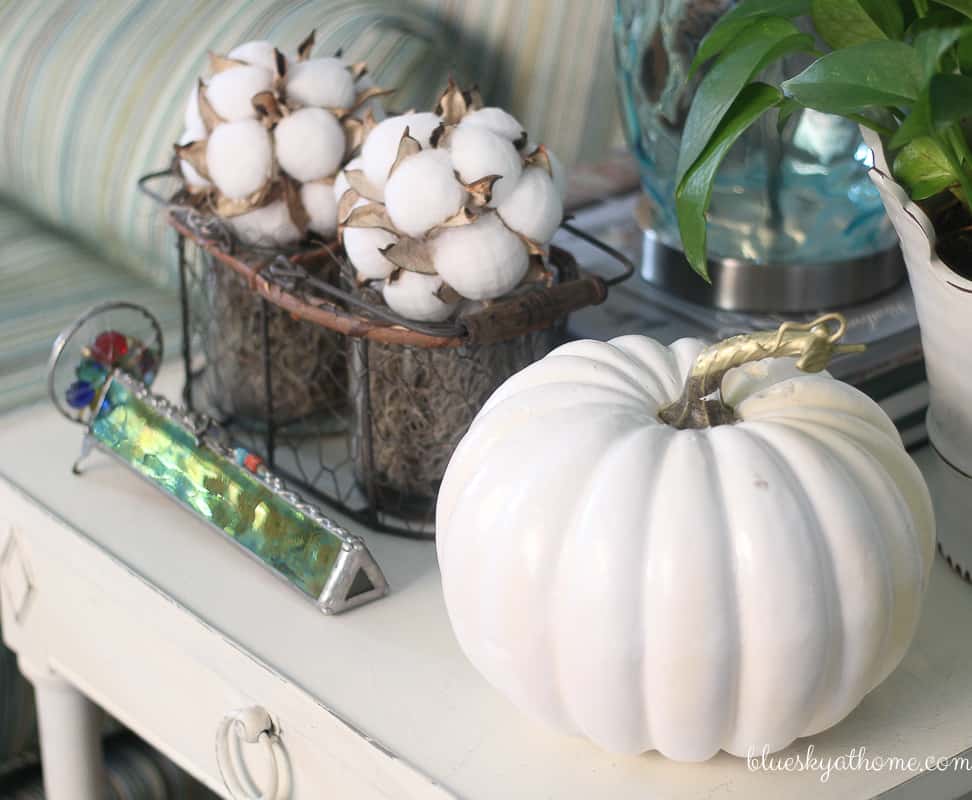 The Sofa Table
Behind the sofa is a pine table that I had made years ago from reclaimed wood. It started as breakfast room table, then was my desk in our previous home. When we were decorating for our present home, I thought the table would be great behind the sofa. I had a furniture restorer cut it down and then I painted it with 2 shades of chalk paint. Usually, I  have a bunch of family pictures on the sofa table, but I stored them away so I'd have more room for fall decor. Then I removed all the aqua, green and white glass balls (They are actually Christmas ornaments.) from my tall wooden lantern. I filled the lantern with neutral natural material balls in different sizes and textures ~ another fabulous find at Kirkland's. That was my neutral on the table. Our aqua glass lamp stayed in place.
In the center of the sofa table, I wanted to use this gorgeous turquoise ceramic urn that I bought at a charity auction a few years ago (It was filled with flowers at the time ~ they are long gone.) Because the table and sofa are in front of our big picture window, I needed some very tall flowers to place in the vase. Another shopping trip ~ this time to Pier 1 ~ netted me these awesome gold and copper spiky stems. I filled in with a few tall gold branches and then topped around the stems with Spanish moss (Always a good thing to have on hand.) This arrangement provided height in the center of the table and repeated the turquoise and metallic color palette.
A few small items filled in the table. More gold, copper and brass spray painted pumpkins sit on cupcake stands, on a small vintage cup and in a vintage pitcher. I also added 2 burlap bags and a painted pumpkin in white.
Breakfast Room Table
The second item I put in my shopping cart at Kirkland's was this rectangle wooden tray ~ and it has beaded handles to match the glass vase and my beaded cords. I had a bit of a challenge at first about how to fill the tray. In the end, I decided to go very simple. I filled the tray with more Spanish moss. At the Dollar Tree, I found the ugliest orange styrofoam pumpkins ~ but at a $1.00 each I knew I could transform them. Out came my Small Spray Shelter from HomeRight and my metallic spray paint again. My orange pumpkins made out like Cinderella and became gold, copper and brass. To continue turquoise as my accent color, I brought in more turquoise with the fabric remnant I had used as a tablecloth for my fall tablescape. Wha ~ la, done! Then, just for fun, I added a couple of Sweet Shark's African Violets. Real, organic elements are always nice in any decor.
Breakfast Room Side Table
Sweet Shark and I inherited this table from his mom a few years ago when she was moving out of her home into an apartment. It was that walnut color we see so often in furniture made in the 1950's. I painted it in 2 shades of chalk paint and made a mosaic top for it when we moved in our house 4 years ago. That was in my mosaic stage (I think I made 5 mosaic table tops.) which I am now so over. Since the mosaic table top is way too country (not farmhouse, country, if you know what I mean), I covered it with a piece of ecru linen from my fabric stash. (I love fabric and pick up remnants at my favorite fabric store.) On top I placed this large candle holder on a metal base(another silent auction buy). Next I added a tall candle holder we bought in Aspen years ago. And finally, I used a 3~tiered stand with copper inserts that we bought for our last house (I did remember to polish them!). Another one of our favorite things which brought in more of the copper metallic to the room. In the top tier I added another African Violet. For another punch of turquoise, I added 2 cocotte pots from Le Creuset. A few more painted pumpkins and faux colors for softness (they are actually napkin rings from Pier 1.) completed the scene.
I'm such a summer girl that I have a hard time getting in the mood to decorate for fall, but I have to admit this year I was ready and this fall home tour got me motivated. I hope you had fun touring our living room and breakfast room. Thanks to Deb and Kirkland's for the challenge. Please visit all the other blogs and see what's on this fabulous fall home tour. Be sure to sure to sign up for a chance to win the giveaway from Kirkland's. If you're visiting from Fat Hydrangea, welcome, here. And keep the tour going next by visiting My Creative Days.
MONDAY
Seeking Lavender Lane    Fat Hydrangea Bluesky at Home My Creative Days
Little House of Four Making it in the Mountains Wife in Progress
TUESDAY
Town and Country Living   Farmhouse on Boone   Flatcreek Farmhouse  Inspiration for Moms
On Sutton Place   Sincerely Marie Designs
WEDNESDAY
Noting Grace Little Glass Jar Sincerely Sara D Shabby Fufu
Hunt and Host The Honeycomb Home Kendall Rayburn
THURSDAY
Christinas Adventures My Life from Home Worthing Court She Holds Dearly
Unskinny Boppy Hamby Home Tidbits
FRIDAY
So Much Better with Age Joy in Our Home Little Home Reloved Sand Dollar Lane
Twelve on Main The Everyday Home
a Rafflecopter giveaway