Easy Faux Flower Spring Arrangements
Do you remember the days when we wouldn't be caught dead using artificial flowers? Today, creating easy faux flower spring arrangements is just a smart, affordable and practical option.
Thank goodness, we can now create easy faux flower arrangements we are proud of.
Flowers, flowers everywhere.
Back in the day, you could spot a fake flower a mile away. I remember seeing artificial flowers stuck in dirt flower boxes outside as if they would pass for real flowers. The materials and the construction just didn't lend themselves to pretty and realistic flower arrangements.
All that changed a few years ago when manufacturers began making beautiful, realistic artificial flowers that could actually be popular with homeowners.
Better materials, better design and construction, and poof ~ artificial became faux and the flower world changed for those of us who love to have flowers in our homes.
I adore having fresh flowers in our home, especially in spring.
Sometimes, the color or type of flower that we want just isn't available or we don't have the right container for live flowers. And let's face it: fresh flowers can be super expensive. Sometimes they just don't last more than a few days and that is like throwing money away.
A couple of years ago I shared examples of faux flower arrangements that I had made myself and found on Pinterest. With spring on the horizon, I decided this was a good time to share some new faux flower arrangements that I made and the new ones I found online.
Easy Faux Flower Spring Arrangements
I love this article from the Washington Post, entitled "Fake Flowers Used to be Considered Tacky. Not Anymore."
Nice to know we are not tacky. I hate being tacky.
The first time that I really noticed the change in artificial flowers was 3 or 4 years ago at my local home decor stores. This peony wreath at Wisteria was stunning. I don't think you could have a wreath of real peonies last very long on your front door. And how would you water them?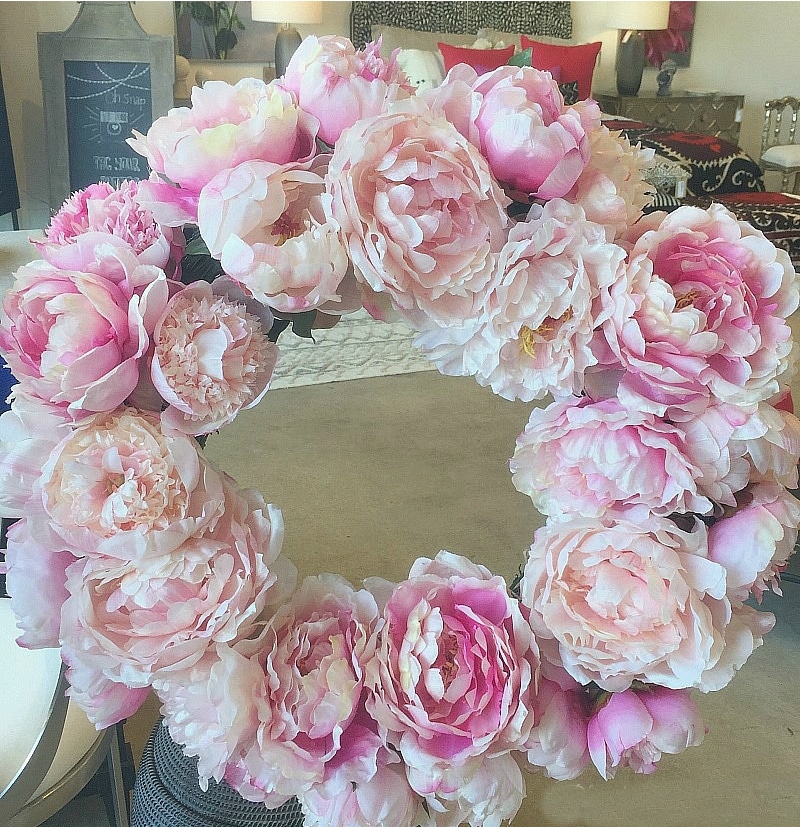 And this gorgeous bouquet of faux flowers looks like you have an English garden to pick flowers from. Gorgeous real blooms like these might cost $100 in the store and still last only a few days.
Then my local Pier 1 stores really started promoting their faux flowers with demonstrations. I attended a couple and was really impressed with the quality and versatility. And the price was very reasonable.
At that time, I was fortunate to have 2 Pier 1 stores within 10 minutes of our home. Unfortunately, both of those stores closed a couple of years ago. Now I have to drive about 12 minutes away! (This is not a sponsored post!
A FEW FAUX FLOWER ARRANGMENTS I'VE MADE
I love these limelight hydrangeas in a vintage grain scoop. I could never use real hydrangeas in it since the water would rust the metal.
I couldn't believe how real looking the peonies and hydrangeas were and over a couple of years I bought several types of faux flowers. I have used these pink cherry blossoms several times.
TIP: Although faux flowers usually come as multiple stems on one branch, I always cut the individual stems apart. This gives you more versatility in using them.
A couple of years ago, I used them in my Easter centerpiece. I purchased two dozen faux tulips and used them quite a bit in my Easter decor and in my Easter centerpiece. The thick leaves look so authentic, just like the real ones in our flower beds. I love that I did not have to water or replace them.
This Easter centerpiece featured an abundance of faux flowers.
I still love this spring wreath full of faux peonies on a background of cotton stems. It has a great story behind it.
I use and reuse my faux flowers in different combinations, containers, and arrangements; I think that is what keeps faux flowers fresh in your decor. Fast forward to this spring: Every now and then, it is nice to use some new faux flowers, such as last year's front door wreath.
A FAUX FLOWER SPRING ARRANGEMENT
Here's how I made a faux flower arrangement for Easter decor a couple of years ago.
I decided to use my pink peonies, (which had been "hibernating" in a bag on a shelf in my office) in a spring arrangement for our living room coffee table. I had previously cut the peonies into individual blooms with stems of about 6 inches.
TIP: If possible, keep your faux flowers in plastic bags or containers when not in use; this will keep them dust~free.  They will last longer and stay prettier.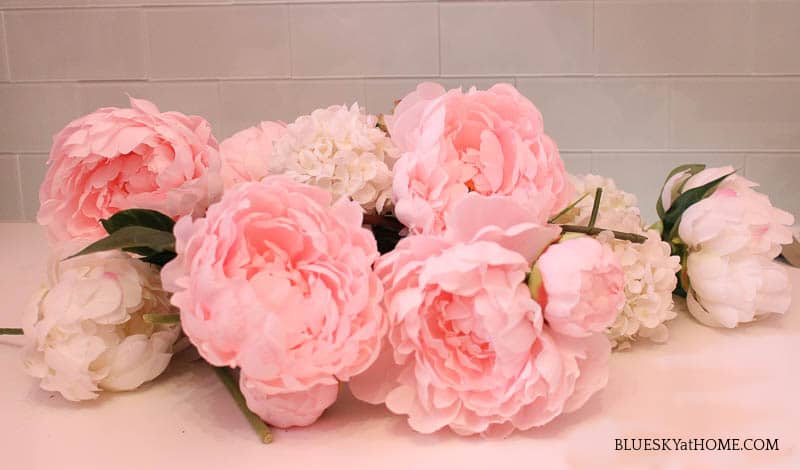 For a container, I used this galvanized and wire basket which also had been on an office shelf over winter. I love this one because I can use ribbon to embellish it and give it color. Although this shade of pink isn't my favorite, it was in my ribbon box. I started by weaving it through every other wire hole.
If you have a wire basket and want to use ribbon with it, give yourself plenty of slack when weaving the ribbon through the holes.
I lined up the two ends of the ribbon through one hole.
Then I tied a bow. Don't cut the end of the ribbon until you have made your bow and tails.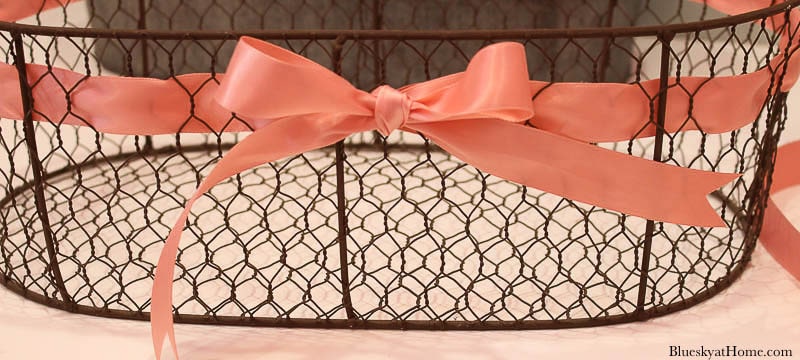 Once I finished making my bow, I set the galvanized container inside the wire basket. I filled the container with florist foam ~ obviously, reused.
Since I had already cut the peony stems apart and about 6 inches long, it was easy to push the stems into the florist foam to create my faux flower spring arrangement. The florist foam held each stem in place.
TIP: Use tin snips, wire cutters or heavy~duty garden clippers to cut the faux stems.
That year our coffee table had a beautiful faux flower spring arrangement.
One that I didn't have to water and that looked good as long as I wanted it to. With this container, I can change out the ribbon color and flowers for different seasons, holidays or events.
OTHER FAUX FLOWER ARRANGEMENTS
Let's look at some beautiful examples of faux flower arrangements that I have saved in my Faux Flower Pinterest Board.
I love the lush faux flowers in a wooden box from Shannon of Home Made Lovely.
This Easter table using pink peonies and cherry blossoms from Randi Garrett is still one of my favorite uses of faux flowers.
Bree from Z Design at Home shares her ideas for styling faux flowers and the best places to purchase them. I have a new white bowl that I will have to use in this way.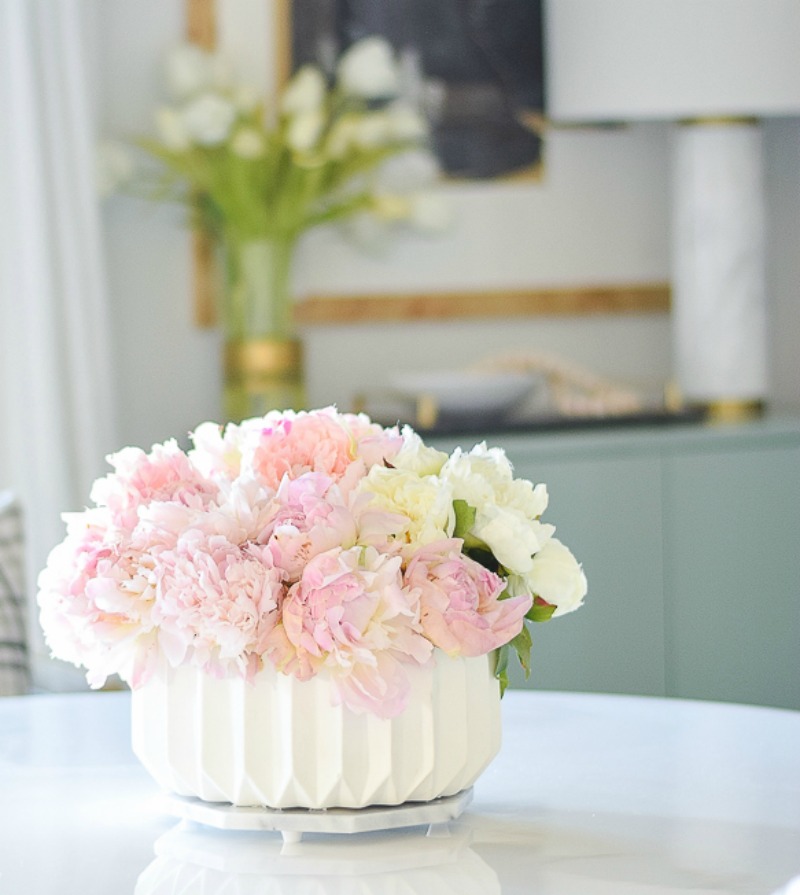 Monica of Monica Wants It created all these beautiful arrangements using faux flowers. I was fooled because the faux flowers look so real and natural.
Purchasing faux flowers should be an investment in your home decor so you want to take good care of them.
This arrangement from Jenn at Clean and Scentsible shows you several ways to keep and use your faux flowers Notice that she puts her faux flowers in water to make them seem real. Genius idea.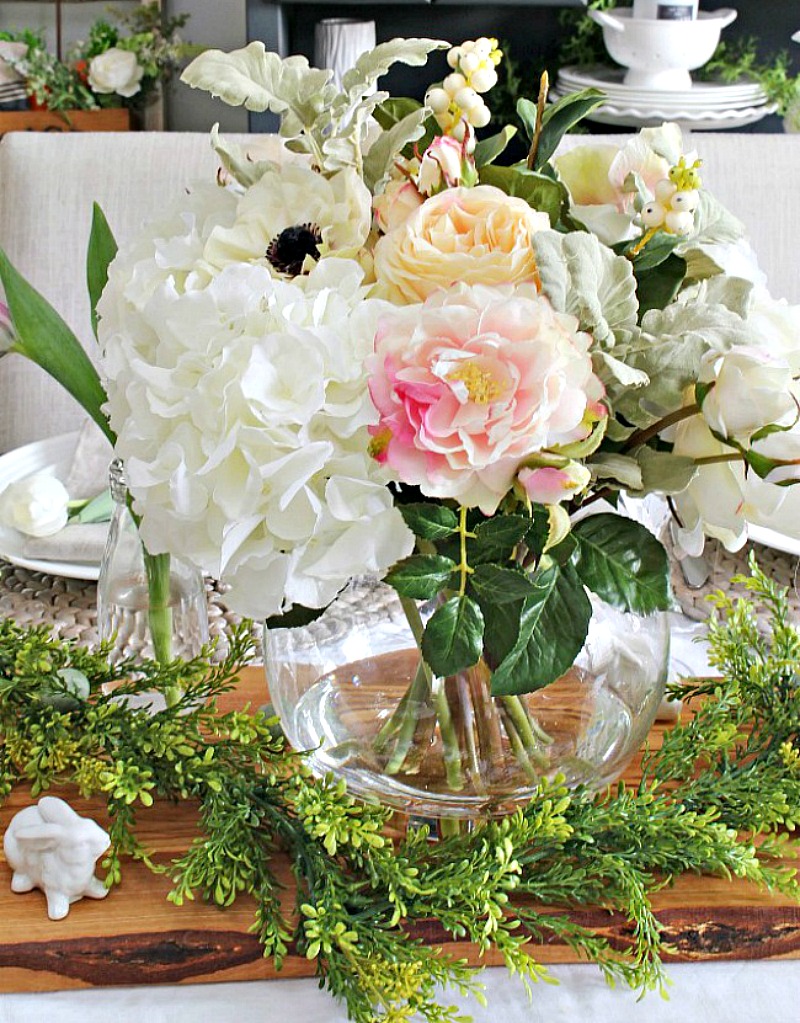 Remember to check out my Faux Flower Board on Pinterest for more ideas. If you would like to save all these ideas for future reference, be sure to PIN this post.
I hope you loved these ideas for easy faux flower arrangements. Be sure to PIN it.