Bluesky at Home is about celebrating the home you create. Our homes are our safe places, our havens, our place to be creative in whatever way we enjoy. I hope that the projects, the DIY, craft, or paint projects I share give you inspiration and help you make your home a place to celebrate.
My purpose here is to give you super valuable ideas. Ones that you can use, recreate or alter to fit your home and interests. I always want you read a post and think: "I can do that" or "I didn't know that and now I do" or "That's a great idea".
Create. I've always loved to make things. In the past several years, I've discovered a passion for painting vintage furniture and accessories. I enjoy sharing that know~how and projects with you. I absolutely love taking one thing and making it better:
simple DIY projects to enhance our homes
repurposing/painting just about anything that doesn't move
organizational projects to make our spaces more efficient
flea market finds transformed into something pretty and practical
create party decorations, vinyl decals and other DIY projects using my Cricut Explore Air
Do you love ideas for transforming the old and forgotten item into the new, pretty and useful? Ideas for projects to make your home prettier, more efficient, more fun? Then Bluesky at Home is a place for you to drop in and create with me.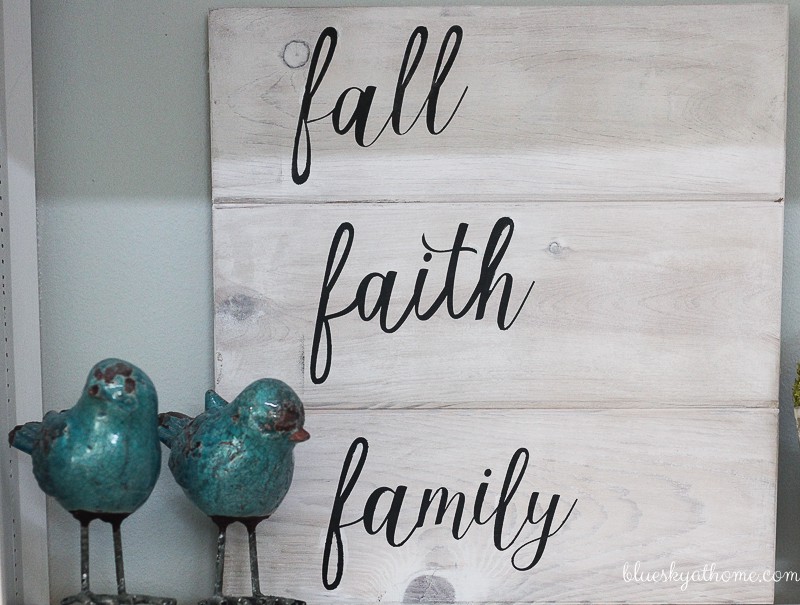 Celebrate. I love my home and I try to celebrate it every day by making it a warm, pretty, and inviting place for my family and friends. I love your home too. I love to tour homes, spend hours (if I had them.) looking through shelter magazines and Pinterest at beautiful homes and ideas for home decor. I love to share all that with you here at Bluesky at Home.
Home decor ideas ~ tours, accessories
Party ideas ~ planning, decorating and hosting
Beautiful tablescapes
Party enhancements, like place cards or cupcake toppers
Do you love home decor? Decorating ideas? Creating a home and garden or outdoor living space to make your life more enjoyable? Do you love to learn about decorations and party preparations? This is the place to Celebrate with me.
Cook. I was a cooking instructor for 15 years. This blog started out as food blog ~ that's why you may see Bluesky Kitchen on some older photos. My love of cooking began when I started working in the culinary program of our local Sur la Table. During my 4 years there, I worked with dozens of professional chefs, restaurant chefs, and cookbook authors. With a background and degree in education, I decided to combine my new cooking skills with my ability to teach.
I launched La Cuisine Maison, an in~home cooking school. I also started teaching cooking classes at the Viking Cooking School, Williams~Sonoma and various appliance stores. As my reputation for providing first~class cooking classes grew, requests for private cooking classes for groups and organizations grew. And the more I taught, the more I loved it. Although Bluesky at Home is not a food blog, it is a place where I can occasionally share with you great recipes and super tips that you can use to be confident and creative in your own kitchen.
In 2019, I decided I couldn't continue teaching cooking classes and devote all the time I needed to grow Bluesky at Home. So one career ended and another began. It was the right decision  
I can promise you that I will give you my very best to give you ideas to create the home you want to celebrate.  I invite you to follow Bluesky at Home and visit for a while. Everyone is a friend at my home.
As we say in Texas, "you all come on down"!