2 new delicious Italian recipes
Two Recipes from Italy
I promised yesterday that I would share 2 new delicious Italian recipes from Elizabeth Minchilli in Rome.  If you missed my introduction to Elizabeth, visit here. I knew it would be a hard decision to select just two, but I decided one had to be pasta and the other had to have an iconic Italian ingredient. Both of these Italian recipes are so simple to make, but packed with flavor. And neither takes more than 30 minutes from start to dining.  Be sure to have a glass of wine while you're cooking; it makes for a more delightful experience.
Pasta e Ceci (summer version)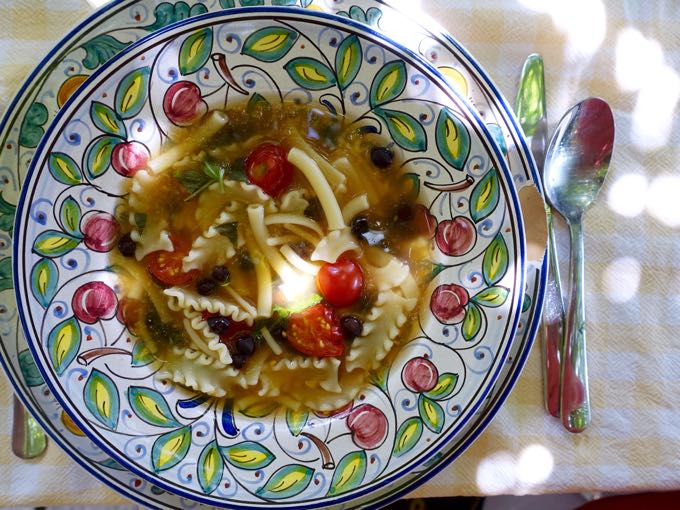 Pasta e ceci (pasta with chickpeas) is usually a winter dish, a bowl full of thick, stick-to-your-ribs starch, barely held together by a tomatoey 'soup' that is more like a loose sauce. You can even make it ahead of time, letting almost all of the liquid get absorbed by the pasta and chickpeas, so that it becomes more of a stew than any sort of soup. Definitely for cold weather. I've made this "soup" several times over the years; it's easy because I always have some kind of pasta and a can of chickpeas in the pantry.
But she recalls that during a recent trip to Abruzzo she had a version of this dish that changed her previous conceptions of pasta e ceci.  While eating the very liquidy, light-as-a-feather, room temperature, soup she realized that the pasta was al dente (something that usually never happens in true pasta e ceci) and the chickpeas were black, firm and did not let loose of any kind of starchiness to cloud the crystal clear broth. And that broth? So light, and tasting of summer. The secret ingredient though, turned out to be not quite an herb, but one small branch of tomato leaves. It gave the brodetto (broth) a special tanginess and freshness. If you've ever smelled tomatoes leaves – that special tart, green, incredibly summery smell – then you can understand the unique flavor it added. I thought that while we still have a few weeks left of local tomatoes, this recipe would be perfect to share.
Elizabeth uses a package of Rustichella "Le Virtu", which is made up of all different shapes of pasta. But you can use whatever you have.  I love that this a great way to use up leftover pasta, and I think it makes for a more interesting, pretty dish.  Also, she uses dried black chickpeas, but if you are in a rush, you can used canned regular (I would).
1 cup black chickpeas or canned regular chickpeas
1/2 pound mixed pasta
1 tablespoon olive oil
20 cherry tomatoes, cut in half
8 leaves basil for garnish
For the brodetto (broth)
6 cups water
1 large bunch parsley
1 large bunch basil
2 cloves garlic, peeled (I would lightly crush them to release their flavor.)
1 small branch tomato leaves
1 large tomato
INSTRUCTIONS
If using, black chickpeas, soak the chickpeas for at least 6 hours, then boil until tender, in salted water. Drain and set aside. If using canned, drain and rinse the chickpeas and set aside. (It's always important to drain and rinse canned beans.  It gets rid of the extra sodium and preservatives and makes the beans look so much cleaner.)
Bring a large pot of salted water to boil, then cook the pasta until just al dente. When done, drain, and toss with olive oil, so that it doesn't stick.
Place water in pot just big enough to hold it. Add all the herbs, garlic, and tomato branch. Cut the tomato in half and squeeze in the juices. Bring to a simmer, and cook for 10 minutes with lid tightly on. Remove the herbs and garlic, using a slotted spoon. Add the cherry tomatoes and cook for 2 more minutes, with lid on.
To serve: place a half cup of pasta in each dish, add about 3 tablespoon of chickpeas, then ladle broth, with tomatoes, over the top. Garnish with torn basil and serve.
Now, imagine sitting outside of a small villa in the Italian countryside with friends, enjoying this delicious pasta (there would be other dishes on the menu) with a glass of chilled Pinot Grigio.
Zucchini Ricotta Soup
I love zucchini, grilled, roasted, sautéed, or raw.  It's readily available year round so this soup makes a perfect addition to your recipe box.  I love that it can be served room temperature for fall and winter or chilled for spring and summer.
2 medium sized zucchini (about 1/2 pound)
1 shallot
1 small onion
1 tablespoon olive oil
3 garlic cloves
1 large, ripe tomato
2 cups broth ( Elizabeth uses vegetable, but any will do)
salt and pepper
1 cup ricotta – good quality
lemon juice
fresh herbs, such as basil, tarragon, chives, dill, for garnish
1.  Chop onion, shallot and garlic and sauté in olive oil until softened (about 5 minutes). Add chopped tomato, and stir another five minutes. Add chopped zucchini, stir then add broth. Bring to a boil and let simmer until zucchini is just cooked (about 10 to 15 minutes).
2.  Let cool, then puree. If you are going to serve it chilled put it in the refrigerator.
3.  Just before serving, add ricotta and whisk in until it dissolves. Add the juice from half  of a lemon and stir. Top with fresh herbs if you'd like (basil, dill or tarragon) and a drizzle of olive oil on top of each serving.
Buon Appetito! Ciao!